Windows 8 & Windows 8.1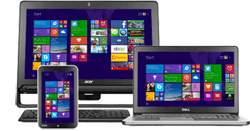 Windows 8 and Windows 8.1 is Microsoft's desktop operating system launched in 2012 and 2013 respectively.
While Windows 8 & 8.1 main purpose was to replace the ageing Windows Vista and Windows 7 operating systems, they were not exactly accepted by users very well, mainly because of the major interface changes that made the system more complicated for everyday users.
This category contains articles covering various aspects of the Windows 8 & Windows 8.1 operating system, aiming to help administrators and users understand how to get around the systems. We provide smart troubleshooting techniques and other useful information which will make life a lot easier with these operating systems.
We trust our readers will find the information presented useful and easy to follow.