The Importance of a Comprehensive Backup Strategy for Physical and Virtual Servers
Article Reads:9000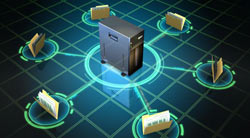 People and companies usually adopt a backup strategy suited to the needs of their working environment. As such, there is no absolute right or wrong method of backing up data however in order to backup and restore data swiftly and easily a comprehensive strategy is necessary, even though most virtualized platforms such as Hyper-V and VMware offer built-in backup-like features such as snapshots or ability to copy a whole virtual machine to another location.
Broadly, this encompasses four rules which we've briefly outlined below:
Backups must be performed automatically
Backups must have redundancy
A copy of the backup must be available offsite
Backups must be regularly tested
Usage of high-quality backup applications for Virtualized environments e.g VM Backup
Running Windows or Linux Server under ESX or Hyper-V? Get an award-winning backup solution for Free! Download Now!
Most often, people will not remember to take backups on time. They may keep deferring the task because of laziness, oversight or work pressure. Whatever the cause, it defeats the very purpose of backing up. Therefore, a backup solution that automates the task is essential. Simply configure it once and let it take backups at regular intervals.
Although backing up is essential and one backup is better than not backing up at all, there remains the risk of that single backup failing at the time of need. Therefore, your strategy must include having two different types of backup. Another advantage of this is you have greater flexibility when restoring data.
Unexpected events can lead to data loss at any time. Fire, floods, theft, power surge, lightning strikes and so many other things can play havoc with the best laid plans. If your systems and backups are at the same location, you are most likely to lose both. As a contingency measure, you must keep a copy of the backup at a site physically and geographically separated from your primary workplace. Accomplishing offsite backups is simple with automatic cloud backup services that also allow automated updating.
Your backups are stored on physical devices that can also fail. Testing them regularly is one way to avoid unpleasant surprises when you need them most. Have a backup verification day, at least once every few months, to test and verify the integrity of the drive. Essentially, you need to ensure it is possible to restore files and, in case of clone backups, boot from the drive.
Full Backup
A full backup creates an image file containing all disk sectors with data from within the operating system. Although the simplest form of backup, it is the least flexible, most time consuming and a hugely space-intensive method. Full backups are usually done about once a week as part of an overall backup plan, such as after a major operating system upgrade or software install.
Differential Backup
Typically, only a very small percentage of the information in a partition or disk changes daily or weekly, therefore it is enough to back up only the data that has changed. You are doing a differential backup if you are backing up only the files that have changed since the last full backup. Differential backups are faster and more flexible than full backups because of the lower amount of data involved. However, the amount of data being backed up grows with each differential backup. That makes it unwieldy to create more than one differential backup a day.
Incremental Backup
You are doing an incremental backup if you are backing up only the data that changed since the last backup – whether full or incremental. Therefore, the shorter the time interval between incremental backups, the lower the amount of data to be backed up – you may backup hourly or even more frequently, depending on the importance of your work. Although incremental backups are the most flexible and granular of the three methods, restoring from incremental backups takes longer.
Backing up Virtual Machines
While most companies have moved to a virtualized environments, the above backup methods are quickly being replaced by smarter and more efficient backup strategies. For example, VM backup software, free for two VMs, supports both Hyper-V and VMware and offers complete backup and restore functionality with the click of only a few buttons. It's advanced backup algorithms and smart design makes backing up and restoring virtual machines or individual files/folders a very simple process.
Wi-Fi Key Generator
Generate/Crack any
WEP, WPA, WPA2 Key!
Cisco Password Crack
Decrypt Cisco Type-7 Passwords on the fly!