Introduction
Each lab has been designed to cover specific topics of the CCNA & CCNP curriculum, but are in no way limited, as you are given the freedom to execute all commands offered by the device's IOS.
While the lab tutorials exist only as guidelines to help you learn how to implement the services and features provided by the equipment, we do not restrict their usage in any way. This effectively means that full control is given to you and, depending on the lab, a multitude of variations to the lab's tutorial are possible.
Cisco Lab No.1 - Basic Router & Switch Configuration
The first Cisco Lab involves the configuration of one Cisco 1603R router and Catalyst 1912 switch. This equipment has been selected to suit the aim of this lab, which is to serve as an introduction to Cisco technologies and concepts.
The lab is in two parts, the first one covering basic IOS functions such as simple router and switch configuration (hostname, interface IP addresses, flash backup, banners etc).
The second part focuses on ISDN configuration and dialup, including ppp debugging, where the user is required to perform a dialup to an ISP via the lab's ISDN simulator. Basic access lists are covered to help enhance the lab further. Lastly, the user is able to ping real Internet IP Addresses from the 1603R due to the fact the back end router (ISP router) is connected to the lab's Internet connection.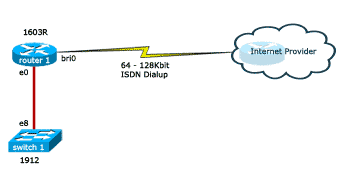 Equipment Configuration:
Cisco Catalyst 1912

FLASH:
1MB
IOS Version:
v8.01.02 Standard Edition
Interfaces:
12 Ethernet / 2 Fast Ethernet
Cisco 1603R

DRAM / FLASH:
16MB / 16MB
Interfaces:
1 Ethernet / 1 Serial / 1 ISDN BRI

Cisco Lab No.2 - Advanced Router Configuration
The second Cisco lab focuses on advanced router configuration by covering topics such as WAN connectivity (leased lines) with ISDN backup functionality thrown into the package. GRE (encrypted) tunnels, DHCP services with a touch of dynamic routing protocols such as RIPv2 are also included.
As you can appreciate, the complexity here is greater and therefore the lab is split into 4 separate tutorials to ensure you get the most out of all four tutorials.
You will utilise all three interfaces available on the routers, these include Ethernet, ISDN and Serial interfaces. The primary WAN link is simulated using a back-to-back serial cable and the ISDN backup capability is provided through our lab's dedicated ISDN simulator.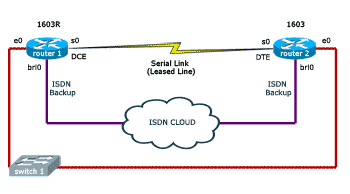 Equipment Configuration:
Cisco 1603R (router 1)

DRAM / FLASH:
18MB / 16MB
Interfaces:
1 Ethernet / 1 Serial / 1 ISDN BRI
Cisco 1603 (router 2)

DRAM / FLASH:
24MB / 16MB
Interfaces:
1 Ethernet / 1 Serial / 1 ISDN BRI

 Cisco Lab No.3 - VLANs - VTP & InterVLAN Routing
The third Cisco lab aims to cover the popular VLAN & InterVLAN routing services, which are becoming very common in large complex networks.
The lab consists of two Catalyst 3500XL switches and one Catalyst 2950G as backbone switches, attached to a Cisco 2620 router.
Our third lab has been designed to fully support the latest advanced services offered by Cisco switches such as the creation of VLANs and configuration of the popular InterVLAN Routing service amongst all VLANs and switches.
Advanced VLAN features, such as Virtual Trunk Protocol (VTP) and Trunk links throughout the backbone switches, are tightly integrated into the lab's specifications and extend to support a number of VLAN related services just as it would in a real-world environment.
Further extending this lab's potential, we've added Etherchannel support to allow you to gain experience in creating high-bandwidth links between switches with multiple low-bandwidth interfaces (100Mbps), aggregating these links to form one large pipe (400Mbps in our example).
Lastly, STP (Spanning Tree Protocol) is fully supported. The lab guides you understand the use of STP in order to create fully redundant connections between backbone switches. You are able to disable backbone links, simulating link loss and monitoring the STP protocol, while it activates previously blocked links.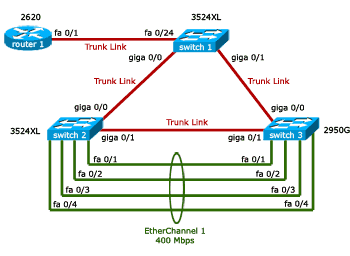 This lab requires you to perform the following tasks:
- Basic & advanced VLAN configuration
- Trunk & Access link configuration
- VLAN Database configuration
- VTP (VLAN Trunk Protocol) Server, client and transparent mode configuration
- InterVLAN routing using a 2620 router (Router on a stick)
- EtherChannel link configuration
- Simple STP configuration, Per VLAN STP Plus (PVST+) & link recovery
Equipment Configuration:
Cisco 2620 (router 1)

DRAM / FLASH:
48MB / 32MB
Interfaces:
1 Fast Ethernet
Cisco Catalyst 3500XL (switch 1)

IOS Version:
12.0(5.2)XU - Enterprise Edition Software
Interfaces:
24 Fast Ethernet / 2 Gigabit Ethernet with SX GBIC modules installed
Cisco Catalyst 3500XL (switch 2)

IOS Version:
12.0(5.4)WC(1) - Enterprise Edition Software
Interfaces:
24 Fast Ethernet / 2 Gigabit Ethernet with SX & LX GBIC modules installed
Cisco Catalyst 2950G-12-EI (switch 3)

Interfaces:
12 Fast Ethernet / 2 Gigabit Ethernet with SX & LX GBIC modules installed