How To Upgrade Cisco - Linksys SPA8000 Firmware
Article Reads:37065
The Cisco - Linksys SPA8000 is an 8-port IP Telephony Gateway that allows connections for up to eight analog telephones (provides 8 FXS ports) to a VoIP network using the Session Initiation Protocol (SIP).
This article covers extensively the upgrade process of the Cisco SPA8000 firmware so it can run the latest available version.
Upgrading The Cisco Linksys SPA8000 Firmware
Before any configuration is performed on the Cisco SPA8000, it is important to proceed with the upgrade of its firmware,to the latest available version. At the time of writing the latest firmware was released 6.1.10 (001) dated 6th May 2011 – Filename SPA8000_6.1.10.zip. To save time and trouble, we've also made the firmware available at our Cisco Downloads section.
Upgrading the SPA8000 firmware is a very simple process. Download and unzip the provided file (2.13MB). Inside, we will find 3 files:

The spa8000-6-1-10-001.bin file is the firmware that will be loaded on to the SPA8000, the spa8000_rn_v6-1-10.pdf contains the release notes and upg-spa8000-6-1-10-001.exe is the firmware upgrade program.
At this point, we run the upg-spa8000-6-1-10-001.exe executable and are presented with a window similar to this one: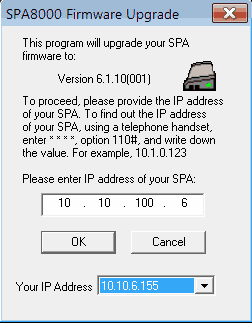 At this point, we enter the IP Address of the SPA8000 to be upgraded, in the provided field and click on OK. The application provides the ability to select a different source IP Address in case there are multiple network interface cards or multiple IP Addresses bound to the workstation.
It is possible that a username and password will be requested by the program so it can log into the SPA8000, so we need to ensure this this information is available before the upgrade process begins.
Once the firmware upgrade has successfully completed, the SPA8000 will reboot, resetting the device to its default settings. Note that the SPA8000 default IP Address will be 192.168.0.1, default username admin and no password.
As soon as the SPA8000 reboots with its new firmware, we can enter the web administration and configure the necessary IP Address, subnet mask, default gateway and DNS servers.
The screen below confirms the firmware upgrade and settings: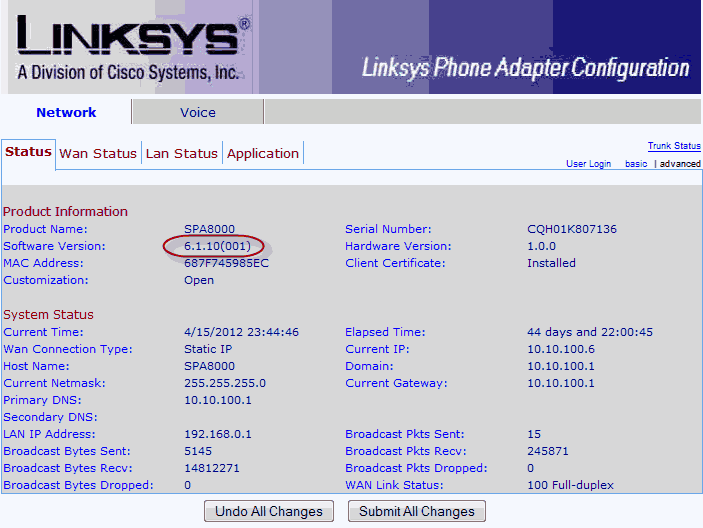 This concludes our article covering how to upgrade the firmware on a Cisco - Linksys SPA8000 device.
Wi-Fi Key Generator
Generate/Crack any
WEP, WPA, WPA2 Key!
Cisco Password Crack
Decrypt Cisco Type-7 Passwords on the fly!