Cisco CallManager Express CME v8.8 & v9.0 GUI Web Interface Bug
Article Reads:35115
Cisco's CallManager Express GUI interface is an important part of the CallManager Express product as it provides the ability to administer CME via a web browser. Generally, the CME GUI interface is extremely useful as it helps save valuable time to setup new IP Phones or make changes to an existing setup.
On the other hand the CME GUI interface can also prove to be a big waist of time, that is, if your trying to install CME GUI versions 8.8 or 9.0.
Wondering why?
Simply put, there is a massive bug in these two CME GUI versions that render the whole web interface useless. We spent valuable time trying to troubleshoot a very weird problem: After installing and setting up the web interface, we couldn't make any changes to the ip phones, extensions or any functionality supported by the GUI interface!

When trying to save our changes, the system would return back to the main menu, totally ignoring the changes and without saving anything!

After much frustration, trying different IOS images and GUI interfaces, we contacted Cisco so they could share some light and help us diagnose the problem.

To our surprise, the problem was a bug related issue which is yet to be fixed! The only work-around, if you require a functional administrative web-interface, is to downgrade to CME IOS 151-4.M4 and GUI version 8.6.

The sad part of this story is that Cisco has failed to place any notice in their relevant download section, so engineers are downloading GUI files for CME versions 8.8 and 9.0, without any clue of what's to come! As a result, thousands of cases have been opened with Cisco, all around the same problem.

The Bug ID assigned for this issue is CSCtz35753, but don't bother searching for more information on it, Cisco is not disclosing any information at this point of time - it's top secret!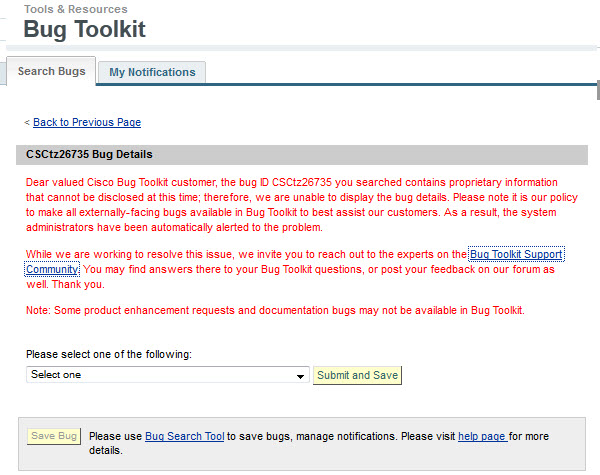 Wi-Fi Key Generator
Generate/Crack any
WEP, WPA, WPA2 Key!
Cisco Password Crack
Decrypt Cisco Type-7 Passwords on the fly!