GFI's LANGUARD Update – The Most Trusted Patch Management Tool & Vulnerability Scanner Just Got Better!
Article Reads:10138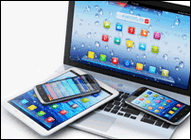 GFI's LanGuard is one of the world's most popular and trusted patch management & vulnerability scanner products designed to effectively monitor and manage networks of any size. IT Administrators, Network Engineers and IT Managers who have worked with Languard would surely agree that the above statement is no exaggeration.
Readers who haven't heard or worked with GFI's LanGuard product should definitely visit our LanGuard 2014 product review and read about the features this unique network security product offers and download their free copy.
GFI recently released an update to LanGuard, taking the product to a whole new level by providing new key-features that have caught us by surprise.
Following is a short list of them:
Mobile device scanning: customers can audit mobile devices that connect to Office 365, Google Apps and Apple Profile Manager.
Expanded vulnerability assessment for network devices: GFI LanGuard 2014 R2 offers vulnerability assessment of routers, printers and switches from the following vendors: Cisco, 3Com, Dell, SonicWALL, Juniper Networks, NETGEAR, Nortel, Alcatel, IBM and Linksys.
CIPA compliance reports: CIPA compliance reports: additional reporting to ensure US schools and libraries adhere to the Children's Internet Protection Act (CIPA). GFI LanGuard has now dedicated compliance reports for 11 security regulations and standards, including PCI DSS, HIPAA, SOX and PSN CoCo.
Support for Fedora: Fedora is 7th Linux distribution supported by LanGuard for automatic patch management
Chinese Localization: GFI LanGuard 2014 R2 is now also available in Chinese Traditional and Simplified versions.
One of the features we loved was the incredible support of Cisco products. With its latest release, GFI LanGuard supports over 1500 different Cisco products ranging from routers (including the newer ISR Gen 2), Catalyst switches (Layer2 & Layer3 switches), Cisco Nexus switches, Cisco Firewalls (PIX & ASA Series), VPN Gateways, Wireless Access points, IPS & IDS Sensors, Voice Gateways and much more!
Wi-Fi Key Generator
Generate/Crack any
WEP, WPA, WPA2 Key!
Cisco Password Crack
Decrypt Cisco Type-7 Passwords on the fly!