Interview: Vivek Tiwari CCIEx2 #18616 (CCIE Routing and Switching and Service Provider)
Article Reads:33069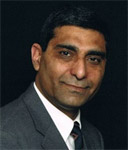 Vivek Tiwari holds a Bachelor's degree in Physics, MBA and many certifications from multiple vendors including Cisco's CCIE. With a double CCIE on R&S and SP track under his belt he mentors and coaches other engineers.
Vivek has been working in the Inter-networking industry for more than fifteen years, consulting for many Fortune 100 organizations. These include service providers, as well as multinational conglomerate corporations and the public sector. His five plus years of service with Cisco's Advanced Services has gained him the respect and admiration of colleagues and customers alike.
His experience includes, but is not limited to, network architecture, training, operations, management and customer relations, which made him a sought after coach and mentor, as well as a recognized leader.
He is also the author of the following titles:
"Your CCIE Lab Success Strategy the non-Technical guidebook"
"Stratégie pour réussir votre Laboratoire de CCIE"
"Your CCNA Success Strategy Learning by Immersing – Sink or Swim"
"Your CCNA Success Strategy the non-technical guidebook for Routing and Switching"
Q1. Hello Vivek and thanks for accepting Firewall.cx's invitation for this interview. Can you let us know a bit more about your double CCIE area of expertise and how difficult the journey to achieve it was?
I have my CCIE in Routing and Switching and Service Provider technologies. The first CCIE journey was absolutely difficult. I was extremely disappointed when I failed my lab the first time. This is the only exam in my life that I had not passed the first time. However, that failure made me realize that CCIE is difficult but within my reach. I realized the mistakes I was making, persevered and eventually passed Routing and Switching CCIE in about a year's time.
After the first CCIE I promised myself never to go through this again but my co-author Dean Bahizad convinced me to try a second CCIE and surprisingly it was much easier this time and I passed my Service Provider lab in less than a year's time.
We have chronicled our story and documented the huge number of lessons learned in our book Your CCIE Lab Success Strategy the non-technical guidebook. This book has been reviewed by your website and I am proud to state has been helping engineers all over the globe.

Q2. As a globally recognised and respected Cisco professional, what do you believe is the true value of Firewall.cx toward its readers?
Firewall.cx is a gem for its readers globally. Any article that I have read to date on Firewall.cx is well thought of and has great detailed information. The accompanying diagrams are fantastic. The articles get your attention and are well written because I have always read the full article and have never left it halfway.
The reviews for books are also very objective and give you a feel for it. Overall this is a great service to the network engineer community.
Thanks for making this happen.
Q3. Could you describe your daily routine as a Cisco double CCIE?
My daily routine as a CCIE depends on the consulting role that I am playing at that time. I will describe a few of them:
Operations: being in operations you will always be on the lookout for what outages happened in the last 24 hours or in the last week. Find the detailed root cause for it and suggest improvements. These could range from a change in design of the network to putting in new processes or more training at the appropriate levels.
Architecture: As an architect you are always looking into the future and trying to interpret the current and future requirements of your customer. Then you have to extrapolate these to make the network future proof for at least 5 to 7 years. Once that is done then you have to start working with network performance expected within the budget and see what part of the network needs enhancement and what needs to be cut.
This involves lots of meetings and whiteboard sessions.
Mix of the Above: After the network is designed you have to be involved at a pilot site where you make your design work with selected operations engineers to implement the new network. This ensures knowledge transfer and also proves that the design that looked good on the board is also working as promised.
All of the above does need documentation so working with Visio, writing white papers, implementation procedures and training documents are also a part of the job. Many engineers don't like this but it is essential.

Q4. There are thousands of engineers out there working on their CCNA, CCNP and CCVP certifications. Which certification do you believe presents the biggest challenge to its candidates?
All certifications have their own challenges. This challenge varies from one individual to another. However, in my mind CCNA is extremely challenging if it is done the proper way. I say this because most of the candidates doing CCNA are new to networking and they have not only to learn new concepts of IP addressing and routing but also have to learn the language of typing all those commands and making it work on a Cisco Device.
The multitude of learning makes it very challenging. Candidates are often stuck in a maze running from one website to another or studying one book and then another without any real results. That is the reason we have provided a GPS for CCNA, our book "Your CCNA exam Success Strategy the non-technical guidebook"
I also want to point out that whenever we interview CCNA engineers many have the certificate but it seems they have not spent the time to learn and understand the technologies.
What they don't understand is that if I am going to depend on them to run my network which has cost my company millions of dollars I would want a person with knowledge not just a certificate.

Q5. What resources do you recommend for CCNA, CCNP, CCVP and CCIE candidates, apart from the well-known self-study books?
Apart from all the books the other resources to have for sure are
A good lab. It could be made of real network gear or a simulator, but you should be able to run scenarios on it.
Hands on practice in labs.
Be curious while doing labs and try different options (only on the lab network please)
A positive attitude to learning and continuous improvement.
a) Write down every week what you have done to improve your skills
b) Don't be afraid to ask questions.
Lastly and most important have a mentor. Follow the guidelines in our book about choosing a mentor and how to take full advantage of a mentor. Remember a mentor is not there to spoon feed you: a mentor is there to make sure you are moving in the right direction and in case you are stuck to show you a way out (not to push you out of it). A mentor is a guide not a chauffeur.
Q6. When looking at the work of other Cisco engineers, e.g network designs, configurations-setup etc, what do you usually search for when trying to identify a knowledgeable and experienced Cisco engineer?
I usually do not look at a design and try to find a flaw in it. I do make a note of design discrepancies that come to my mind. I say that from experience because what you see as a flaw might be a design requirement. For example, I have seen that some companies send all the traffic coming inside from the firewall across the data center to a dedicated server farm where it is analysed and then sent across to the different parts of the company. It is very inefficient and adds delay but it is by design.
I have seen many differences in QOS policies even between different groups within the organizations.
If a network design satisfies the legal, statutory and organization requirements then it is the best design.
Q7. What advice would you give to our readers who are eager to become No.1 in their professional community? Is studying and obtaining certifications enough or is there more to it?
Studying is important but more important is to understand it and experience it. Obtaining certifications has become necessary now because that is one of the first ways that a candidate can prove to their prospective employer that they have learnt the technologies. If an employer is going to let you work on his network that will cost him thousands of dollars per minute of downtime (think eBay, amazon, PayPal, a car assembly line) or could even cost lives of people (think of a hospital network, or the emergency call network like the 911 in US, or the OnStar network in US) then they'd better be careful in hiring. I am sure you agree. Certification is what gets you in the door for an interview only but it is:
Your knowledge and understanding
Your experience
Your attitude towards your work
How well you work in teams
Which work related areas are of interest to you (Security, Voice, Wireless etc.) that gets you the job and makes you move ahead in your career.
The best way to move ahead and be No. 1 in your career is to do what you are passionate about. If you are pursuing your passion then it is not work anymore and you enjoy doing it and will excel beyond limits.
Another thing I would want to tell the readers is don't chase money. Chase excellence in whatever you are doing and money will be the positive side effect of your excellence.

Wi-Fi Key Generator
Generate/Crack any
WEP, WPA, WPA2 Key!
Cisco Password Crack
Decrypt Cisco Type-7 Passwords on the fly!