Free Webinar: Learn How Zero-Trust & Cloud Technologies Secure Your Network
Article Reads:22349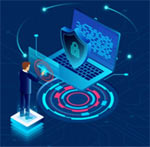 Work transformation is not 'one and done,'" says IDC's vice president, Holly Muscolino. Most enterprises understand that a hybrid workforce is the future, but they are finding the transformation difficult. To make it easy for the enterprises, IDC has come up with Branch of One - a concept that will last long beyond the pandemic.
To explain the concept to you, ManageEngine is conducting a webinar with IDC's Mark Leary. His insights on preparing your IT for the future will cover key aspects of Branch of One, such as devising robust connectivity, improved collaboration, enhanced security and ease of cloud migration in a hybrid work culture. Leary will also be revealing how technologies like SD WAN and Zero Trust will have a major impact on the future of IT.
Webinar highlights
Resolving existing IT challenges to improve business outcomes
Understanding Branch of One to enhance IT operations management
Minimizing migration and implementation risks in enterprise cloud adoption
Predicting advancements in digital IT to prepare enterprises for the future
Deploying Artificial Intelligence (AI) and Machine Learning (ML) to ease tasks and to improve remote staff productivity
Introducing new technologies predicted by analyst firms to improve hybrid work
Building a secure IT infrastructure even with a majority of remote workers
The date to save : August 17, 2021
Keep yourselves free at : 11.00 AM EDT
Speaker from IDC : Mark Leary, Research Director for Network Analytics and visibility
Speaker from ManageEngine: Suresh Bagavathy, Senior Technical Evangelist, ITOM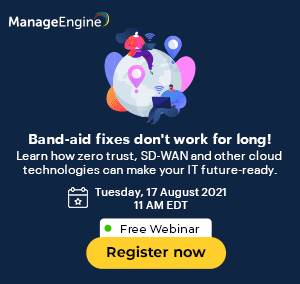 Join our webinar to know more about Branch of One, and optimizing your IT!
Wi-Fi Key Generator
Generate/Crack any
WEP, WPA, WPA2 Key!
Cisco Password Crack
Decrypt Cisco Type-7 Passwords on the fly!