Best VPN Review: StrongVPN. Download Speed Τest, Torrenting, Netflix, BBC, HULU, DNS Leak Test, Security, VPN Options, Device Support and more
Article Reads:20901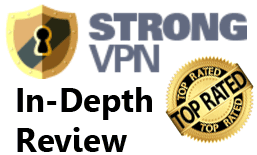 StrongVPN is one of the most popular VPN service around the world. With a presence in over 23 countries,+650 servers, cheap prices, Strong Encryption and blazing fast download speeds – it rightfully deserves the No.1 position in our Best VPN Review.
This in-depth review took weeks to write as we performed extensive testing on workstations and mobile clients, downloading, VPN torrenting, performing security tests, VoIP & Video latency, gaming and more, in an attempt to discover any flaws, issues or limitations the VPN service might have.
Key Topics:
Without any further delay, let's take a look and see what StrongVPN was able to deliver during these very challenging tests!
Positives:
Ranked No.1 in our Best VPN Service review
Superfast Download/Upload Speeds supporting Torrents
Very low Latency
Strong Encryption
Zero-Log Policy
Effective DNS Leak, IP Leak & WebRTC Protection
Cheap for 12 month signup plans
Concerns:
Kill-switch
5 day money-back guarantee period

StrongVPN is one of the oldest in the industry, beginning as a humble PC company in 1994. A subsidiary of Reliable Hosting, the company was created after a move to San Francisco prompted the sale of VPN services.
The US-based company doesn't promise a whole lot on its website, but under the hood it's a fast VPN with a no-log policy and great customer service. It supports 5 concurrent connections for $3.8 per month under a yearly package!
While some of the best VPNs focus on a wide range of servers, StrongVPN prioritises speed and the ability to unblock Netflix. It has servers in 45 cities across 23 countries, most of which can bypass region blocks.
Such functionality has made this StrongVPN very popular in China and other countries with aggressive blocking policies. This review will analyze the benefits for a new, global audience.
StrongVPN's install is as simple as it gets. Users are presented with a regular installer and just have to hit next until it's complete. StrongVPN intelligently installs TAP drivers, requiring no extra prompts. After completion, the application will launch automatically.
At first glance, StrongVPN's interface is simple. It presents your location, a list of servers, and VPN protocol used to encrypt traffic. Most users will never have to go outside of this interface, leaving a minimal, simple experience.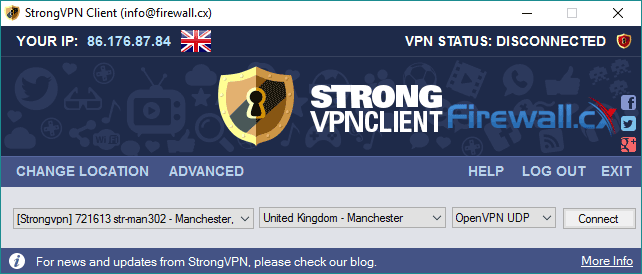 The StrongVPN client - Probably not the best looking GUI but surely the best service
Once you drill down into settings, things get more complex. Though well-labelled, there's a lot of information with no tooltips or tutorial. However, these are presented as advanced options so, naturally, they are targeted at power users.
They also provide some information that's useful to everyone. By default, StrongVPN launches an Information page, which gives account details, launcher version, subscription length, and more. This makes it easier to provide relevant details to support agents, and isn't something you see often: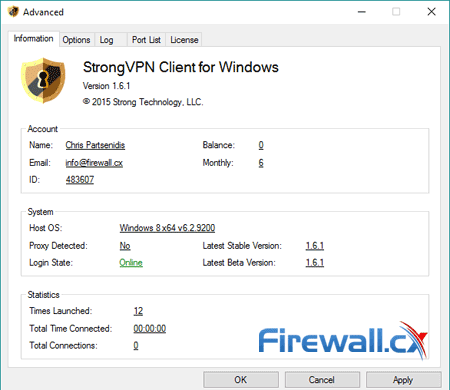 StrongVPN client information window
It isn't the best VPN client we've seen in terms of ease of use, but the default screen is still simple and the advanced options provide unprecedented customization. Though it was a slightly slow to connect to some servers, that was mitigated by a stable experience afterwards.
The clunkiness of StrongVPN's client can also be forgiven by its availability. It's one of the few clients that states supports for all modern versions of Windows, from Windows XP through to Windows 10. Mac support is solid too, with an installer from Yosemite upwards. For Mac users on older systems, there's a legacy client that works just fine.
Like all of the best VPNs, there's support for Android and iOS, too. iPhones, iPads and iTouch devices are supported on iOS 9 and up. Android goes back a little further, with support for Ice Cream Sandwich (4.0) and above.
For other platforms, StrongVPN provides some of the most comprehensive guidance we've seen. There's tutorials for Windows Phone, Windows Mobile, Microsoft Surface and more.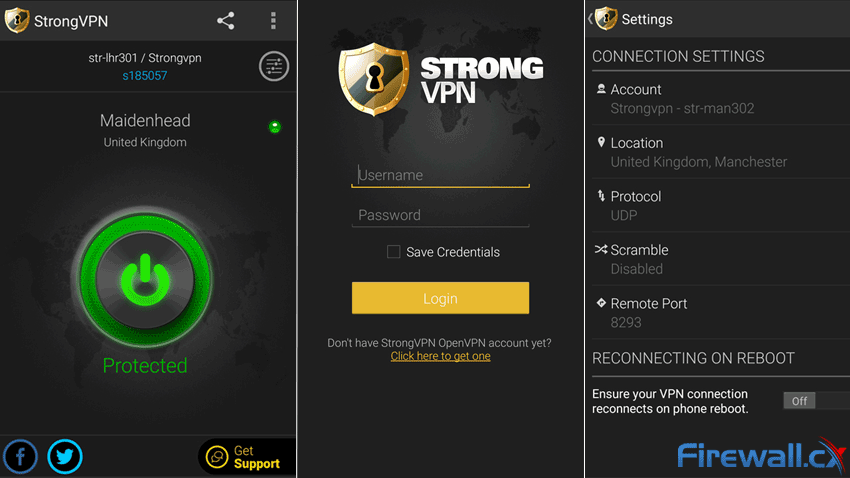 StrongVPN Mobile client - Great looking interface with heaps of options
The mobile apps aren't the prettiest we've seen, but it's hard to deny the simplicity. StrongVPN has gone for a very barebones interface with a simple button to enable and disable the connection. Though the settings menu isn't quite where you'd expect it to be, it presents information in a much simpler format than the desktop client.
However, things get a little more complex once you move to Linux. StrongVPN doesn't provide a dedicated installer for any of the distributions. That's a very common move, as it's difficult to provide options for all the different versions, and Linux users tend to be more advanced anyway.
Thankfully, StrongVPN does provide some excellent guidance that makes it much easier. Picture guides are provided for Linux in general and Ubuntu. Some of these take the form of forum posts, while others are detailed picture guides.
Reliable Hosting also gives recommendations to users that are stuck between PPTP, L2TP, and OpenVPN. PTTP is recommended for Ubuntu as it's the simplest setup and deemed adequate for casual browsing, video streaming, gaming, VoIP/Video calls and other.
Despite this, OpenVPN is quite easy to get working with StrongVPN. The guide for Ubuntu requires minimal command line input and, for other distributions, command line and network manager tutorials are available.
Of course, you can set up OpenVPN on Windows and Reliable Hosting has picture guides for that too. The setup is a little more involved than some, requiring a different username and password than the usual client. Those details are hidden away in a sub-menu, but thankfully the tutorial points you to the right place.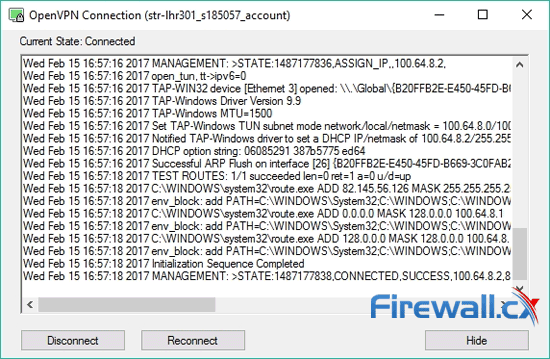 Connecting to StrongVPN using OpenVPN client
With a little effort, we were able to get OpenVPN working with the service just fine. Support was also happy to help with this, and provided valuable advice.
It's clear that Reliable Hosting has some of the best VPN guidance, and that extends to routers. Though StrongVPN doesn't have its own OS, it does support a wide range of router firmwares via PPTP and OpenVPN.
In fact, Reliable Hosting has some of the best VPN router guides we've seen. The company provides setup tutorials for the popular DD-WRT and TomatoUSB. However, it also goes a step further, with support for the Sabai and Mikrotik Router OS's.
There are options for less advanced users. StrongVPN sells routers pre-flashed with SabaiOS so that no setup is required. The Tomato-based router OS makes it simple to use VPNs with routers, and requires very little configuration.
Though the routers are shipped by Sabai technology, Reliable Hosting handles the payment. You can also buy a VPN subscription alongside it for less micromanagement.
StrongVPN's multitude of platforms is enhanced by its support for various encryption options. As with most modern clients, StrongVPN uses OpenVPN with either UDP or TCP by default. However, it also supports PPTP, L2TP, and SSTP.
Though StrongVPN used to offer different encryption levels depending on your package, that's no longer the case as all packages now have access to all supported encryption methods. This opens up connections on more niche devices, and provides varying degrees of speed and security. You can find out more about the various protocols in our beginner's guide to VPNs.
Despite the options, OpenVPN will be the choice of most users. StrongVPN provides up to 256-bit AES encryption via this method, its highest amount. It's the best VPN encryption in the industry used by law enforcement and privacy experts.
StrongVPN comes with kill switch functionality. The option isn't immediately obvious, labeled as Allow direct traffic while reconnecting. Unchecking the option will make sure your PC doesn't transmit any data if the VPN connection drops. However, it's worth noting that its implementation is questionable, as we have covered below.
To further its anonymous browsing features, Reliable Hosting provides its users with its StrongDNS service for free. This mitigates issues like DNS leaks, which you can read more about here. The user is given the IP address of dedicated DNS servers via a separate client or through manual setup.
It would be unusual to provide a standalone DNS service if it didn't prevent leaks correctly. However, as a precaution, we ran several tests with StrongDNS. Using the guidance from our DNS leak guide, we first tested with DNSleaktest.com, StrongVPN connected, and StrongDNS disabled.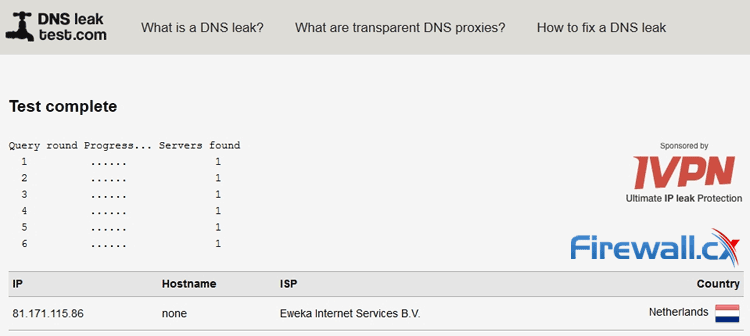 Testing StrongVPN for DNS Leaks
As with many of the best VPNs, StrongVPNseems to have some built-in protection, changing the DNS address in its TAP driver automatically. The only IP that shows is Reliable Hosting's Netherlands server. We got the same result using a separate test by CryptoIP, which displayed an identical address: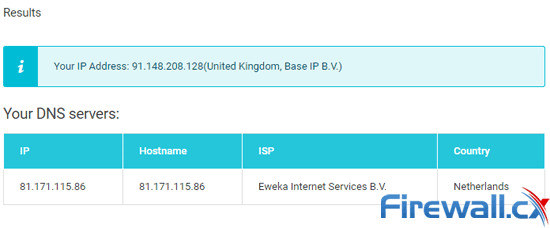 Enabling the StrongDNS tool shows similar results. To test correctly, we set StrongVPN TAP drivers to automatically determine DNS servers. Testing without StrongDNS enabled points to a Dyn DNS from Saudi Arabia. While still a reliable hosting DNS, it isn't as dedicated or safe: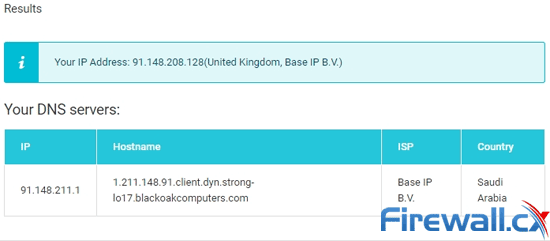 Testing StrongVPN for DNS leaks without StrongDNS enabled
Enabling the StrongDNS tool has the same effect as correctly configured TAP drivers – it forces the computer to use StrongVPN's dedicated DNS servers.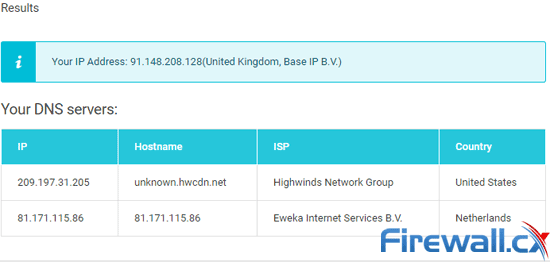 StrongVPN enabled with StrongDNS passed the DNS leak test
Despite having the same effect, there are some advantages to using the StrongDNS tool. It protects users regardless of the protocol, and changes automatically when StrongVPN phases in and out of different servers.
Despite this, users should still ensure their system is properly configured against DNS leaks. There are several factors in play, each of which is explained in our DNS leak guide.
The next feature to test was StrongVPN's Kill Switch. We found the implementation very difficult to test. StrongVPN's implementation didn't kick in when simply disabling TAP drivers like other VPNs.
In fact, disabling TAP drivers cut the VPN connection, displaying our true IP, without any indication from the client. This happened despite having "Allow direct traffic while reconnecting" unticked. That's slightly concerning, and points to a faulty implementation.
Instead, we tried ending the OpenVPN process in task manager. This cut the VPN connection once more, but this time to client was able to detect it. However, despite a "reconnecting" dialogue, our true IP still leaked.
Confused, we spoke to support about the matter. An agent confirmed to us that the kill switch functionality is not currently working with StrongVPN: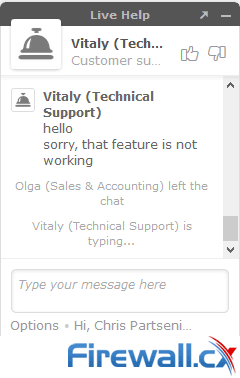 StrongVPN – Asking Live Chat about the Kill Switch feature
Naturally, we asked if the feature would be fixed anytime soon. The support agent replied, "sorry, we don't have ETA for that task. it may be fixed in one of the next vpn client releases."
The feature is not advertised by StrongVPN on the site, so the implementation isn't particularly misleading. However, it's definitely something to note. You will have to set up a kill switch manually, which is actually far safer than the implementation of even the best VPNs.
Though it can be tricky on some systems, we have extensive guidance in our VPN for torrenting article.
Though StrongVPN doesn't protect against connection loss, its WebRTC prevention is very good. For those unfamiliar, WebRTC is a communications protocol. It allows for real-time file and video sharing in the browser without the need for extra plugins. Unfortunately, it also lets websites use javascript to discover a user's true IP address, even if they're using a VPN.
Using the StrongDNS tool and ipleak.net, we found no issues withWebRTC. Though it was enabled in our browser, only a Shared Address Space IP was revealed:

StrongVPN protects against WebRTC leaks
Only the best VPNs can provide such functionality and, in this case, it's thanks to StrongVPN's dedicated DNS servers. Even with StrongDNS disabled, the service maintained anonymous browsing.
Other than anonymity, speed is an important factor in VPN purchases. Encryption always means a slowdown of some sort, but the amount can vary depending on provider. We run tests on all of the best VPN providers to determine the fall off from different locations.
Using the popular Speedtest.net, we first ran a test from a 100 Mbps UK connection without the VPN enabled on the San Jose server. It came back at a solid 89.84 Mb/s.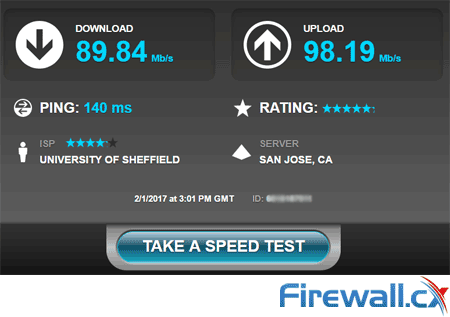 Speedtest without a VPN
This initial test confirmed we had the ability to utilise almost 100% of our link to the internet.
Next, we enabled our StrongVPN and tried the same test again and the results were staggering: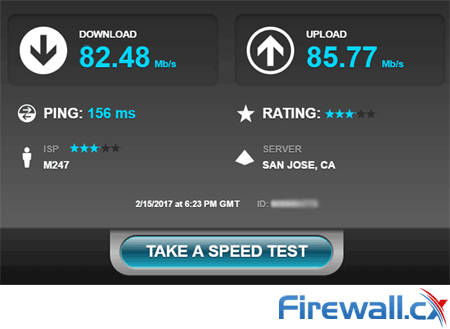 StrongVPN truly impressed us with its superfast download speeds and low latency
We experienced an expectedsmall drop off using the San Jose server, down to 82.48 Mb/s which is really negligible considering our connection had additional overhead due to the heavy encryption and we also introduced an additional hop (VPN server) between our location and the San Jose Speedtest.net server.
The round-trip ping came in only 156ms – that's only a 16ms increase in latency which is very impressive!
That's a very fast VPN, with fast downloads/uploads and very low latency while gaming. The download and upload speeds are up there with the best VPNs and certainly fast enough to support any scenario.
The service was able to unblock Netflix successfully. It seems to work with every U.S. server except Miami and Atlanta. Here's an example from a New York Server: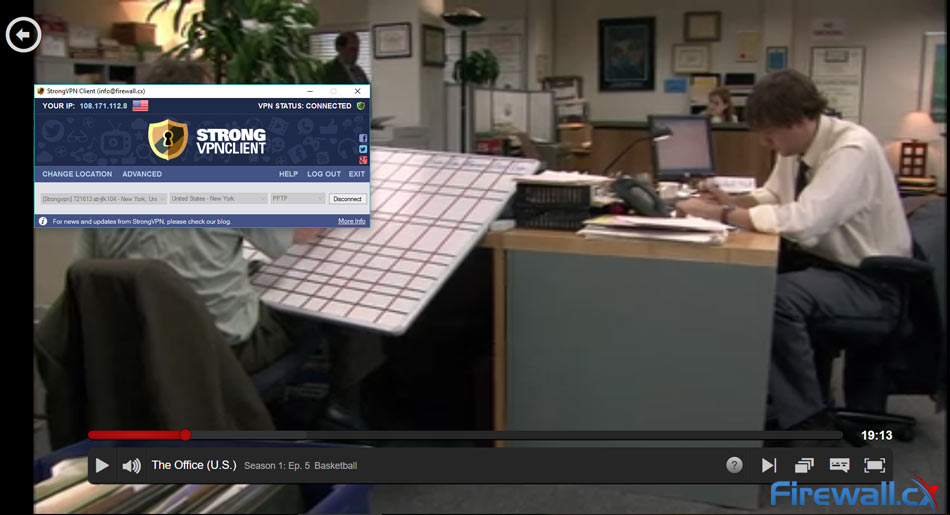 US Netflix successfully unblocked with StrongVPN
While most of the best VPN providers can unblock Netflix, StrongVPN is particularly impressive. Not only does it work for almost all US servers, it's also able to unblock Netflix around the globe. In our short testing we were able to access Netflix from the following countries:
US
UK
Australia
Canada
China
Czech Republic
Germany
Israel
Japan
Italy
Korea
Latvia
Luxembourg
Malaysia
Mexico
Netherlands
Norway
Romania
Singapore
Sweden
Switzerland
Turkey
The only notable ones missing were Spain and France. This is the best VPN functionality we've seen from any VPN provider we've tested. Combined with fast VPN speeds, streaming is quick and available from almost anywhere on the planet.
StrongVPN advises users to report services that are blocked by sending a tracert report. If there's a genuine problem, they're usually good at fixing it.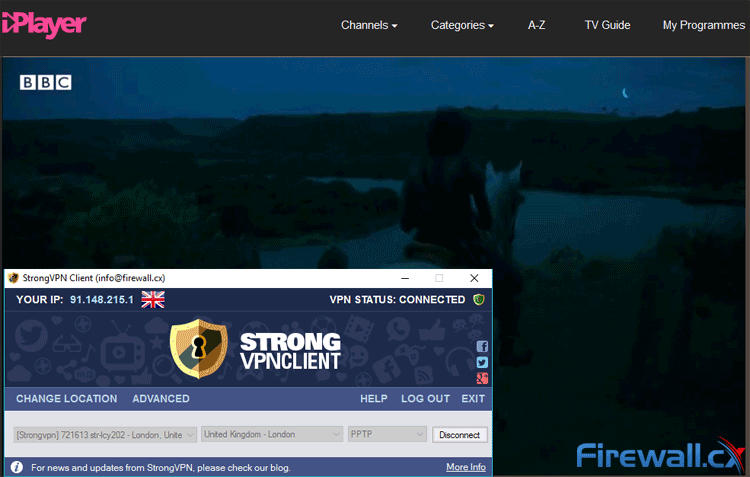 StrongVPN unblocks BBC iPlayer
The unblock Netflix functionality extends to other services. Using a fast VPN connection from the UK, we were able to access BBC iPlayer without any issues. Though it currently only supports less secure protocols, StrongVPN is clearly the top in its class at bypassing region blocks. Much of this is down to its StrongDNS tool, which helps to convince websites the connection is genuine.
VPNs are popular for torrenting and peer-to-peer downloads and StrongVPN certainly did not disappoint. Using a legal download of Ubuntu, we first tested without the VPN enabled from the UK:

Torrent downloading without VPN enabled
Torrent download speeds were not the greatest despite our fast connection but there are many factors at play here, including variation in healthy peers and ISP bandwidth caps.
We then enabled our StrongVPN connection and re-tested the same download noticing a significant increase in download speed:

Torrent downloading speed increased with StrongVPN enabled
This test also confirms the results we saw during the writing of our VPN for Torrenting article where our download speeds increased from 1.2Mb/sec to 3.1Mb/sec after enabling our StrongVPN client.
As a general rule of thumb users downloading via torrent should be using a VPN to help ensure their download speeds are not capped by their ISP. While no ISP will admit they are in fact throttling connections, when using a VPN we can clearly see the difference.
StrongVPN's no-log policy also helps ensure user data is not tracked or logged.
VoIP and Video calls are one of the toughest tests when it comes to VPNs mainly because VoIP is very sensitive to latency (delay). Generally any one-way delay greater than 150ms (0.15 seconds) will be evident to everyone that's participating in the call.
We wanted to test StrongVPN under the most extreme conditions so we decided to perform VoIP and video calls from Australia to Australia via a StrongVPN server located in the United States.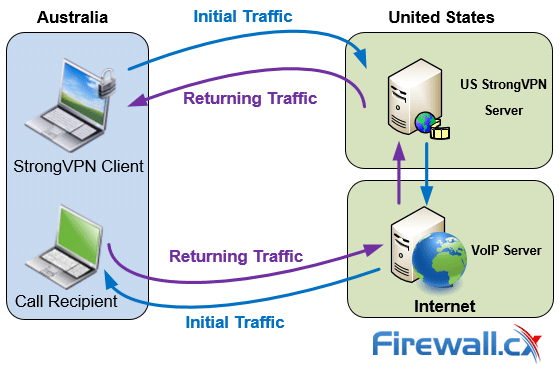 We connected our mobile VPN client with a StrongVPN server in Washington DC and then launched three different VoIP/Video applications: Viber, Skype and Zoiper. We made VoIP and video calls to users located in Australia forcing packets to travel to the USA and then back to Australia as shown in the diagram above.
The results were surprisingly great as there were very few times we had delays which were barely noticeable. Video and audio worked great without any issues and our Viber application continuously reported Excellent Network Quality even during video calls: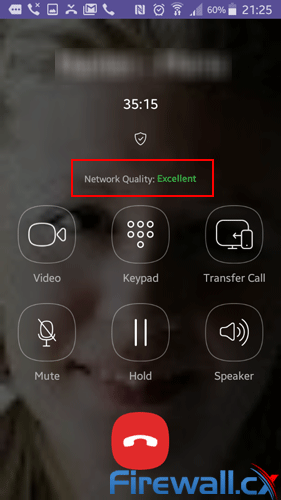 VoIP and Video calls work great with StrongVPN
Though StrongVPN has some considerable security features, it can still be compromised if the service keeps logs. When browsing, a user hides behind a VPN's server IPs. However, logs allow a government agency or copyright holder to discover the user's true identity via a legal request. This is particularly important for StrongVPN, as it's based in the US. The US has many surveillance programs and is part of the five-eyes intelligence alliance.
Thankfully, StrongVPN does not keep VPN connection logs of any kind. Its privacy policy reads as follows:
"StrongVPN does not collect or log any traffic or use of its Virtual Private Network service.
We will only comply with all valid subpoena request that follow the letter of the law. We cannot provide information that we do not have. StrongVPN will not participate with any request that is unconstitutional."
This is a relatively recent change. In the past, StrongVPN was known for keeping logs, both for fourteen days and indefinitely. It's great to see the service adapting to modern requirements and providing its users with more privacy as a result. Bear in mind the service has been around for 20 years, before the extent of mass surveillance was known. This gives a little leeway to its old policies.
However, even the best VPNs tend to keep logs on their website. StrongVPN is no different in this regard. Reliable Hosting collects cookies, Google analytics, and other such services. This is used to improve the service and isn't sold to third parties.
Account information is stored too. This includes your billing address, name, email address and more. The logging policy differs depending on the payment method you use, however. StrongVPN does support Bitcoin, which provides significantly more anonymity. You can also use a fake name and email address to circumvent some of these worries.
StrongVPN says its support is second to none and, in our usage, that was the case. The 24/7 live chat has a strict hierarchy and dedicated tech support, something we haven't seen with any other service. This was refreshing, as support agents had in-depth knowledge about what they were discussing and how to provide help.
Response times were very quick, and we managed to get in contact with a human within a few minutes, even at peak times. We presented a number of issues, including connection errors and OpenVPN setup. Tech support solved both quickly, and provided more details about the service. They were clearly typing information personally, rather than copying and pasting answers.
StrongVPN also has email support for non-urgent cases. The response is much the same, with detailed, personalized answers in a short time frame. It never took more than a couple of hours to get a reply, which is definitely acceptable when there's 24/7 support via livechat.
All in all, StrongVPN's support is exceptional. Naturally, it depends on the support agent but we were impressed with their admittance of broken features, where others would try to skirt around the issue. Though the service might be considered expensive by some, it does come with some of the best VPN support around.
On the topic of price, StrongVPN's value really depends on what you're using it for. The $3.80 subscription fee is very cheap, and not at all extortionate.
Those who want to bypass region blocks or be safe on public WiFi will be much more suited to this service. It's the best VPN we've seen to unblock Netflix, and is a fast VPN aswell. Its offering of 23 countries is more than enough, and platform availability is also a strong point.
StrongVPN has changed a lot in recent years, and it's worth keeping an open mind. Its fast download speeds, simple but effective VPN client, strong encryption, zero-log policy, awesome ability to unblock Netflix, LuLu and BBC iPlayer makes it a clear winner. And if you aren't happy with the service, StrongVPN still has a five-day money back guarantee.

Wi-Fi Key Generator
Generate/Crack any
WEP, WPA, WPA2 Key!
Cisco Password Crack
Decrypt Cisco Type-7 Passwords on the fly!