World Backup Day with Free Amazon Voucher and Prizes for Everyone!
Article Reads:2952
Celebrate World Backup Day and WIN with Altaro!
We all remember how grateful we were to have backup software when facing so many data loss mishaps and near-catastrophes.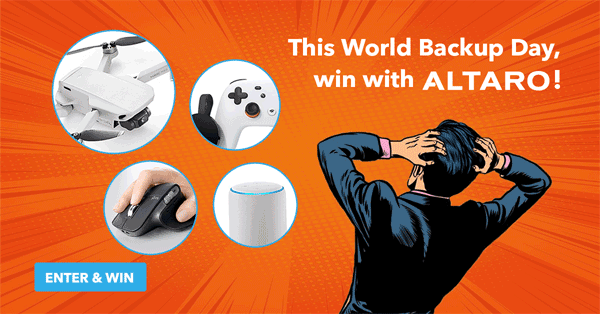 If you manage your company's Office 365 data, celebrate this World Backup Day with Altaro. All you have to do is sign up for a 30-day free trial of Altaro Office 365 Backup. There's a guaranteed Amazon voucher in it for you, and if you share your biggest backup mishap with them, you get a chance to WIN one of the grand prizes:
DJI Mavic Mini Drone FlyCamQuadcopter,

Google Stadia Premiere Edition,

Ubiquity UniFiDream Machine

Logitech MX Master 3 Advanced Wireless Mouse
What are you waiting for? Offer expires on the 22nd of April so Sign up now!
Good luck & happy World Backup Day!
Wi-Fi Key Generator
Generate/Crack any
WEP, WPA, WPA2 Key!
Cisco Password Crack
Decrypt Cisco Type-7 Passwords on the fly!