6 Key Areas to Consider When Selecting a VM Backup Solution
Article Reads:7974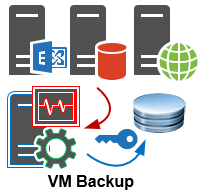 Backup and Disaster recovery are core considerations for any business with an IT footprint, whether that is on-premises or in the cloud.
Your business depends on reliable IT systems to support the business's core functions. Even a short 1-hour outage can cause considerable disruption and have a financial impact to the business. Given our ever-growing reliance on IT systems, it is important more than ever to choose the right VM Backup software for your business to protect your Virtual Infrastructure (Vmware, Hyper-V) and business data in the case of a system failure or security incident while at the same time provide fast individual file or folder, server database or entire VM restoration.
By utilizing Altaro VM Backup as a case study, this article will guide you through the following main 6 areas which you should consider when choosing your VM Backup solution:
The most important part of electing a backup solution is to ensure that the solution will meet your requirements.
There are various requirements that you might have, a few examples are:
Number of Virtual Machines and Hosts
You need to ensure that the backup software is capable of handling the size of your virtualized estate. So if your total number of VM hosts is very large or changing constantly, then you might want to ensure that the solution is scalable and it is easy to add additional workloads into the platform.
Type of Backup Storage
Most backup solutions for a virtualized environment are software-based, meaning that they run on top of a Window Server installation or from within their own appliance which you deploy to your virtualized platform. Other options include a physical appliance with storage built-in.
If you already have storage infrastructure in place, ensure that your choice of backup solution allows connectivity to this backup target natively. If you are looking for a storage device for the backups, consider one which supports a simple standards that works over existing networking infrastructure such as NAS or SMB Network Share.
Be sure to analyse any existing features that you are using or consider new ones as part of your backup solution selection process.
Some of the features to consider include:
Deduplication
Deduplication of the storage used at the target backup location can significantly reduce the amount of storage that is needed to host your backups. Check with your backup vendor what the average deduplication rates are and ensure you check any small print that is attached to any claims.
When we look at duplication from Altaro's perspective, they rightfully boast how they can outperform event their closest competitors. With Altaro, you can backup 858GB of VM data into only 390GB of space. Imagine the backup storage costs savings there: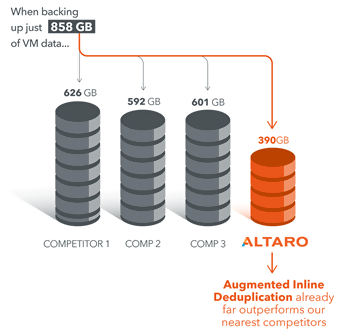 Try Altaro's Free VM Backup Solution - Download Now
WAN Optimisation
If you are backing up your Virtual Machines to a secondary site, over a WAN connection then consider a solution which includes WAN Optimisation. Bandwidth isn't free which is how WAN optimisation can help. Backup data is compressed.
In some better implementations, only data that the backup storage doesn't already have will be sent over the WAN. This can drastically save your bandwidth and avoid "burst" costs by your ISP. WAN Optimization can also free up the link for other uses and applications.
Guest Quiescing
If you have databases which require backing up, then ensure your selected solution supports backing up of your databases type and version. In this scenario is not enough to backup Virtual Machines on their own. Typically for databases, an agent needs to be deployed to the machine which will instruct the database to flush all writes that are in memory to disk. If you don't do this then there is a risk that the database will not restore correctly. Something to keep in mind is that with Altaro, Exchange, SQL and other applications only require VMware tools for VMware vSphere environment for guest quiescing. No additional agents are required.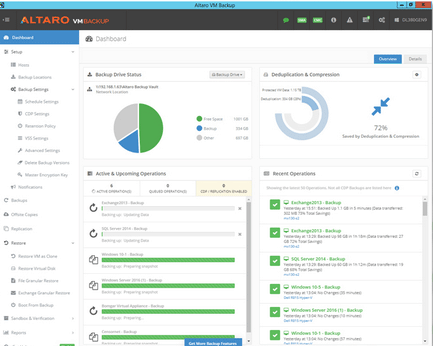 Instant Restore
Instant restore is a more modern approach to restoring Virtual Machines. Some providers will allow you to instantly map the backup file to your systems so that you can get back online in seconds rather than waiting for several hours for a restore to complete.
Altaro aims to meet all of these business requirements through their VM Backup solution. Altaro supports all common storage types out of the box (Network Drive, NAS, iSCSI, eSATA and USB) with no advanced configuration required: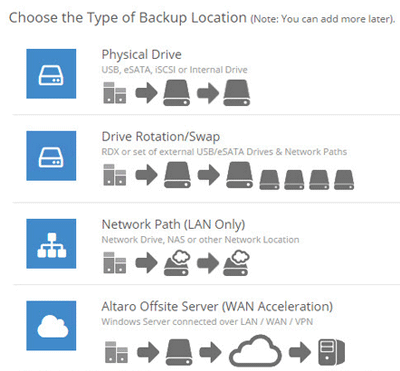 Furthermore, all of the advanced features that you can think of are supported by Altaro VM Backup including Deduplication, WAN Optimisation, Guest Quiescing via VMware Tools and Instant Restore Technology to bring your backups online in just a few seconds, regardless of their size.
There are various billing models out there these days. Most solutions will charge you a fee per server CPU or by the number of Virtual Machines. Then there is usually a maintenance fee on top which covers support and entitlement to new versions of the software.
With various options available, work out if a per CPU or per VM option is more advantageous for your business. This applies for the long term, so forecast this pricing out over 3 or 5 years. It might also be a good time to see if you can consolidate your Virtual Machines down onto fewer hosts and go for a host orientated option rather than per VM.
It would also be wise to look into deals on longer-term agreements and If you have a large estate, to see if there are discounts for signing up to a larger commitment.
Some vendors will offer an OPEX model rather than a fixed price upfront CAPEX solution. Paying monthly can help with budgets so check with your vendor about the options.
When we look at Altaro VM Backup, the billing model is simple; all you need is the number of hosts in your environment and the edition of the software you wish to purchase. 24/7 support upgrades are included for the first year too; you can purchase software maintenance agreements (SMA) for continued upgrade and Technik support in future years. Altaro does not bill you on the number of VMs or sockets so you can leverage a cost-saving over the competition here.
Security is a growing concern so don't fall into the gap and forget about it when looking at your backup solution:
Check to ensure your chosen solution's backups can put an air gap in place for your production Virtual Machines to prevent the spread of threats such as crypto-locker to your backups.
Do you need to encrypt your VM backups? This can slow down your backup jobs and prevent some features from working so ask your shortlisted vendors what the deal is here.
For ultra-security conscience businesses, you might want your backups to be encrypted as the data is sent down the network to your storage device. This can be advantageous, but there are sometimes cheaper options such as using a VPN or a dedicated VLAN to help protect you to a certain degree.
Backup software such as Altaro can use the inbuild Encryption feature which would encrypt all backups with an AES 256bit Encryption (Military Grade) hence preventing from having one encrypting backups manually and possibly rendering the backups not accessible even to the backup solution itself.
Try Altaro's Free VM Backup Solution - Download Now
Before signing up to a contract with a backup vendor, ask yourself the following questions
How long has the company been in business?
How many version of the software has been released?
Is the software supported by your virtualization vendor (VMware/ HyperV etc)?
How quickly does the backup vendor's software support a recently released update from your Virtualization vendor?
For peace of mind, Altaro wins awards every year which are published on their website. They have over 30 awards to their name and a series of impressive independent reviews. Altaro also boast over 50,000 customers including:

When things go wrong and you have to rely on your backup solution to save the day, you need to know that the vendor support is ready to help you should you need them. Here are some things to consider:
Support Reviews
Look online to see if there are any reviews on the solution you are looking at purchasing.
A quick google search should be all you need to see if there are any major issues with the software.
Service Level Agreements
When you receive your terms, review the support clauses to see if the SLAs are in line with your expectations. Ideally, you want the vendor to respond fairly quickly to your support requests especially if they are related to a restore.
Support Availability
For availability, the two main areas for consideration are:
Can you phone or email the support team?
Being able to call the support team is important because other methods such as email and chat are slow and might be triaged for several hours or misclassified into another severity level. Phone support is incredibly important when looking at your options.
It always feels as though we need support at the worst possible time. Trying to get an application or Virtual Machine restore completed through the evening so that it is ready for the morning can be a challenge. With this in mind, we should try to choose a VM backup vendor that has a 24/7 helpdesk who you can call at any time and log a case.

One of the great things about Altaro is their support. They commit to responding to support calls in under 30 seconds. Guaranteed!

This article helped identify the main considerations for your VM Backup solution to ensure business continiouity, data integrity, data availability and more. We talked about the importance of the number of VMs and Hosts supported by the VM backup, type of backup storage supported, advanced storage space conservation techniques such as Augmented Inline Deduplication, WAN Optimization backup techniques to maximise your backups over WAN links, Guest Quiescing for database backups, Instant restore capabilities for fast restoration, VM Billing and Pricing models, VM Backup Security and encryption and vendor support.
We believe that Altaro fits the needs of most organisations due to their scalable, feature-rich solution. With an average call pickup of only 22 seconds, straight to a product expert with no gatekeepers in the way of your support experience is enough on its own for most to look at Altaro as a viable solution.
Wi-Fi Key Generator
Generate/Crack any
WEP, WPA, WPA2 Key!
Cisco Password Crack
Decrypt Cisco Type-7 Passwords on the fly!