Free Webinar & eBook on Microsoft Licensing for Virtual Environments (Hyper-V)
Article Reads:11692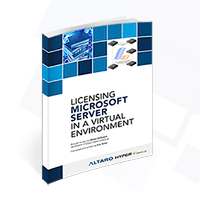 Microsoft Licensing for Virtual environments can become a very complicated topic, especially with all the misconceptions and false information out there. Thankfully Altaro, the leader in Hyper-V Backup solutions, has gathered Hyper-V MVP experts Thomas Maurer and Andrew Syrewicze to walk us through the theory and present us with real licensing scenarios to help us gain a solid understanding of Microsoft licensing in virtual environments.
Their Hyper-V experts will also be available to answer all questions presented during the free webinar. Registration and participation for this webinar is complete free.
Webinar Details: This webinar has passed however a recorded version is available at the below url along with all necessary resources.
As a bonus, a free eBook written by Hyper-V expert Eric Siron, covering Licensing Microsoft Server in a Virtual Environment, is now available as a free download.
To download your free eBook copy and register for the Free Webinar
click here
.
Wi-Fi Key Generator
Generate/Crack any
WEP, WPA, WPA2 Key!
Cisco Password Crack
Decrypt Cisco Type-7 Passwords on the fly!