Easy, Fast & Reliable Hyper-V & VMware Backup with Altaro's Free Backup Solution
Article Reads:12346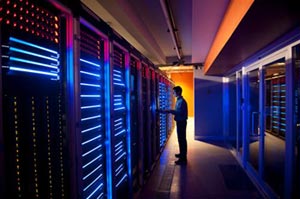 As more companies around the world adopt the virtualization technology to increase efficiency and productivity, Microsoft's Hyper-V virtualization platform is continuously gaining ground in the global virtualization market, as is the need for IT departments to provide rock-solid backup solutions for their Hyper-V virtualized environment.
History has shown that backup procedures were always a major pitfall for most IT departments and companies. With virtualization environments, the need of a backup solution is more important than ever, especially when we consider that physical servers now host multiple virtual servers.
While creating a backup plan and verifying backups can become an extremely complicated and time-consuming process, Altaro has managed to deliver a backup solution that guarantees the backup process of the virtualized environment and ensures the data integrity of servers. Furthermore, Altaro's backup solution is complimented with a simple recovery procedure, guaranteeing quick and easy recovery from the failure of any virtual machine and hypervisor host.
What's even better is that Altaro's Hyper-V & VMware backup solution is completely free for a limited number of virtual servers!
Download your Free Hyper-V & VMware Altaro Backup Solution Now - Limited Offer!
Altaro Hyper-V & VMware backup is a feature-rich application that allows users to backup and restore VMs literally with just a few clicks. The user interface of Altaro VM backup is easy-to-use with all the necessary features to make the Hyper-V or VMware backup & restore process, an easy and simple task.
Main Features Of Altaro VM Backup
User-friendly easy to use admin console.
Supports Microsoft Windows Server 2012 R2, 2012, 2008 R2, Hyper-V & ESX/ESXi server core.
Backup virtual machines per schedule.
Restore single or multiple virtual machines to different Hyper-V/VMware host or same host.
Rename virtual machines while restoring the virtual machine to same host or different host.
Backup Linux VMs without shutting down the machine.
Secured backups with AES encryption.
Reduced backup file size with powerful compression.
Central Altaro Hyper-V backup management for multiple Hyper-V host.
File level restore allows you to mount backup up VHDs and restore individual files without actually restoring the whole virtual machine.
Business continuity with offsite backup with WAN acceleration.
Backup Exchange Server VM (Supports Exchange 2007, 2010, 2013) and can restore Exchange item level restore options.
Support backup for Hyper-V cluster shared volumes for larger deployments.
Support for Microsoft SQL Database VM backup.
Free for up to two Virtual Machines.
Extremely low pricing per host (not per socket) provides unbeatable value.
It is evident that Altaro Hyper-V backup provides a plethora of features that makes it a viable solution for companies of any size.
Altaro Hyper-V Backup Installation Requirements
Installing the Altaro Hyper-V backup application is no different than installing any other windows application, it is very easy.
It is important to note that Altaro Hyper-V backup must be installed in Hyper-V host machine, and not a guest machine. Altaro Hyper-V supports the following host server editions:
Windows 2008 R2 (all editions)
Windows Hyper-V Server 2008 R2 (core installation)
Windows Server 2012 (all editions)
Windows Hyper-V Server 2012 (core installation)
Windows Server 2012 R2 (all editions)
Windows Hyper-V Server 2012 R2 (core installation)
Minimum system requirements of Altaro Hyper-V Backup are:
350 MB Memory
1 GB free Hard Disk space for Altaro Hyper-V Backup Program and Settings files
.NET Framework 3.5 on Windows Server 2008 R2
.NET Framework 4.0 on Windows Server 2012
Following is a list of supported backup destinations. This is where you would save the backup of your Hyper-V virtual machines:
USB External Drives
eSata External Drives
USB Flash Drives
Fileserver Network Shares using UNC Paths
NAS devices (Network Attached Storage) using UNC Paths
RDX Cartridges
PC Internal Hard Drives (recommended only for evaluation purposes)
Grab a Free Copy of VM Altaro Backup Solution Now!
Installing Altaro Hyper-V Backup Software
First step is to grap a fresh copy of Altaro's Hyper-V backup application by downloading the application from Altaro's website.
Run the installation file. We will receive the application's welcome screen. Click Next to continue through the next windows until the installation is finally complete.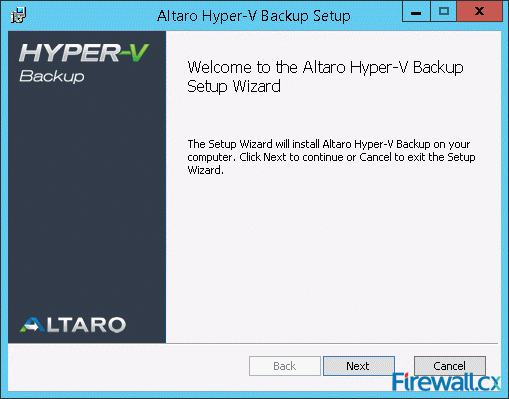 Figure 1. Installation Welcome Screen
After few moments, the installation completes. At this point, check the Launch Management Console and click Finish: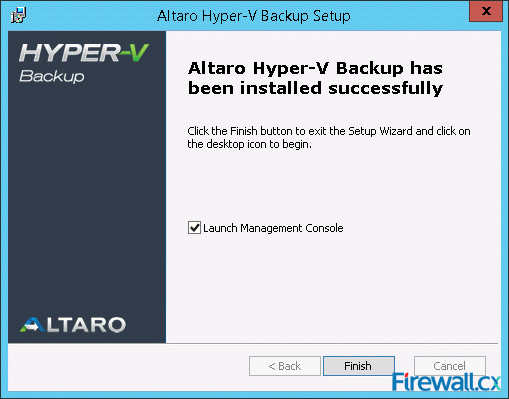 Figure 2. Altaro Hyper-V Installation Complete
At this point, Altaro Hyper-V Backup has been successfully installed on our Hyper-V server and is ready to run by ticking the Launch Management Console option and clicking on the Finish button.
Alternatively, Administrators can also install the Altaro Hyper-V Backup application on a workstation or different server, connect remotely to the Hyper-V server and perform all necessary configuration and backup tasks from there.
We found the 'remote management' capability extremely handy and proceeded to try it out on our Windows 7 workstation.
It's worth noting that it makes no difference whether you select to run Altaro's Hyper-V Backup directly on the Hyper-V host or remotely as we did.
After installing the application on our Windows 7 workstation, we ran it and entered the necessary details to connect with the Hyper-V host: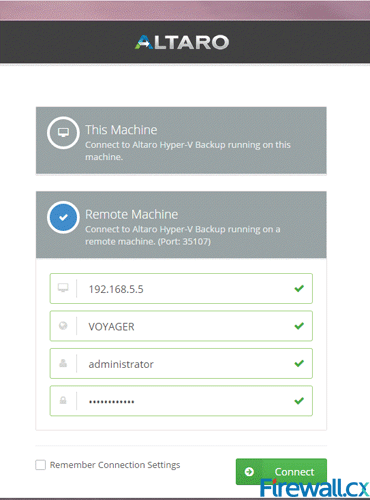 Figure 3. Connecting to the Hyper-V Agent Remotely
Users running the application directly on the Hyper-V host would select the 'This Machine' option from above.
Once connected the Hyper-V agent, the Altaro Hyper-V Backup main screen appears: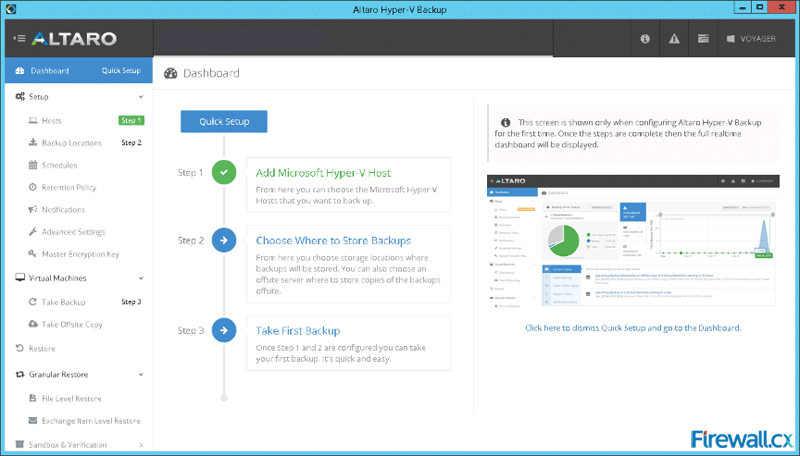 Figure 4. Altaro Hyper-V Backup - Main Screen (click to enlarge)
Altaro's Hyper-V Backup solution offers an extensive number of options. When running the application for the first time, it provides a quick 3-step guide to help quickly setup a few mandatory options and begin performing your first Hyper-V backup in just a couple of minutes!
In our upcoming articles, we'll be taking a closer look on how Altaro's Hyper-V Backup application manages to make life easy for Virtualization administrators, with its easy backup and restore procedures.
Summary
This article introduced Altaro's Hyper-V Backup application – a complete backup and restore solution that manages to take away the complexity of managing backup and restore procedures for any size Hyper-V virtualization environment. Altaro's Hyper-V Backup solution is completely FREE for a limited number Virtual Machines!
Wi-Fi Key Generator
Generate/Crack any
WEP, WPA, WPA2 Key!
Cisco Password Crack
Decrypt Cisco Type-7 Passwords on the fly!