CallManager Express GUI Software Installation & Configuration - Part 1
Article Reads:180631

Cisco CallManager Express, also known as CME or CCME, runs on both Cisco ISR Routers and UC500 platform, including UC520, UC540 and UC560.
CallManager Express's PBX functionality is built into the IOS that runs on all the above devices. When the router or UC500 series device loads the IOS, the administrator is able to start configuring VoIP services as required.
One of the most common questions regarding CallManager Express configuration is what methods are available to actually configure the product?
Depending on the platform, there are currently up to three different ways to configure CallManager Express, . If CallManager Express is running on a ISR router (2800, 3800, 2900 & 3900 series routers) users, have the GUI Web and Command Line Interface (CLI) at their disposal, where as users on the UC500 platform have also got the Cisco Configuration Assistance (CCA) tool - an application that installs and runs on a workstation and guides you through a step-by-step menu to easily setup your VoIP PBX.
The common methods amongst the two platforms (ISR & UC500) is the Cisco CallManager Express Graphical User Interface and CLI interface. This article will explain how to install and configure the Cisco CallManager Express GUI but also cover the most important configuration options offered by it.
Matching IOS & GUI Files
Engineers who have dealt with Cisco CallManager Express will have noticed that its version changes depending on the IOS version. As noted in our Cisco CallManager Express introduction page (INSERT LINK), the CallManager Express service is embedded inside the Cisco IOS. The newer IOS, the newer CallManager Express version you get.
Remember that up to IOS version 12.4.26, only the following IOS's have the CallManager Express capabilities embedded:
- SP Services
- Adv. IP Services
- Adv. Enterprise Services
As of the latest major IOS Version, 12.5.x, Cisco has replaced all previous IOS's with one-universal IOS that has all previous IOS version features (12.4), but requires you to purchase the correct activation key to enable the additional services you need.
For example, VoIP Services such as CallManager Express are covered under the Unified Communications (UC) license. Purchasing and installing the UC activation license, will enable these features.
The table below illustrates the Cisco IOS releases, CallManager Express versioning and CallManager Express GUI version that should be used or installed on the device (router or UC500):
It is evident that there is a wide range of version to select from and as a general thumb of rule, the latest is the best option.
From experience, most version are stable enough for a production environment, however version 12.4.22T is an extremely buggy IOS version, especially when VPN tunnels are involved. It's best to try and avoid it.
As soon as the IOS version running on the router is identified, you'll need to download and install the necessary CME software and phone firmware files from the Cisco Software Download center.
For example, assume IOS version 12.4.24 (SP Services, Adv. IP services or Adv.Enterprise version) is installed on the router, according to the above table, it contains CME version 7.1 and will therefore require the relavent GUI files.
Note:
You can also download the CCME GUI Interface files directly from Firewall.cx. For more information, visit our
CCME GUI Download
article.
To obtain and install these files, follow the relevant link on the column named 'Specifications Link'. This will load Cisco's page where you'll be able to find all necessary files for the CME version you require.
The Specifications Link page includes a wealth of information, that includes:
Supported Cisco IP Phones
Necessary firmware version for each IP Phone supported
Supported platform. E.g Cisco 1861, 2801, 2811, 2911 e.t.c
Supported devices per platform. E.g Cisco 1861 will support up to 12 IP Phones with CME version 7.1
Dram & Flash Memory requirements for the specific CME version
Compatible Voice Products. E.g Unity Express, VG224 and more
The Specifications Link page is extremely important as it can help you examine if you meet the requirements and save you a lot of time and trouble. It is strongly suggested the whole page is read, so the information contained is clearly understood.
When ready, click on the 'Cisco Software Download' link as shown below, to proceed with the download of the CME GUI files:

This link will take you directly to the Cisco download area. Bare in mind that this will require a CCO account and possibly an account with permissions to download this software, otherwise no access will be provided.
As shown, the download area contains files for all CME versions, but the system will take you directly to the one selected, for our example, version 7.1.
If there's a small difference in the version e.g 7.1.0.1 instead of 7.1.0.0, it doesn't really matter as its more likely to contain small bug fixes and shouldn't create any problems.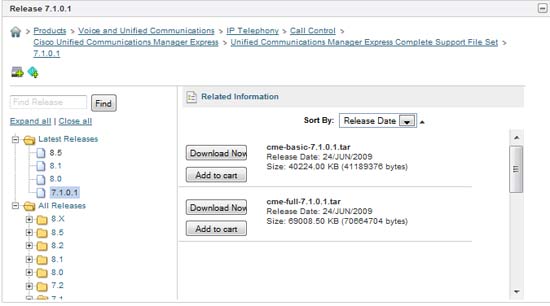 Notice that there are two similar files from which you can select. One named 'basic' and the other 'full'. The difference between each other is purely the amount of files included.
Here's the description for the 'Full Download':
CME 7.1 Full System Files for IOS 12.4(24)T releases. Includes MOH, Ringtones, 7970/71/75 Backgrounds, the following phone loads (7906/11, 7921/25, 7931, 7937, 7941/61, 7942/62, 7945/65, 7970/71, 7975) and updated GUI files for 12.4(24)T
And the 'Basic Download':
CME 7.1 basic system files for IOS 12.4(24)T releases, includes Basic Phone Loads (7906/11, 7921, 7937, 7941/61, 7942/62) with updated GUI for 12.4(24)T
Since the difference between the two is only 30Mb, it is suggested to always download the full version, regardless if required or not. It can be stored away just in case it is needed in the future. For this example, we will download both files, but install the one containing the basic system files.
To continue reading about the installation process of the Cisco CallManager Express GUI, please continue to Part 2 of our guide.
Wi-Fi Key Generator
Generate/Crack any
WEP, WPA, WPA2 Key!
Cisco Password Crack
Decrypt Cisco Type-7 Passwords on the fly!