Cisco CallManager Express Basic Concepts - Part 1
Article Reads:135645
This article introduces basic CallManager Express (CCME) concepts by covering how a CCME router operates, how calls are setup between Cisco IP phones but also the role of a CCME router in this process. We'll talk about the importance of a Voice VLAN network allowing the segmentation between voice and data traffic, and how this is achieved. Next, we cover the interfaces (or ports) of a Cisco CME router, ISDN, FXS, FXO and other interfaces. Lastly, we take a look at the all-in-one Cisco UC devices (UC 500 series) designed for small business that require CME, Router , Firewall and Wireless controller bundled into one box.
How CCME, UC500, UC520, UC540 & UC560 Work
Before we plunge into CME initialisation & configuration, we need to introduce a few concepts and become familiar with them.
Understanding how basic functions of CallManager Express operate is crucial for the correct configuration and operation of the system. As mentioned, the CME runs on the Cisco router and provides its services to the network. IP Phones connected to the network via a switch are used to handle incoming and outgoing calls.
Once power is on, the IP phones will boot up and register with the Cisco CallManager Express. If configured, the CallManager Express will provide an extension for each IP phone and is then able to set up or tear down calls to or from the IP phones. The IP phones and CallManager Express router use a proprietary protocol called Skinny Client Control Protocol (SCCP) to communicate.
Below is a diagram illustrating roughly what goes on when one IP phone dials another IP phone, both connected to the same CallManager Express.
When a call is placed between two IP phones under the control of CallManager Express, the SCCP protocol is used to set the call up. SCCP is also commonly known as the 'skinny' protocol. The SCCP protocol is not used between two IP phones, but only between the IP phone and the Cisco CME system.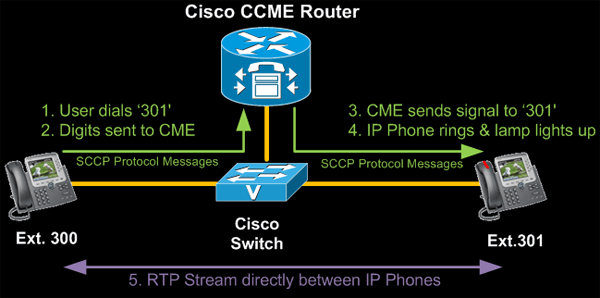 Once the call is set up, the Realtime Transport Protocol (RTP) will be used to carry the audio stream. RTP is used to carry voice inside of IP packets. RTP is a common protocol that is used to carry time-sensitive traffic like voice and real-time video. RTP is carried inside of a UDP segment, which is then carried inside an IP packet.
When the telephone session between the two IP phones ends and they hang up, a signal will be sent from each IP phone to CME to inform the server of their new status.
Voice VLAN - Separating Data and Voice Traffic
Just like any network device IP phones generate traffic during a call. This is defined as Voice over IP, or VoIP traffic. VoIP traffic is extremely sensitive to network delays that occur from bottlenecks and unavailable bandwidth. If there is a lot of traffic on the network, chances are there will be problems with the voice stream between IP Phones and CME, voice cutting and jittering being the most common VoIP problems faced by networks.
To overcome these problems, Cisco always recommends to isolate the VoIP traffic from the data traffic no matter how large or small your network is. The isolation of VoIP traffic is accomplished by the creation of a separate VLAN marked as the 'Voice VLAN'. Cisco switches have built in mechanisms that will automatically identify and prioritise VoIP traffic. This type of design will ensure that VoIP packets will have higher priority than other packets, hence minimizing or eliminating the type of problems described.
If you are not familiar with the VLAN concept, you can read all about it in our VLAN section. It includes an in-depth analysis of the concept and contains diagrams to help the learning process.
To help get the picture, here is an example of a typical network that contains a Cisco CME router connected to the Internet and pstn network, along with a Cisco voice-capable switch (it is able to identify voice packets) with a couple of workstations and IP phones.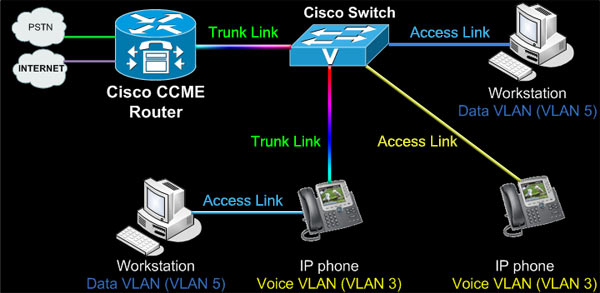 The concept is pretty straightforward, however, pay attention to how the Cisco CME router connects to the local network and how some IP phones connect to the network and workstations behind them. Due to the fact IP phones occupy a network port to connect to the local area network, Cisco has equipped most IP phones with a switch allowing a workstation to connect directly to the IP phone.
This method obviously has the advantage of cutting in half the required switchports for IP phones and workstations. In this scenario, the link from the switch to the IP phone is configured as a 'Trunk' link where as the link between the IP phone and workstation is configured as an 'Access' link.
Trunk links allow traffic from all VLANs to pass through them, whereas Access links allow only specific VLAN traffic. In our example, we have Access Links belonging to the Data VLAN (for the workstations) and also Voice VLAN (for the IP phones).
The general idea is that we use trunk links to the IP phone and from there an access link is provided for the network device, usually a workstation. If there is only one device connecting through one port, then this can also be configured as an access link assigned to the VLAN required.
The Cisco CallManager Express router almost always connects to the core switch via a trunk link, and has access to both Data and Voice VLANs as it should. Workstation traffic is routed to the Internet via the Data VLAN, whereas voice traffic is routed to the PSTN network via the Voice VLAN.
Router Interfaces - Voice Interfaces for CallManager Express
The Cisco CallManager Express system can act as the PSTN gateway as well as managing the IP phones. There are different types of connections to the PSTN including both digital, VoIP and analog connections. The type of connection used will be dependent on the density of connections needed, technology available in the region, cost of the connections and the interfaces present on the router.
The example below shows a Cisco 2801 router populated with 4 interfaces. Each interface is inserted into one of the available four slots and, once the router is powered up, if the IOS supports the interface installed it will automatically recognise it and provide the engineer access to the appropriate CLI commands so it can be configured.

At this point, it is important to mention that there are over 90 different interface cards that can be used on Cisco routers. The two main types of interfaces are the Data interfaces and Voice interfaces.
As the name implies 'data interfaces' terminate WAN connections used to transfer/route data, whereas 'voice interfaces' terminate analogue or digital voice networks such PSTN, ISDN or PRI (E1/T1) lines, all used to carry voice.
Data interface examples are ADSL, Serial and ISDN Data cards. Below is serial data interface card normaly used to terminate leased lines connecting remote company offices with their headquaters:

Voice interface examples are ISDN Voice cards, FXO (PSTN) and FXS cards. Below is a 4 port FXO card, used to terminate PSTN lines from the telco directly to the CCME router: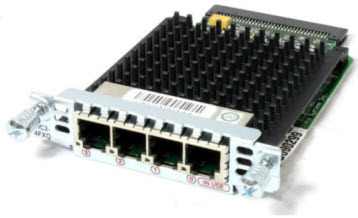 The Cisco 2801 router in our example is able to handle up to 4 different interfaces, a maximum of two can be Data interface cards. This allows the following combinations:
a) 2 Data interface cards + 2 Voice interface cards
b) 4 Voice interface cards
Understanding a router's capabilities, capacity and where each voice card is used is critical to the design of a VoIP network and selection of the CME router. Cisco provides extensive information on all routers and available cards making it a lot easier to build your configuration.
Unified Communications 500 Series (includes UC520, UC540 & UC560)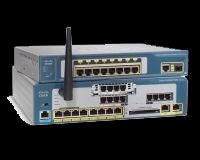 The Cisco Unified Communications 500 series is what many call a 'Cisco Swiss Army Knife'.
The UC500 series practically bridges a big gap for the Small-Medium Business market as the entry level before it was a Cisco router with CME enabled software.
The UC500 series is a small appliance that combines many functions into one compact design. Functions and services include:
Voice Gateway functions - fully featured PBX with integrated Auto Attendant
Multiple interface support to PSTN/ISDN Network via FXS, FXO & ISDN Interface cards
Voice Mail Support
VoIP Phones support, including Cisco's SMB series IP Phones, 7900 series IP Phones, SIP IP Phones and many more
Routing support
Firewall
Wireless networking support (optional)
VPN Support - allows termination of IPSec (Crypto) tunnels directly on the UC
The UC500 series runs on its own software which is identical to Cisco's Advanced Enterprise IOS running on Cisco routers. Configuration commands are identical to those of CME and therefore all examples analysed in our VoIP section can be applied to the Cisco UC500 series without a problem.
Summary
This article covered the introduction to Cisco's Call Manager Express - Part 1, which runs on Cisco routers and UC 500 series appliances (including UC520, UC540 & UC560). Basic concepts of VoIP technologies were introduced along with some important configuration theory related to CME's operation. Our next article continues with the CCME Basic Concepts - Part 2.
Wi-Fi Key Generator
Generate/Crack any
WEP, WPA, WPA2 Key!
Cisco Password Crack
Decrypt Cisco Type-7 Passwords on the fly!