Cisco Press Review for "Cisco Firepower and Advanced Malware Protection Live Lessons" Video Series
Article Reads:9301
Title: Cisco Firepower & Advanced Malware Protection Live Lessons
Authors: Omar Santos
ISBN-10: 0-13-446874-0
Publisher: Cisco Press
Published: June 22, 2016
Edition: 1st Edition
Language: English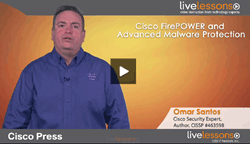 The "Cisco Firepower and Advanced Malware Protection Live Lessons" video series by Omar Santos is the icing on the cake for someone who wants to start their journey of Cisco Next-Generation Network Security. This video series contains eight lessons on the following topics:
Lesson 1: Fundamentals of Cisco Next-Generation Network Security
Lesson 2: Introduction and Design of Cisco ASA with FirePOWER Services
Lesson 3: Configuring Cisco ASA with FirePOWER Services
Lesson 4: Cisco AMP for Networks
Lesson 5: Cisco AMP for Endpoints
Lesson 6: Cisco AMP for Content Security
Lesson 7: Configuring and Troubleshooting the Cisco Next-Generation IPS Appliances
Lesson 8: Firepower Management Center
Lesson 1 deals with the fundamentals of Cisco Next-Generation Network Security products, like security threats, Cisco ASA Next-Generation Firewalls, FirePOWER Modules, Next-Generation Intrusion Prevention Systems, Advanced Malware Protection (AMP), Email Security, Web Security, Cisco ISE, Cisco Meraki Cloud Solutions and much more. Omar Santos has done an exceptional job creating short videos, which are a maximum of 12 minutes, he really built up the series with a very informative introduction dealing with the security threats the industry is currently facing, the emergence of Internet of Things (IOT) and its impact and the challenges of detecting threats.
Lesson 2 deals with the design aspects of the ASA FirePOWER Service module, how it can be deployed in production networks, how High-Availability (HA) works, how ASA FirePOWER services can be deployed at the Internet Edge and the VPN scenarios it supports. The modules in this lesson are very brief and provide an overview. If someone were looking for in-depth information they must refer to Cisco documentation.
Lesson 3 is the most important lesson of the series as it deals with the initial setup of the Cisco ASA FirePOWER Module in Cisco ASA 5585-X and Cisco ASA 5500-X appliances, also Omar demonstrates how Cisco ASA redirects traffic to the Cisco ASA FirePOWER module and he concludes the lesson with basic troubleshooting steps.
Lessons 4, 5 and 6 are dedicated to Cisco AMP for networks, endpoints and content security. Omar walks through an introduction to AMP, each lesson deals with various options, it's a good overview of AMP and he's done a commendable job keeping it flowing smoothly. Cisco AMP for endpoint is quite interesting as Omar articulates the info in a much easier way and the demonstrations are good to watch.
The best part of this video series is the Lesson that deals with the configuration of Cisco ASA with FirePOWER services, in a very brief way Omar shows the necessary steps for the successful deployment in the Cisco ASA 5585-X and Cisco ASA 5500-X platform.
The great thing about Cisco Press is that it ensures one doesn't need to hunt for reference or study materials, it always has very informative products in the form of videos and books. You can download these videos and watch them at your own pace.
To conclude, the video series is really good to watch as it deals with various topics of Cisco Next-Generation Security products in less than 13 minutes, the language used is quite simple and easy to understand, however, this video series could do with more live demonstrations especially a demonstration on how to reimage the ASA appliances to install the Cisco FirePOWER module.
This is a highly recommended product especially for engineers interested in better understanding how Cisco's Next-Generation security products operate and more specifically the Cisco FirePOWER services, Cisco AMP and advanced threat detection & protection.
Wi-Fi Key Generator
Generate/Crack any
WEP, WPA, WPA2 Key!
Cisco Password Crack
Decrypt Cisco Type-7 Passwords on the fly!