CCIE Collaboration Quick Reference Exam Guide
Article Reads:11183
Title: CCIE Collaboration Quick Reference
Authors: Akhil Behl
ISBN-10(13):
0-13-384596-6


Publisher: Cisco Press
Published: May 2014
Edition: 1st Edition
Language: English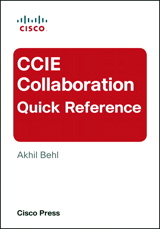 This title addresses the current CCIE Collaboration exam from both written and lab exam perspective. The title helps CCIE aspirants to achieve CCIE Collaboration certification and excel in their professional career. The ebook is now available for pre-order and is scheduled for release on 16 May 2014.

Here's the excerpt from Cisco Press website:
CCIE Collaboration Quick Reference provides you with detailed information, highlighting the key topics on the latest CCIE Collaboration v1.0 exam. This fact-filled Quick Reference allows you to get all-important information at a glance, helping you to focus your study on areas of weakness and to enhance memory retention of important concepts. With this book as your guide, you will review and reinforce your knowledge of and experience with collaboration solutions integration and operation, configuration, and troubleshooting in complex networks. You will also review the challenges of video, mobility, and presence as the foundation for workplace collaboration solutions. Topics covered include Cisco collaboration infrastructure, telephony standards and protocols, Cisco Unified Communications Manager (CUCM), Cisco IOS UC applications and features, Quality of Service and Security in Cisco collaboration solutions, Cisco Unity Connection, Cisco Unified Contact Center Express, and Cisco Unified IM and Presence.
This book provides a comprehensive final review for candidates taking the CCIE Collaboration v1.0 exam. It steps through exam objectives one-by-one, providing concise and accurate review for all topics. Using this book, exam candidates will be able to easily and effectively review test objectives without having to wade through numerous books and documents for relevant content for final review.
Table of Contents
Chapter 1 Cisco Collaboration Infrastructure
Chapter 2 Understanding Quality of Service
Chapter 3 Telephony Standards and Protocols
Chapter 4 Cisco Unified Communications Manager
Chapter 5 Cisco Unified Communications Security
Chapter 6 Cisco Unity Connection
Chapter 7 Cisco Unified IM Presence
Chapter 8 Cisco Unified Contact Center Express
Chapter 9 Cisco IOS UC Applications
Chapter 10 Cisco Collaboration Network Management
If you are considering sitting for your CCIE Collaboration exam, then this is perhaps one of the most valuable resources you'll need to get your hands on!
Wi-Fi Key Generator
Generate/Crack any
WEP, WPA, WPA2 Key!
Cisco Password Crack
Decrypt Cisco Type-7 Passwords on the fly!