Firewall.cx Officially Extends The Cisco Online Support Community (CSC) Technical Knowledgebase!
Article Reads:10517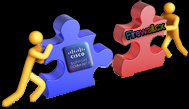 July 22nd, 2013 - Firewall.cx, one of the world's leading websites dedicated to the global IT Network and Security community, is proud to announce that it will be officially extending Cisco's Online Support Community (CSC) knowledge base and technical expert documents. These will now include Firewall.cx's popular articles based on Cisco technologies, Cisco services and equipment. Readers and users of Cisco's Online Support Community around the world will be able to enjoy additional high-quality articles aimed at helping them master, troubleshoot and work with Cisco Technologies such as VPN security, Firewalls, Routing, Switching, CallManager / CallManager Express, Wireless and much more.
Firewall.cx is the world's only official Cisco Press review partner and is recommended by the Cisco Network Academy and Cisco CCIE/CCNP experts. With more than 13 years of online presence, hundreds of uniquely written, high-quality articles tackling general networking, Cisco network security - VPN, VoIP, wireless, Linux administration topics and much more, Firewall.cx is considered to be one of the most up-to-date and reliable sources of information for IT Managers, Network Administrators, Engineers and Cisco Certification Candidates around the globe.
Wi-Fi Key Generator
Generate/Crack any
WEP, WPA, WPA2 Key!
Cisco Password Crack
Decrypt Cisco Type-7 Passwords on the fly!