Book Review: Your CCNA Exam Success Strategy: The Non-Technical Guidebook for Routing & Switching
Article Reads:10809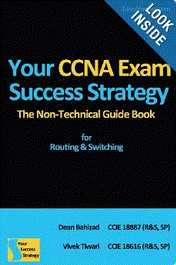 For those of you who have read the review of the author's "Your CCIE Lab Success Strategy", Dean Bahizad and Vivek Tiwari don't need any introduction. Their non technical guides have propelled many aspirants towards their Cisco goals while dispelling myths and fears they would have encountered on the way to success. Their current offering is no less informative and spectacular in literary value. Both being double CCIEs, the authors unravel their experiences of the first steps to their current status. Being a CCNA is the foundation of a career in networking, namely in handling Cisco based devices.
This awesome non-technical guide enables novices and experts alike in taking the formative steps towards gaining their first certification, or retaining it.
Our review tells you how this book can help you achieve your CCNA Routing & Switching certification, why it is considered an essential ingredient for any CCNA R&S candidate and much more that none else will every tell you!!
Your CCNA Exam Success Strategy: The Non-Technical Guidebook for Routing & Switching Review
Wi-Fi Key Generator
Generate/Crack any
WEP, WPA, WPA2 Key!
Cisco Password Crack
Decrypt Cisco Type-7 Passwords on the fly!