5 Most Critical Microsoft M365 Vulnerabilities Revealed and How to Fix Them - Free Webinar
Article Reads:17128
Microsoft 365 is an incredibly powerful software suite for businesses, but it is becoming increasingly targeted by people trying to steal your data. The good news is that there are plenty of ways admins can fight back and safeguard their Microsoft 365 infrastructure against attack.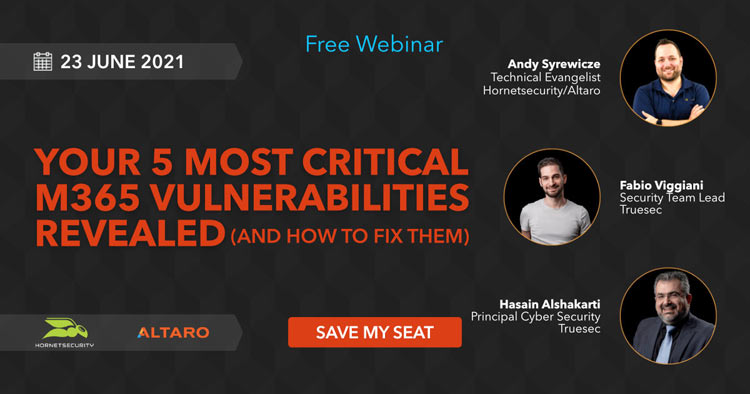 This free upcoming webinar, on June 23 and produced by Hornetsecurity/Altaro, features two enterprise security experts from the leading security consultancy Treusec - Security Team Leader Fabio Viggiani and Principal Cyber Security Advisor Hasain Alshakarti. They will explain the 5 most critical vulnerabilities in your M365 environment and what you can do to mitigate the risks they pose. To help attendees fully understand the situation, a series of live demonstrations will be performed to reveal the threats and their solutions covering:
O365 Credential Phishing
Insufficient or Incorrectly Configured MFA Settings
Malicious Application Registrations
External Forwarding and Business Email Compromise Attacks
Insecure AD Synchronization in Hybrid Environments
This is truly an unmissable event for all Microsoft 365 admins!
The webinar will be presented live twice on June 23 to enable as many people as possible to join the event live and ask questions directly to the expert panel of presenters. It will be presented at 2pm CEST/8am EDT/5am PDT and 7pm CEST/1pm EDT/10am PDT.
Wi-Fi Key Generator
Generate/Crack any
WEP, WPA, WPA2 Key!
Cisco Password Crack
Decrypt Cisco Type-7 Passwords on the fly!