New Upcoming Features in Hyper-V vNext - Free Training From Leading Hyper-V Experts – Limited Seats!
Article Reads:9663
With the release of Hyper-V vNext just around the corner, Altaro has organized a Free webinar that will take you right into the new Hyper-V vNext release. Microsoft Hyper-V MVP, Aidan Finn and Microsoft Sr. Technical Evangelist Rick Claus will take you through the new features, improvements, changes and much more, and will be available to answer any questions you might have.
Don't lose this opportunity to stay ahead of the rest, learn about the new Hyper-V vNext features and have your questions answered by Microsoft Hyper-V experts!
Note: This Webinar date has passed, however the recording and all material presented are freely available by visiting the provided registration line below:
Click here to view this Free Webinar.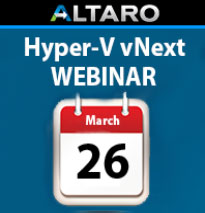 Wi-Fi Key Generator
Generate/Crack any
WEP, WPA, WPA2 Key!
Cisco Password Crack
Decrypt Cisco Type-7 Passwords on the fly!