Need for Speed – The Data Tsunami & Advancements in Networking. From FastEthernet 100Mbps to Wireless 17.6Tbps!
Article Reads:34724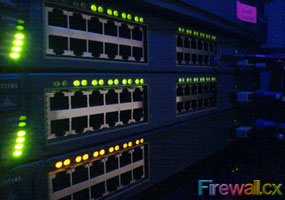 A long-long time ago (not long ago in earth time) 100 Mbps was THE technology. 100 Mbps uplinks bundled with ether-channel was the ultimate uplink technology. This was the prevailing technology during the tech boom. Gigabit Ethernet was up and coming.
Fast forward to today and we are looking forward to deploying 40 Gbps. Every now and then we hear in the news about deployment of +100 Gbps links. The very fact that it is newsworthy tells us that it is not common.
Cisco says that mobile data traffic alone will increase 13X (thirteen times) over the next four years and will outpace the global fixed data traffic by a factor of 3 by 2017.
These trends have prompted IEEE to consider the Ethernet solution beyond the 100 Gbps, which is just coming to the market.
Interesting Fact:
Large Hadron Collider at CERN generates 1Petabyte of data/sec (a Peta has 15 zeros and is also called a quintillion). Of course, they cannot store all of it and so they filter it to keep INTERESTING data only, which is still about 25 Peta Bytes per year (1000 years' worth of DVDs). This data is sent out by CERN to 11 Tier 1 institutions around the globe for analysis.
Keeping all this in mind, I was intrigued to read that in Feb 2013 400 Gbps per wavelength had been deployed between the French Cities of Paris and Lyon. The link actually uses 44 such wavelengths to achieve 17.6 Tbps of traffic in total. To give you an idea, at 17.6 Tbs you can transfer 44 Blu-ray discs each second.
Interesting Fact:
The work on ratification of 100 Gbps was started in 2006 when there were no smartphones as we know them today.
The latest news (March 2013) is about Fujitsu creating newer modulation demodulation technology that can use the standard, widely available hardware used in 10 Gbps networking to transmit 100 Gbps of data on a single channel. Combining four streams of 100 Gbps each to an optical transceiver would result in a 400 Gbps Ethernet transceiver.
This made me very curious and I looked further to see that researchers at AT&T labs had achieved this feat of sending 400 Gbps over fiber an extremely long distance. Can you guess, how long? 12000Km! which is approximately 7500 miles, breaking their old record of 9000Km. This is exciting because it increases the reach by a factor of 2.5.
Interesting Fact:
It took IEEE 4 years to ratify the standard for 100 Gbps from 2006 to 2010. It is expected that the new 400 Gbps standard will be ratified by 2017.
IEEE announced, on 2 April 2013, that the IEEE 802.3 400 Gbps study group is meeting May 14-17 in Victoria BC Canada to explore the development of a 400 Gbps Ethernet standard.
Previously this group had concluded that by 2015 networks would need to support the capacity of 1 Tbps and by 2020 to support 10 Tbps, however, in September 2012, they decided to focus on 400 Gbps.
The reason for this was that 400 Gbps was immediately feasible technically and economically. Any of these speeds could be achieved by bundling multiple connections together. This will get expensive and cumbersome especially over copper. For 400 Gbps you will need 16 pathways of 25-gigabit connections. This increases to 40 pathways of 25-gigabit connections for 1 TbE, making these full duplex would double the connections. Imagine a copper cable that will be very short for these speeds and would be potentially 2 or 3 inches in diameter. Datacenter physical infrastructure will surely need reinforcement to run multiple runs of these cables.
My concern is that 400 Gbps may end up slightly unpopular like 40 Gbps because the market will decide to aggregate 10 Gbps ports instead of buying new hardware.
Interesting Fact:
In March 2013 five leading global companies intend to enter into a multi-source agreement (MSA) to create a 400 Gbps pluggable module for the industry. These companies are:
Avago Technologies
Brocade Communications Systems Inc.
JDS Uniphase Corporation
Molex Incorporated
TE Connectivity
This 400 Gbps hot pluggable module integrates 16 transmit and 16 receive channels supporting passive and active copper cables and active optical modules.
This article was written because history was created and all network engineers like us are a proud part of this history.
Ethernet is 40 years old and I wish humanity could grow this fast. (From 10 Mbps to 100 Gbps today and 400 Gbps in the near future to 10 TbE by 2020).
Bibliography
Wi-Fi Key Generator
Generate/Crack any
WEP, WPA, WPA2 Key!
Cisco Password Crack
Decrypt Cisco Type-7 Passwords on the fly!