Introduction to Cisco Nexus Switches – Nexus Product Family. Differences Between Nexus NX-OS & Catalyst IOS. Comparing High-End Nexus & Catalyst Switches
Article Reads:134532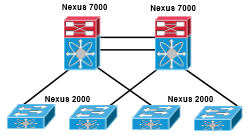 This article introduces the Cisco Nexus product family (Nexus 9000, Nexus 7000, Nexus 5000, Nexus 3000, Nexus 2000, Nexus 1000V and MDS 9000). We explain the differences between Nexus and Catalyst switches but also compare commands, naming conventions, hardware capabilities etc. between Nexus NX-OS and Catalyst IOS operating systems. To provide a comprehensive overview we explain where each Nexus model is best positioned in the Data Center and directly compare high-end Nexus switches (Nexus 9000/7000) with high-end Catalyst switches (Catalyst 6800 / 6500) examining specifications, bandwidth – capacity, modules and features (High-Availability, Port Scalability, VDC, vPC – VSS, OTV, VXLAN, etc).
For our readers convenience we have made available for free download over 90 different datasheets in our Cisco Data Center download section.
Following are the topics covered in this article:
Additional Reading:
The Cisco Nexus Family of products has become extremely popular in small and large data centers thanks to their capability for unifying storage, data and networking services. Thanks to the Cisco Fabric Interconnect they are able not only to support all these services but also provide a rock-solid programmable platform that fully supports any virtualized environment. The Cisco Nexus family includes a generous number of different Nexus models to meet the demands of any Data Center environment. Let's take a look at what the Nexus Family has to offer!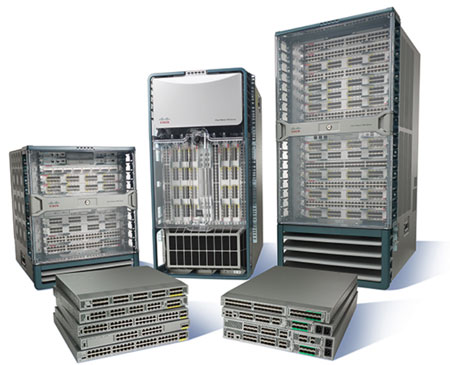 The Nexus Product Family
These data center switches can operate in Cisco NX-OS Software or Application Centric Infrastructure (ACI) modes. The main features of the new Cisco Nexus 9000 Series are: support of Fabric Extender Technology (FEX), virtual Port Channel (vPC), and Virtual Extensible LAN (VXLAN). There are a few key differences between the Cisco Nexus 7000 Series and Nexus 9000 DC switches. The Nexus 9000 supports Application Centric Infrastructure (ACI) in contrast to the Nexus 7000 switches. However, the Cisco Nexus 9000 switches do not support the VDCs (Virtual Device Context) technology like the Nexus 7000 and the Nexus 9000 Series doesn't support storage protocols, in contrast to the Nexus 7000. Finally, it is foreseen that the Nexus 9000 will complement the Nexus 7000 as data centers transition to ACI.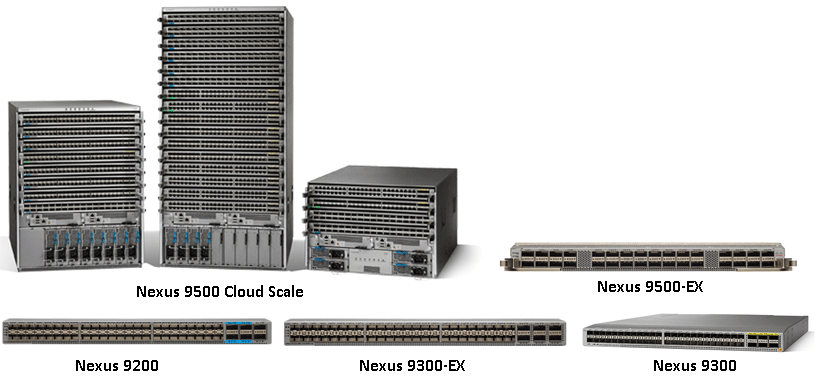 The Nexus 9000 Series Data Center Switches
The Nexus 9000 switches are available in a variety of models and configurations starting from the Nexus 9200 series (1 RU) Cloud Scale - standalone, Nexus 9300 series (1RU), Nexus 9300-EX (1RU) Cloud Scale standalone/ACI, Nexus 9500-EX (1RU) Cloud Scale Modules to the Nexus 9500 Cloud Scale switches (4, 8, 16 slots).
You can compare all available modes at the following URL:
https://www.cisco.com/c/en/us/products/switches/nexus-9000-series-switches/models-comparison.html
Download complete data sheets: Nexus 9500 series, Nexus 9300-EX series, Nexus 9300 series and Nexus 9200 series
They can provide an end-to-end data center architecture on a single platform, including data center core, aggregation, and access layer. The N7k series provides high-density 10, 40, and 100 Gigabit Ethernetinterfaces. The main features of the Cisco Nexus 7000 Series are: support for FEX, virtual Port Channel (vPC), VDC, MPLS and Fabricpath. In addition, the N7K supports fairly robust and established technologies for multi-DC interconnect (DCI) such as OTV and LISP. The N9K does not support these well-established DCI technologies, but a newer DCI technology, VXLAN, BGP, EVPN, that can be deployed for site-to-site DCI.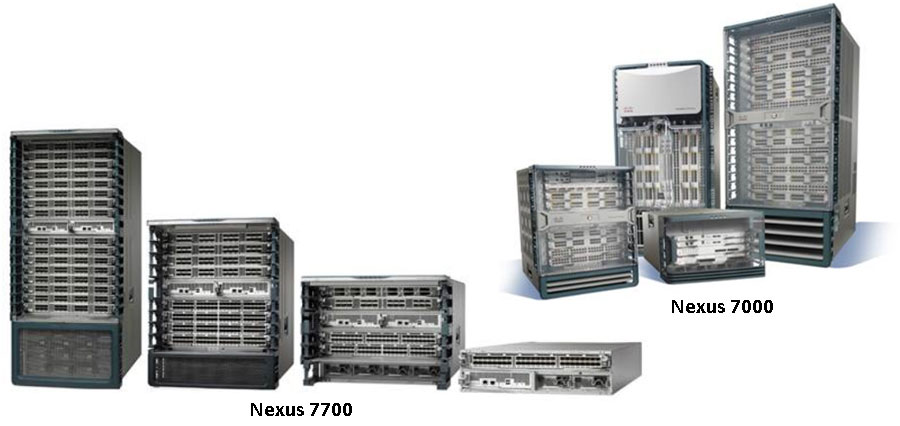 The Nexus 7000 Series Data Center Switches
The Nexus 7000 series consists of the 7000 and 7700 series switches, the latter being an updated series to the original 7000 series. The Nexus 7700 series offers higher bandwidth per slot (1.3Tbps compared to 550Gbps), greater performance and ability to support up to an impressive 192 100GE ports (7700 – 18 slot) compared to 96 100GE ports (7000 – 18 slot).
The Nexus 7000 is offered in 4, 9, 10 and 18 slot models while the 7700 comes in 2, 6, 10 and 18 slot models.
You can compare all available models at the following URL:
https://www.cisco.com/c/en/us/products/switches/nexus-7000-series-switches/models-comparison.html
Download complete data sheets: Nexus 7700 series or Nexus 7000 series
This product line is ideal for the DC access layer (End of Row), providing architectural support for virtualization and Unified Fabric environments. Cisco Nexus 5000 Series (N5k) can support VXLAN and comprehensive Layer 2 and 3 features for scaling data center networking. It supports Native Fibre Channel, Ethernet, and FCoE interfaces. The default system software includes most Cisco Nexus 5000 Platform features, such as Layer 2 security and management features. Licensed features include: Layer 3 routing, IP multicast, and enhanced Layer 2 (Cisco Fabric Path).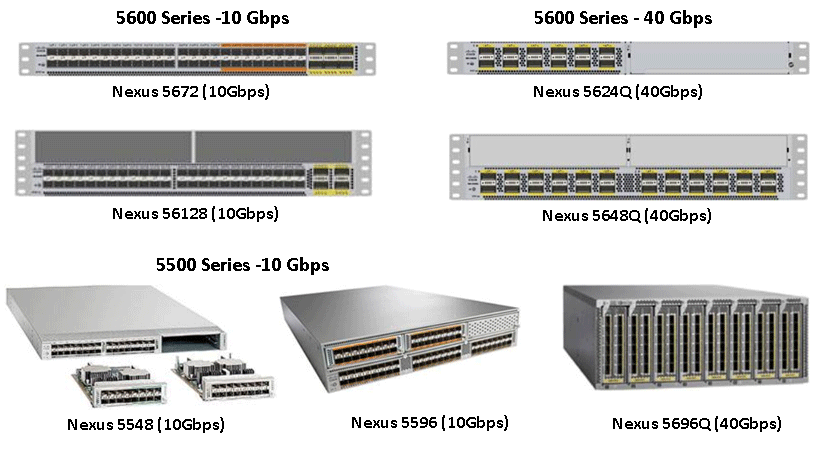 The Nexus 5000 Series Data Center Switches
The Nexus 5000 series switches are available in two platforms: 10 Gbps and 40 Gbps. The 5600 Series 10 Gbps platform is capable of delivering up to 2.56 Tbps switching capacity while the 5600 Series 40 Gbps platform can squeeze up to an impressive 7.68 Tbps.
All units except the Nexus 5696Q (40 Gbps) occupy between 1 and 2 RUs space whereas the Nexus 5696Q requires a generous 4 RU of rack space.
Full comparison of all available models can be found here: https://www.cisco.com/c/en/us/products/switches/nexus-5000-series-switches/index.html - Note the 5000 series Nexus switches are now End-of-Sales / End-of-Support.
Download complete data sheets: Nexus 5500 series or Nexus 5600 series
The product family offers features such as latency of less than a microsecond, line-rate at Layer 2 & 3 unicast, multicast switching, and the support of 40 Gigabit Ethernet interfaces. The Cisco Nexus 3000 Series switches are positioned for use in environments with ultra-low latency requirements such as financial High-Frequency Trading (HFT), High-Performance Computing (HPC) and automotive crash-test simulation Applications.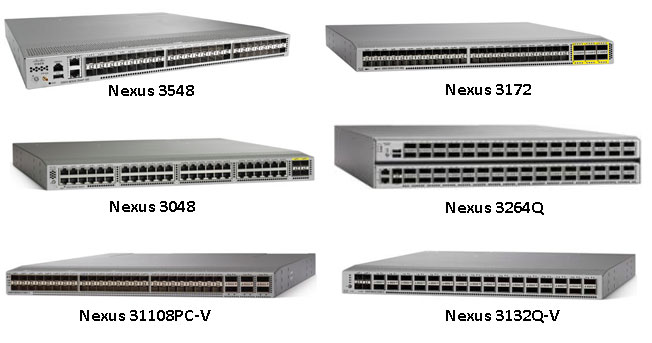 The Nexus 3000 Series Data Center Switches
The Cisco Nexus 3000 platform offers more than 15 models to satisfy all the switching needs an organization might have. The Nexus 3000 series offers switches starting with 1GE ports (Nexus 3000) and scales all the way up to 32 port 100GE ports with the Nexus 3232C model. Environments sensitive to delays will surely benefit from this series as they have been designed to practically eliminate any switching latency while at the same time offering large buffer spaces per port. Some models also have the ability to monitor their latency.
Full comparison can be found here: https://www.cisco.com/c/en/us/products/switches/nexus-3000-series-switches/models-comparison.html#~nexus3500
Download complete data sheets: Nexus 3000 series
These integrate into existing data center networking infrastructures as well as the Cisco ACI setup. The Cisco Nexus 2000 Series (N2k) utilizes FEX technology to provide flexible data center deployment models and to meet the growing server demands. This series is a flexible and low cost solution to add access and server ports to a data center. The parent switch of an N2k switch can be a Nexus 5000, Nexus 7000 or Nexus 9000 series switch. With FEX technology deployed, all the configuration and management is performed on the parent switch. In particular the N2k, with FEX technology, acts as a remote line card of the parent switches.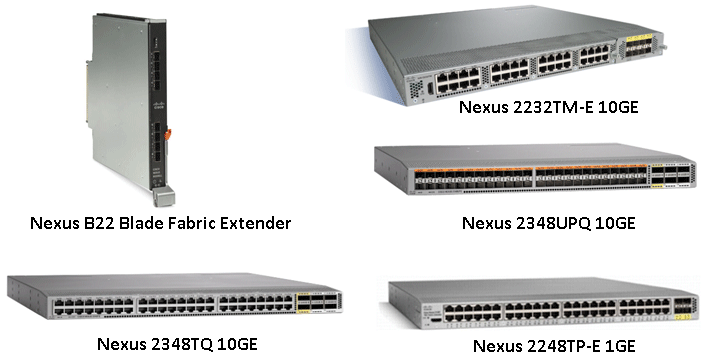 The Cisco Nexus 2000 platform offers over 10 models starting with a 24-port 1GE (Nexus 2224TP) all the way up to 48-port 1/10GE SFP/SFP+ (Nexus 2300).
Download complete data sheets: Nexus 2000 series
The Cisco Nexus 1000V Series (N1KV) is a software-based switch. It operates inside the VMware ESX hypervisor and utilizes the NX-OS Software. The Nexus 1000v architecture has two components: the Virtual Ethernet Module (VEM) and the Virtual Supervisor Module (VSM). These two components together make up the Cisco Nexus 1000V Series Switch, with the VSM providing the management plane and the VEM providing the data plane.
It should be noted that the Nexus 1000V Essential license is available at no cost and can provide various Layer 2 networking features.
Download complete data sheets: Nexus 1000v series
Cisco MDS 9000 Series Multilayer Switches are used to support Data Center SAN infrastructure. This series offers director-class platforms and Fabric switches. It utilizes the Cisco NX-OS software. Finally, the MDS 9000 can offer native fibre channel, storage services, and FCoE.
Download complete data sheets: MDS 9000 series
The Cisco NX-OS Software is a data center-class operating system that is built with modularity, resilience, and serviceability as its foundation. It is ideal for implementation within mission-critical data center environments where reliability and fault tolerance are very important.
The NX-OS architecture can perform three different main functions of a Data Center by being able to process Layer 2, Layer 3, and storage protocols. Each service (feature) in NX-OS runs as a separate independent protected process. In particular, each non-kernel process runs in its own protected memory space, providing fault tolerance while isolating any issues that arise with that process. For instance, if a Layer 2 service such as RSTP (Rapid Spanning-Tree Protocol) fails, it will not affect any other services running at that time such as the Layer 3 EIGRP service. In addition, NX-OS is based on the Linux kernel taking advantage of the characteristics offered by the most reliable OS.
Most NX-OS features are not enabled by default to achieve optimum processing and memory utilization, so if it is needed to deploy a technology like UDLD, this feature should be enabled manually. It should be mentioned that NX-OS offers feature testing for a 120-day grace period. Using the grace period enables customers to test a feature prior to purchasing a license.
A network engineer who is familiar with the traditional Cisco IOS command-line interface (CLI) will not face difficulties in using the NX-OS CLI for basic operations. The official Cisco Tool, Cisco IOS to NXOS Configuration Converter (required Cisco CCO account), can be helpful for the translation between CISCO IOS and NX-OS. This online tool is free and supports Catalyst 4900-6500 IOS configurations, which can be translated to NS-OS configuration for the Nexus 3000, Nexus 5000, Nexus 6000, Nexus 7000 and Nexus 9000 series.
There are key differences that should be understood prior to getting involved with the Cisco Nexus Operating System (NX-OS), these are highlighted below:
NX-OS uses a feature-based license model. Features such as Unidirectional Link Detection (UDLD) and Fibre Channel over Ethernet (FCoE) can be enabled via the feature configuration command. Configuration and verification commands for a specific feature are not available until that feature has been enabled.
NX-OS supports VDCs for Nexus 7000 platforms, which enables a physical device to be partitioned into logical devices. The default VDC is used when you log in for the first time.
By default, Secure Shell version 2 (SSHv2) is enabled and Telnet is disabled.
The default login administrator user is admin. It is no longer possible to login with just a password.
NX-OS uses a kickstart image and a system image. The kickstart image provides the Linux kernel and the system image provides the Layer 2/3 functionalities and features such as OTV, DHCP etc.
NX-OS supports Checkpoint & Rollback feature that allows the creation of configuration snapshots with the ability to rollback changes at any point without interrupting system functionality.
All Ethernet interfaces are called Ethernet. The FastEthernet, GigabitEthernet, TenGigabitEthernet interface naming conventions no longer exist.
The EtherChannel(IOS) naming convention has been replaced by Port-Channel (NX-OS).
The Write memory command is no longer available and has been replaced with the copy running-config startup-config.
Show commands can be executed identically from both the exec and config mode. e.g:
N7K (config)# show version
Show commands have parser help even in configuration mode.
Slash (forward-slash) notation supported for all IPv4/IPv6 masks. For instance:
N5K (config)# int e1/1
N5K (config-if)# ip address 10.1.1.1/24
N5K (config-if)# ipv6 address ::1/120
Two configuration models exist for the routing protocols:
- IGPs follow interface-centric model
- BGP follows neighbor-centric model
In any case the NX-OS alias command syntax can be used to create an alias for a shortcut. For instance, to use the write IOS command in NX-OS to save the running configuration, the next alias can be used:
N5K (config)#cli alias name write copy running-config startup-config
This alias executing the write command will run the command copy running-config startup-config
The Nexus product family is tailored mainly for Data Center environments and offers the following advantages over Catalyst Core switches:
Interfaces: Only the Nexus 7000 series has 100GbE line cards available. Catalyst 6500 & 6800 Core switches offer interfaces up to 40GbE.
Capacity: Nexus 7000 series (Nexus 7700) has a maximum system capacity ~42Tbps and the Nexus 9000 (9500 model) 60Tbps. In contrast, the maximum system capacity of the Catalyst 6800 is much lower ~6Tbps.
Port Scalability: The Nexus family is much more scalable than the Catalyst 6500/6800 regarding maximum port density of 1G, 10G & 40G ports.
High Availability (HA): Nexus products can utilize vPC technology, which is one of the most commonly used Nexus HA features and is similar to the Catalyst VSS mode. It is used to provide multi-chassis link aggregation. The key difference is that vPC does not rely on a unified control plane as the VSS setup, so both Nexus switches can operate independently.
The Nexus 7000 VDC feature offers the capability to partition the Nexus switch into multiple independent logical switches. There is no possible way for VDCs to communicate with each other, aside from physically connecting a physical port in one VDC to a port in another VDC. A maximum number of four VDC for a Supervisor 1 (SUP1) - or Supervisor 2 (SUP2) based system, and up to eight for a Supervisor 2 Enhanced (SUP2E) based system is supported. The VDC feature actually implements a separate control plane for each context. The VDC virtual technology feature offers the advantage of consolidating several network physical devices.
The Nexus 5000, 7000 & 9000 series family support the use of the Nexus 2000 Series Fabric Extenders to additionally expand the system and provide a large-scale virtual chassis in the data center. This unique feature of the Nexus switches can greatly simplify the management and operation of a data center network.
The Nexus 7000 series can support several DC interconnection technologies which are not applicable to the Catalyst 6500 & 6800 Core Switches. In particular, the Nexus 7000 Series supports the well-established technologies OTV, VXLAN and Fabric path.
The NX-OS is much more robust operating system than IOS. NX-OS is built with modularity, resilience, and service ability as its foundation.
The Nexus 7000 and 5000 series switches can implement Converge LAN/SAN Network setup by supporting storage protocols (FC, FCoE) which are not supported by the Catalyst 6500 & 6800 switches.
The Nexus switches cannot accept service module line cards such as Firewall (FWSM) or Wireless (WISM) Service modules like the Catalyst 6500 & 6800 switches.
Finally, the Nexus switches do not support the NAT feature in contrast to the Catalyst 6500 & 6800.
This section identifies the typical placement of the Cisco Nexus and MDS Families series switches in a Cisco Data Center.
The Cisco Nexus 7000 Series can be used for both access and core layer connectivity in the single-tier data center architecture. The access layer connectivity for the servers can be provided with low cost 48-port Gigabit Ethernet linecards or with the 32-port 10 Gigabit Ethernet linecards if 10GE interfaces are required.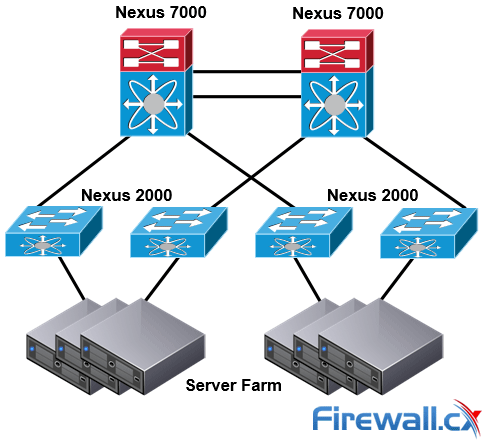 Single-Tier Nexus Data Center Topology
The single-tier data center architecture (shown above) can be expanded by connecting Cisco Nexus 2000 fabric extenders to Cisco Nexus 7000 Series switches to provide connectivity for the servers. It should be mentioned that the Nexus 2000 can be used only to provide connectivity to servers or end hosts and should not be connected with switches. This setup would provide a Top-of-Rack (ToR) solution for the servers with a Cisco Nexus 7000 Series switch acting as the management point, and collapsing the access, aggregation, & core layers. It should be highlighted that if the budget is limited then the Nexus 9000 is the best alternative to the Nexus 7000. A pair of Nexus 5000 switches in a single-tier setup is a common low cost solution for small Data Centers.
The two-tier data center option connects the Cisco Nexus 2000 Fabric Extenders to an upstream Cisco Nexus 5000 Series switch. The Cisco Nexus 5000 functions as an End-of-Row (EOR) access switch and is connected via multiple links to a pair of Cisco Nexus 7000 switches. This topology provides an access layer and a collapsed core and aggregation layer.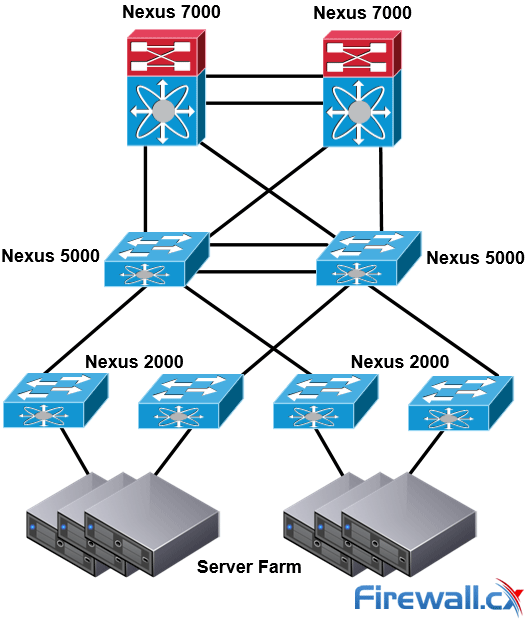 Two-Tier Nexus Data Center Topology
The three-tier data center is similar to the two-tier data center architecture regarding the access layer and the placement of the Nexus 5000 and Nexus 2000 switches. However, multiple Nexus 7000 switches are used to the aggregation layer. The core layer is provided by a pair of Cisco Nexus 7000 Series switches: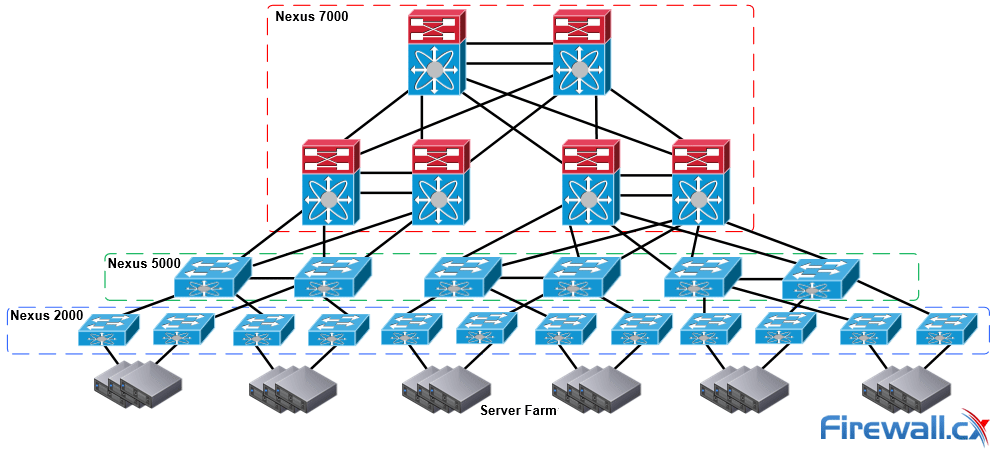 Three-Tier Nexus Data Center Topology
The Nexus 9000 switches, due to their exceptional performance and comprehensive feature set, are versatile platforms that can be deployed in multiple scenarios such as layered access-aggregation-core designs, Leaf-and-spine architecture and Compact aggregation-layer solutions.
The Cisco MDS 9000 Series Multilayer Switches can provide the SAN connectivity at the accesslayer and the storage core layer. Connectivity between the SAN and LAN infrastructures to support FCoE would be supported through the Cisco Nexus 7000or 5000 seriesswitches and the Cisco MDS 9000 Series core layer.
This article introduced the Cisco Nexus product family. We explained how the Nexus platform differentiates from the well-known Catalyst switches and examined key-differences in the two platforms and operating systems (NX-OS – IOS). We analyzed each Nexus series including the well-known MDS 9000 and showed how Single-Tier, Two-Tier and Three-Tier Data Center topologies make use of the Nexus platform. For more information including technical articles visit our Cisco Data Center section.
Wi-Fi Key Generator
Generate/Crack any
WEP, WPA, WPA2 Key!
Cisco Password Crack
Decrypt Cisco Type-7 Passwords on the fly!