61% of SMEs use Email Archiving in-house – What About the Others ?
Article Reads:13389
A recent survey on email archiving, based on 202 US-based SMEs, found that a growing number of organizations are considering or would consider a third-party hosted email archiving service. A total of 18% of those organizations that already use an email archiving solution, have opted for a hosted service, while 38% said are open to using such a service.
At the same time, 51% of those surveyed said they would still only use an on-premise email archiving solution.
The findings paint an interesting picture of email archiving use among SMEs. Apart from the shocking statistic that more than 63% do not archive their email, those that do, or consider doing so, are interested in the various options available.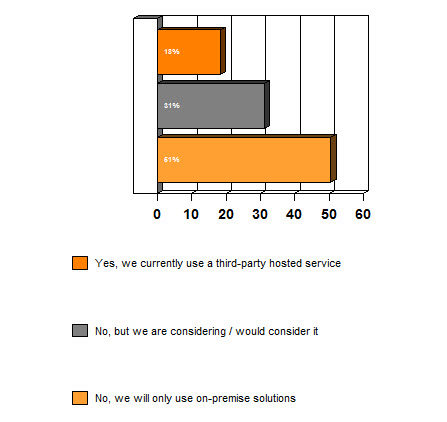 On-premise or Hosted?
An increasing number of IT services are now offered as Software as a Service (SaaS) or hosted by a third party. Many services prove to be very cost effective when implemented at the scale which outsource service providers can manage, but there are still many admins – as the survey shows – who prefer to keep everything in house; security personnel who want to maintain data integrity internally, and business leaders who do not see the value of a cloud solution for their organization because their requirements dictate otherwise.
What is Email Archiving?
At its simplest, email archiving technology helps businesses maintain a copy of all emails sent or received from all users. This indispensible solution can be used for searches and to meet eDiscovery, compliance audits and reviews, to increase the overall long term storage capacity of the email system, and as a disaster recovery repository to ensure data availability.
Because email is so heavily tied to the internet, email archiving can readily be outsourced to service providers and can often be combined with other outsourced services like spam and malware filtering. Hosted email archiving eases the load on your IT staff, allowing them to focus on core activities, and can be a more economical solution than paying for additional servers, storage, and tape backups. It does of course require you to entrust your data to a third party, and often this is where companies may opt for an internal solution.
An internal email archiving solution, on the other hand, requires only minimal care and feeding, and offers the advantage of maintaining all data internally.
Email archiving solutions are essential for all businesses of any size, and organizations should consider the pros and cons of both hosted and on-premises email archiving, and deploy the solution which best suits their company's budget and needs.
Wi-Fi Key Generator
Generate/Crack any
WEP, WPA, WPA2 Key!
Cisco Password Crack
Decrypt Cisco Type-7 Passwords on the fly!