Cisco CCNP Routing & Switching v2.0 – Official Cert Guide Library Review (Route 300-101, Switch 300-115 & Tshoot 300-135)
Article Reads:15260
Title: Cisco CCNP Routing & Switching v2.0 – Official Cert Guide Library
Authors: Kevin Wallace, David Hucaby, Raymond Lacoste
ISBN-13: 978-1-58720-663-4
Publisher: Cisco Press
Published: December 23rd, 2014
Edition: 1st Edition
Language: English
Reviewer: Chris Partsenidis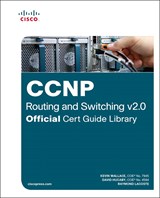 The Cisco CCNP Routing and Switching (CCNP R&S) certification is the most popular Cisco Professional series certification at the moment, requiring candidates sit and pass three professional level exams: Route 300-101, Switch 300-115 & Tshoot 300-135.
The Cisco Press CCNP R&S v2.0 Official Cert Guide Library has been updated to reflect the latest CCNP R&S curriculum updates (2014) and is perhaps the only comprehensive study guide out there, that guarantees to help you pass all three exams on your first try, saving money, time and unwanted disappointments – and 'no' - this is not a sales pitch as I personally used the library for my recently acquired CCNP R&S certification! I'll be writing about my CCNP R&S certification path experience very soon on Firewall.cx.
The CCNP R&S v2 Library has been written by three well-known CCIE veteran engineers (Kevin Wallace, David Hucaby, Raymond Lacoste) and with the help and care of Cisco Press, they've managed to produce the best CCNP R&S study guide out there. While the CCNP R&S Library is aimed for CCNP certification candidates – it can also serve as a great reference guide for those seeking to increase their knowledge on advanced networking topics, technologies and improve their troubleshooting skills.
The Cisco Press CCNP R&S v2 Library is not just a simple update to the previous study guide. Key topics for each of the three exams are now clearer than ever, with plentiful examples, great diagrams, finer presentation and analysis.
The CCNP Route exam (300-101) emphasizes on a number of technologies and features that are also reflected in the ROUTE study guide book. IPv6 (dual-stack), EIGRP IPv6 & OSPF IPv6, RIPng (RIP IPv6), NAT (IPv4 & IPv6), VPN Concepts (DMVPN and Easy VPN), are amongst the list of 'hot' topics covered in ROUTE book. Similarly the CCNP Switch exam (300-115) emphasizes, amongst other topics, on Cisco StackWise, Virtual Switching Service (VSS) and Advanced Spanning Tree Protocol implementations – all of which are covered extensively in the SWITCH book.
Each of the three books is accompanied by a CD, containing over 200 practice questions (per CD) that are designed to help prepare the candidate for the real exam. Additional material on each CD includes memory table exercises and answer keys, a generous amount of videos, plus a study planner tool – that's pretty much everything you'll need for a successful preparation and achieving the ultimate goal: passing each exam.
Using the CCNP R&S v2 Library to help me prepare for each CCNP exam was the best thing I did after making the decision to pursue the CCNP certification. Now it's proudly sitting amongst my other study guides and used occasionally when I need a refresh on complex networking topics.
Wi-Fi Key Generator
Generate/Crack any
WEP, WPA, WPA2 Key!
Cisco Password Crack
Decrypt Cisco Type-7 Passwords on the fly!