Colasoft Launches Version 3.1 nChronos Back-in-time Network Analysis Solution
Article Reads:10771
Chengdu, China - August 16, 2012 – Colasoft, an innovative provider of network analysis software and solutions, today announced a new version of its flagship product, nChronos back-in-time network analysis solution. Capability, customization and user experience are all enhanced in v3.1 which allow network administrators to easily complete back-in-time and real-time network analysis on high performance enterprise networks over a long period of time.
nChronos now delivers real-time network monitoring, key real-time traffic statistics and charts are available, such as throughput and top IP talkers. It helps maintain a productive enterprise network by providing visibility of the bandwidth usage. Besides, it provides long-term packet capturing and recording, you can zoom in any traffic anomaly which needs deeper investigation and rapidly find out the root to solve the problem. Now, 40-Day time window is available, much longer traffic trends can be displayed and analyzed.
"Our customers want to control both back-in-time and real-time network," said Kang Lin, Vice President at Colasoft. "The new nChronos capability fulfills both of these needs, and unlike existing solutions in the market, we enable customers enjoy this without paying a high price for what is fundamentally a very simple software solution. It is more flexible."
Also, alarm is the first line of defense for business networks. Alarm is critical for network administrators to instantly identify and resolve network problems. Practical alarms including email, domain and signature alarms are now available. Traffic anomaly alarm is also enhanced which enables you customize alarms with complicated thresholds to monitor network faults and abnormal activities.
The new nChronos also optimized user interface, security settings and activation mechanism which make a better user experience.
About nChronos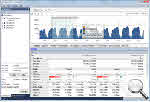 nChronos is a back-in-time network analysis server for high performance & critical enterprise networks including the following key features:
- Back-in-time network analysis of historical traffic for forensics;
- Benchmark and visualize trends of network performance;
- 7x24 real-time network traffic capturing and recording;
- Critical links monitoring & alerting;
- In-depth network analysis for performance optimization;
- Efficient drill-down for data-mining & index;
Technical articles covering nChronos and Packet Analyzers can be found in our Network Protocol Analyzers Section.
Wi-Fi Key Generator
Generate/Crack any
WEP, WPA, WPA2 Key!
Cisco Password Crack
Decrypt Cisco Type-7 Passwords on the fly!