Colasoft Announces the Release of Capsa Network Analyzer 8.0
Article Reads:7702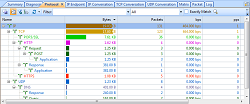 June 16, 2015 – Colasoft LLC, a leading provider of innovative and affordable network analysis software solutions, today announced the release of the latest version of Capsa network analyzer, a real-time portable network analyzer for wired and wireless network monitoring, bandwidth analysis, and intrusion detection. Capsa Network Analyzer 8.0 is based on the Third-generation Colasoft Traffic Recognition Engine (CSTRE), which substantially improved the accuracy and efficiency of protocol & application recognition.
Two Expert Diagnosis Events are added to Capsa 8.0, they are Physical Loop Diagnosis and Routing Loop Diagnosis. Capsa 8.0 makes it very easy for network administrators to locate network loop anomaly without looking into packet details. By providing possible reasons and solutions to each Diagnosis Event, it helps network administrators to quickly pinpoint and solve complicated network problems.
Another prominent feature is that packets can be colorized in Conversation Views, including Physical Conversation View, IP Conversation View, TCP Conversation View and UDP Conversation View. The relevance between a session and a packet is enhanced by colorizing packets which greatly improves performance analysis efficiency.
"In addition to concentrated development of new features, we also take great efforts to enhance user experience", said Brian K. Smith, Vice President at Colasoft LLC, "Upon requests of many users, now Capsa 8.0 can easily be launched by command line. Packet timestamp shift function is added and host names can be resolved actively. Capsa 8.0 now offers the Network Engineer one of the most robust Bandwidth and Packet Analysis tools available".
About Capsa
Capsa is an easy-to-use packet sniffer (network analyzer or network sniffer) for network monitoring and troubleshooting purposes. It performs real-time packet capturing, 24x7 network monitoring, reliable network forensics, advanced protocol analyzing, in-depth packet decoding, and automatic expert diagnosing. By giving you insights into all of your network's operations, Capsa makes it easy to isolate and solve network problems, identify network bottleneck and bandwidth use, and detect network vulnerabilities.
About Colasoft
Since 2001, Colasoft, an Oklahoma Company, has been an innovative provider of all-in-one and easy-to-use software solutions for users to monitor network activities, analyze network performance, enhance network security, and troubleshoot network problems. Currently, more than 5,000 customers in over 90 countries trust the company's flagship product, Capsa Packet Sniffer, as their network monitoring and troubleshooting solution.
Wi-Fi Key Generator
Generate/Crack any
WEP, WPA, WPA2 Key!
Cisco Password Crack
Decrypt Cisco Type-7 Passwords on the fly!