Altaro VM Backup v8 (VMware & Hyper-V) with WAN-Optimized Replication dramatically reduces Recovery Time Objective (RTO)
Article Reads:5292
Altaro, a global leader in virtual machine data protection and recovery, has introduced WAN-Optimized Replication in its latest version, v8, allowing businesses to be back up and running in minimal time should disaster strike. Replication permits a business to make an ongoing copy of its virtual machines (VMs) and to access that copy with immediacy should anything go wrong with the live VMs. This dramatically reduces the recovery time objective (RTO).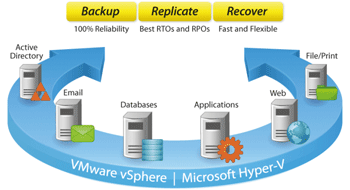 Optimized for WANs, Altaro's WAN-Optimized Replication enables system administrators to replicate ongoing changes to their virtual machines (VMs) to a remote site and to seamlessly continue working from the replicated VMs should something go wrong with the live VMs, such as damage due to severe weather conditions, flooding, ransomware, viruses, server crashes and so on.
Drastically Reducing RTO
"WAN-Optimized Replication allows businesses to continue accessing and working in the case of damage to their on-premise servers. If their office building is hit by a hurricane and experiences flooding, for instance, they can continue working from their VMs that have been replicated to an offsite location," explained David Vella, CEO and co-founder of Altaro Software.
"As these are continually updated with changes, businesses using Altaro VM Backup can continue working without a glitch, with minimal to no data loss, and with an excellent recovery time objective, or RTO."
Click here to download your free copy now of Altaro VMware Backupfree copyClick here to download your free copy now of Altaro VMware Backup
Centralised, Multi-tenant View For MSPs
Managed Service Providers (MSPs) can now add replication services to their offering, with the ability to replicate customer data to the MSP's infrastructure. This way, if a customer site goes down, that customer can immediately access its VMs through the MSP's infrastructure and continue working.
With Altaro VM Backup for MSPs, MSPs can manage their customer accounts through a multi-tenant online console for greater ease, speed and efficiency, enabling them to provide their customers with a better, faster service.
How To Upgrade
WAN-Optimized Replication is currently available exclusively for customers who have the Unlimited Plus edition of Altaro VM Backup. It is automatically included in Altaro VM Backup for MSPs.
Upgrading to Altaro VM Backup v8 is free for Unlimited Plus customers who have a valid Software Maintenance Agreement (SMA). The latest build can be downloaded from this page. If customers are not under active SMA, they should contact their Altaro Partner for information about how to upgrade.
New users can benefit from a fully-functional 30-day trial of Altaro VM Backup Unlimited Plus.
Wi-Fi Key Generator
Generate/Crack any
WEP, WPA, WPA2 Key!
Cisco Password Crack
Decrypt Cisco Type-7 Passwords on the fly!