Free Webinar: Azure Security Center: How to Protect Your Datacenter with Next Generation Security
Article Reads:7204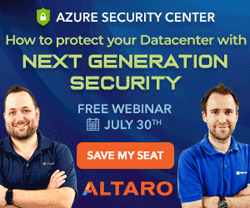 Security is a major concern for IT admins and if you're responsible for important workloads hosted in Azure, you need to know your security is as tight as possible. In this free webinar, presented by Thomas Maurer, Senior Cloud Advocate on the Microsoft Azure Engineering Team, and Microsoft MVP Andy Syrewicze, you will learn how to use Azure Security Center to ensure your cloud environment is fully protected.
There are certain topics in the IT administration world which are optional but security is not one of them. Ensuring your security knowledge is ahead of the curve is an absolute necessity and becoming increasingly important as we are all becoming exposed to more and more online threats every day. If you are responsible for important workloads hosted in Azure, this webinar is a must!
The webinar covers:
Azure Security Center introductions
Deployment and first steps
Best practices
Integration with other tools
And much more!
Being an Altaro-hosted webinar, expect this webinar to be packed full of actionable information presented via live demos so you can see the theory put into practice before your eyes. Also, Altaro put a heavy emphasis on interactivity, encouraging questions from attendees and using engaging polls to get instant feedback on the session. To ensure as many people as possible have this opportunity, Altaro present the webinar live twice so pick the best time for you and don't be afraid to ask as many questions as you like!
Webinar: Azure Security Center: How to Protect Your Datacenter with Next Generation Security
Date: Tuesday, 30th July
Time: Webinar presented live twice on the day. Choose your preferred time:
2pm CEST / 5am PDT / 8am EDT
7pm CEST / 10am PDT / 1pm EDT
While the event date has passed, it has been recorded and is available for viewing. All material are available as direct downloads. Click here to access the event.

Wi-Fi Key Generator
Generate/Crack any
WEP, WPA, WPA2 Key!
Cisco Password Crack
Decrypt Cisco Type-7 Passwords on the fly!