Free Web Application Vulnerability Report (2019) – Popular Web Attacks, Vulnerabilities, Analysis, Remediation
Article Reads:5709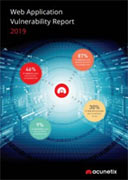 Acunetix has just released their annual Web Application Vulnerability report which aims to provide security professionals, web application developers, system administrators, web server administrators and other interested parties with an analysis of data on web application vulnerabilities detected the past year via scans run on the Acunetix Online platform.
The extensive report has been compiled from scans performed from more than 10,000 targets and reveals some very interesting results about today's security threats and the percentage of organizations that correctly deal with their vulnerable web applications and exploits. From SQL Injection vulnerabilities to Cross-Site-Scripting (XSS) vulnerabilities, popular CMS platform vulnerabilities to remediation steps and more.
Here are some of the report's highlights that will surely interest every IT security professional and web application developer:
46% of websites scanned contained high severity vulnerabilities
87% of websites contained medium severity vulnerabilities
SQL Injection vulnerabilities have declined slightly
30% of websites contained Cross-Site-Scripting (XSS) vulnerabilities
30% of websites had vulnerable JavaScript Libraries
30% of websites were WordPress sites with a number of vulnerabilities
The report is a great opportunity for professionals to learn more about the latest and greatest vulnerabilities circling the web and proactively take measures to ensure their own websites and web applications are properly tested and patched against popular vulnerabilities and attacks.
Here's vital security information the 2019 Web Application Vulnerability Report contains:
Vulnerabilities that are rising and falling in frequency
Vulnerability findings by type and severity
Changes in the threat landscape from both clients and server sides
The four major stages of vulnerability analysis
Detailed analysis of each discovered vulnerability – how it works, pointers and remediation steps
Current security concerns – increasing complexity of new applications, accelerating rate of new versions and the problem of scale
Vulnerabilities that are major to the security of all organizations, regardless of their size and location.
Plenty of useful information and advice aimed for network security professionals, web application developers, IT Managers, security auditors, application architects and more.
The 2019 Web Application Vulnerability Report is used by leading security professionals and web application developers to help understand how to protect network and applications for the latest security threats and web vulnerabilities.

Wi-Fi Key Generator
Generate/Crack any
WEP, WPA, WPA2 Key!
Cisco Password Crack
Decrypt Cisco Type-7 Passwords on the fly!