The Most Common Worst Networking Practices and How To Fix Them
Article Reads:6335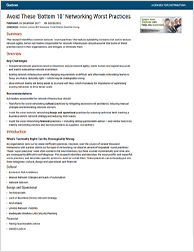 In the rush to keep pace with the many challenges facing today's organizations, all too often networking teams end up adopting practices and processes that are, shall we say, less than perfect. You probably have seen a few yourself in your own organization.
Management refusing to consider new vendors because, well, they're new. Engineers wanting to do everything manually when automation would save them a ton of time. Overspending on capacity when there are more affordable alternatives. You get the picture.
Some practices are well known, others are less obvious. A great starting point for identifying the worst of the worst in your organization was a recent list compiled by Gartner. The list culls insight from several thousand client interactions. While the Gartner report requires payment, a free eBook from Cato Networks explains each networking practice and how they can be addressed with a cloud-based SD-WAN.
The practices fall into three categories — cultural, design and operational, and financial:
Cultural practices describe how IT teams relate to collaboration, and more broadly, innovation. Excessive risk avoidance is one example of a "worst" cultural practice. Adherence to manually configuring networking device and the silo-ism that often crops up among IT teams are other examples.
Design and operational practices are those practices that restrict the agility, increase the costs, and complicate the troubleshooting of the enterprise network. These practices often stem from having amassed legacy technologies, forcing less than ideal practices. Other practices include the lack of a business-centric network strategy, spending too much for WAN bandwidth, and restricted visibility into the network.
Financial "bad" practices stem from the dependencies IT organizations have on their legacy vendor relationships. All too often, busy IT professionals cut corners by leaning on their vendors for technology advice. This particularly the case in newer technologies where an IT professional may lack sufficient background to conduct an assessment. Vendors and their partners have a commercial interest in furthering their own aims, of course. As such, companies end up being locked into vendors or following questionable advice.
Often, worst practices grow out of the best intentions, evolving incrementally over time. Risk avoidance isn't inherently bad, for example. It stems from the healthy desire to limit network outages. But excessive risk avoidance stems from organizational cultures where teams are locked into dysfunctional postmortems, blaming one another.
Adopting technologies that encourage transparency can help address the problem. With a common portal used by all offsite networking teams — security, WAN, and mobile — problem resolution is faster, collaboration easier, and finger pointing is eliminated. How do you do that? To learn more, check out the eBook here.
Wi-Fi Key Generator
Generate/Crack any
WEP, WPA, WPA2 Key!
Cisco Password Crack
Decrypt Cisco Type-7 Passwords on the fly!