Netflow: Monitor Bandwidth & Network Utilization. Detect LAN, WAN, Wi-Fi Bottlenecks, Unusual Traffic Patterns, Problems and more
Article Reads:10615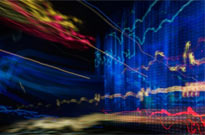 Monitoring network traffic & bandwidth usage via Netflow is mandatory for any type and size network. Gaining visibility into user traffic, application traffic and data flows allows network engineers, administrators and security specialists detect bottlenecks – network congestion, unusual traffic patterns, monitor SLA agreements with providers, verify bandwidth availability, detect Quality of Service (QoS) issues, Wi-Fi Network monitoring, plus much more.
Key Topics:
Related articles:
Netflow is a network protocol developed by Cisco used to collect IP traffic information and monitoring network traffic. It's used and supported in almost any network and has become the de-factor industry standard.
Other vendors support similar flow technologies, here are a few examples:
HP/3Com, Dell and Netgear: s-flow
Juniper: Jflow
Ericsson: Rflow
Alcatel-Lucent: Cflow
Huawei: NetStream
IT infrastructure has become much more sophisticated in the last decade and equally complicated. With the market growing every day, customer expectations are higher than ever. Networks are no more limited within a firewall. Now it extends to public and private clouds, and SaaS. This makes it more important for network admins to ensure faster connectivity between the user, and the public and private clouds or data centres.
The primary objective of bandwidth analysis is to monitor the performance of your network, and this can include different types of bandwidth utilization such as application traffic, wireless network, Wide Area Network (WAN) or Local Area Network (LAN) utilization, etc., where every device, service, and individual user is competing for their share of bandwidth. While the immediate solution for traffic congestion could be increasing your bandwidth capacity, the challenge is in realizing if your enterprise even requires that extra bandwidth. And in case you find yourself unable to provide sufficient bandwidth to users based on their needs or unable to control non-business traffic, you are not alone.
Network admins cannot manually keep track of everything going on in your network 24x7, and according to reports and surveys conducted by Packeteers, at least sixty to seventy percent of network managers don't know what is traversing their networks. Your network is prone to various attacks, and congestions or spikes in your network could be caused by internal or external threats that can vary from DDoS attacks to your own business-critical applications.
As we can appreciate, it is extremely important the network tools used are capable of providing enough information and visibility so we can monitor, identify and troubleshoot effectively and efficiently as possible.
A common question is what capabilities should the bandwidth monitoring tool provide?
The first step to identifying and preventing network issues before it affects your network is real-time monitoring. An effective bandwidth monitoring tool must help you understand which applications in your network are consuming the most bandwidth, the top talkers in the network, and how much traffic is being used at any particular time. This helps you identify the problem users and keep in under control.
A bandwidth monitoring tool should not only help you monitor bandwidth, but should also help you identify performance issues like traffic spike and bandwidth hogs. It must be able to alert you in real-time, helping you troubleshoot the issues before it affects your end users.
An ideal bandwidth monitor should also be able to help prevent unwarranted spending on broadband fees. It must help you track bandwidth usage patterns and plan your bandwidth requirements and help to pick the perfect data plan or ISP you require, as your network grows.
One of the most important aspects that you should consider, especially in recent times, is network security. And it is vital when your business depends on wireless network and cloud services for all its major activities. A stable and efficient network security system is essential to protecting client data.
There are a large number of security concerns your network can face any time like worm attacks, zero-day attacks and Distributed Denial of Service (DDOS) attacks. Considering recent attacks like the DDOS attack on GITHUB, which was traced to over a thousand different ASNs where the traffic spiked up to 1.35 Tbps, it's always better to be prepared for scenarios.

Github inbound traffic reached 1.35Tbps during the attack
The volume of video traffic in networks is growing everyday with increasing dependence on video conference, video calls, and virtual boardrooms, it is important to keep a check on how much of your bandwidth is used for this, to ensure the quality of the media and also to make sure other applications are not affected by this.
NetFlow Analyzer is a bandwidth and traffic analysis tool that helps you monitor the bandwidth utilization in your network and analyze the who, when, what of your network traffic. It uses flow technology to give you real time visibility into your network and supports all major flow formats such us netflow, sflow, jflow, IPFIX, and appflow.
It helps you to drill down into interface level details to discover traffic patterns and monitor device performance, recognize and classify Non-Standard Apps that hog your network bandwidth, and detect security threats. Using a network bandwidth monitoring tool like NetFlow Analyzer allows you to monitor all these critical parameters in real-time.

ManageEngine NetFlow Analyzer: Real-time Visibility
NetFlow Analyzer's Inventory acts as a directory for traffic overview, providing detailed traffic reports by device, interface, applications, and QoS. You can also drill down to see the top sources, destinations, and conversations, highlighting the top talkers in your network, for detailed analysis. NetFlow Analyzer has a very simplified, easy-to-use and customizable GUI. You can custom filter, sort, and customize the view of your bandwidth graphs.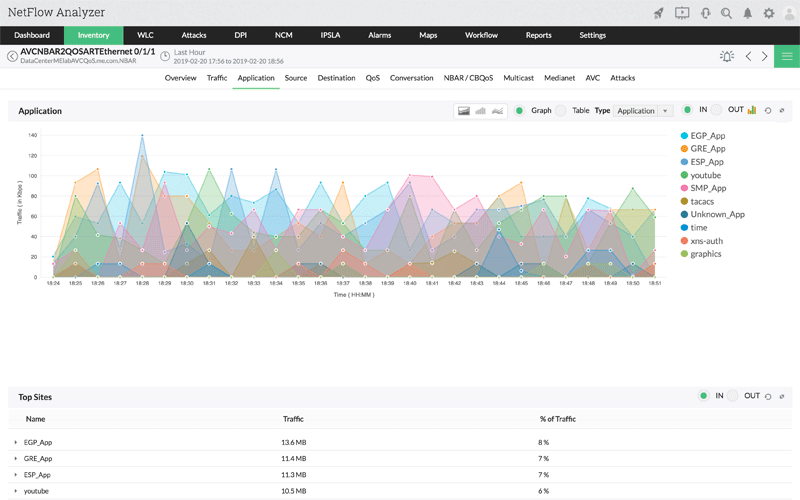 Click to enlarge
ManageEngine NetFlow Analyzer: Customized & Advanced Alerting
Create and manage alerts profiles, set custom threshold-based and link-down alerts, and get notified in real-time in case any violations. NetFlow Analyzer gives you options to get alerted via SMS, Email, SNMP trap, or even log SDP tickets.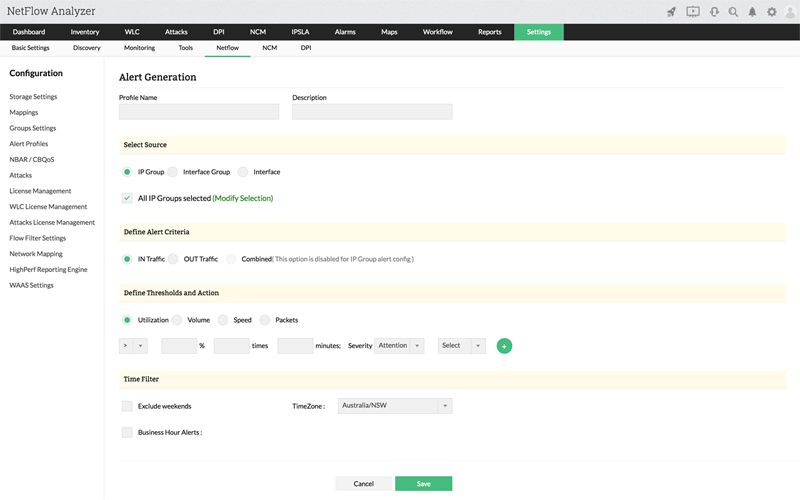 Click to enlarge
ManageEngine NetFlow Analyzer: Capacity Planning & Traffic Shaping
NetFlow Analyzer helps you recognize and identifies usage patterns and application growth by measuring your bandwidth growth over a period time with long term reporting. Capacity planning reports helps you foresee your future needs, helps you make informed decisions on your bandwidth growth. NetFlow Analyzer also helps you identify bandwidth hogs and reconfigure your policies with its traffic shaping options to optimize your bandwidth usage by ensuring priority of your business critical app. You can also leverage on-demand billing and schedule bill plans for individual customers or departments based on bandwidth utilization, or even use it to verify your ISPs billing.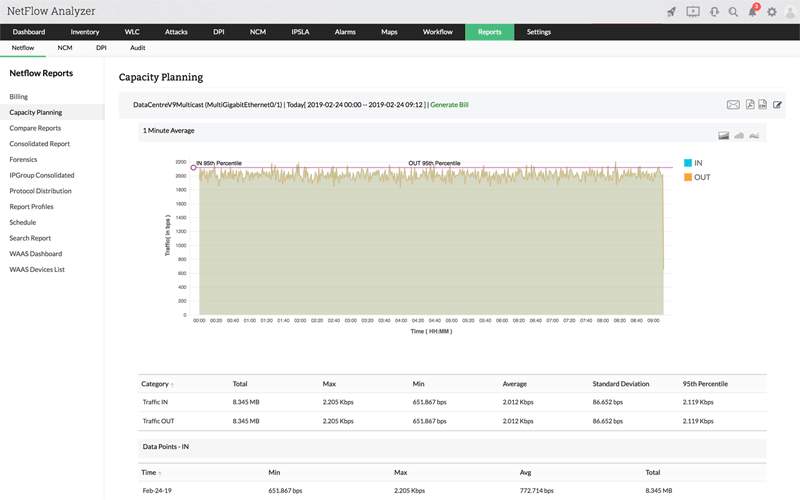 Click to enlarge
ManageEngine NetFlow Analyzer: Security
NetFlow Analyzer's advanced security analytic module identifies junk traffic using its advanced mining algorithm and categorizes them based on the issues. It helps you detect a broad spectrum of external and internal security threats using Continuous Stream Mining Engine technology, track network anomalies that surpass your network firewall, and identify context-sensitive anomalies and zero-day intrusions.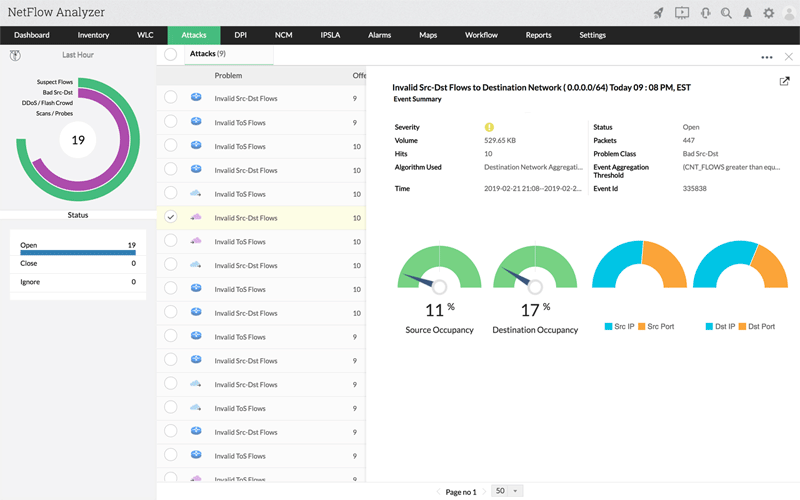 Click to enlarge
ManageEngine NetFlow Analyzer: Reporting
Customize and generate reports with NetFlow Analyzer's various reporting features available. NetFlow Analyzer allows you to generate Search, Compare, Consolidated, and Forensics reports among many others, schedule them, create report profiles, and export them as email, PDFs, or CSVs.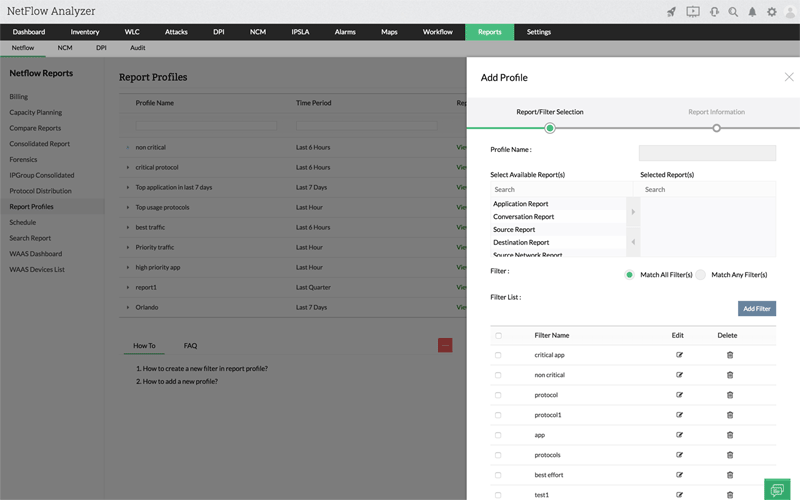 Click to enlarge
ManageEngine NetFlow Analyzer: Distributed Monitoring
The Enterprise Edition of NetFlow Analyzer is built for large distributed networks. A typical distributed networks' setup involves a single Central Server and "n" number of Distributed collectors based on number of remote locations where the collectors collect & process the flows from the routers and passes the compressed data to the Central Server through a secure connection, and the Central server stores the data from the collectors and provides a centralized web console for generation of reports. It is scalable up to 80,000 flows/sec and lets you monitor all remote locations from a single centralized console.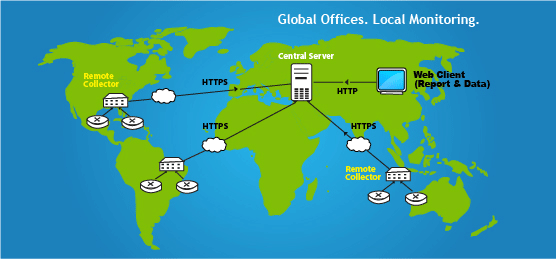 In this article we explained how Netflow, the industry standard in network and bandwidth monitoring can provide clear and precise view of your network status, link bandwidth utilization, but also extend to give an insight on application traffic, user traffic patterns and more valuable metrics and data. We also showed how a complete bandwidth analysis tool like NetFlow Analyzer, can help you plan and optimize your bandwidth usage better, avoid bottleneck, and connectivity issues thereby drastically improving your network performance and user experience. Get a free personalized demo of NetFlow Analyzer or check out the product for free for 30 days!
Wi-Fi Key Generator
Generate/Crack any
WEP, WPA, WPA2 Key!
Cisco Password Crack
Decrypt Cisco Type-7 Passwords on the fly!