Hubs & Repeaters
Article Reads:82118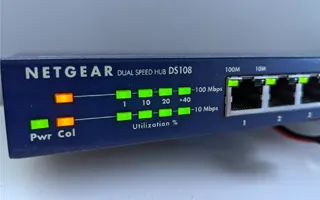 Network hubs were once the primary method of interconnecting network devices to create a local area network (LAN). Hubs were inexpensive, easy to install, and provided a simple means of connecting multiple devices in a network. However, as networks grew in size and complexity, hubs were found to be inefficient and were gradually replaced by more advanced network devices such as switches and routers. Despite their obsolescence, hubs remain a useful tool in certain network scenarios and are worth discussing to understand their limitations and strengths.
It is important at this point to cover a few network terms that are used to describe how hubs work:
Domain: refers to a logical grouping of network devices that share the same broadcast domain.
Broadcast domain is a group of devices that receive the same broadcast messages. When a device sends a broadcast message, it is transmitted to all devices on the same broadcast domain.
Collision domain is a group of devices that share the same physical network segment, where data collisions can occur.

How Network Hubs Work
Returning back to our discussion on network hubs, they are a simple devices that connect multiple network devices together by forwarding incoming data to all connected devices. Hubs operate at the physical layer of the OSI model and act as a repeater, amplifying the electrical signal of incoming data before broadcasting it to all connected devices: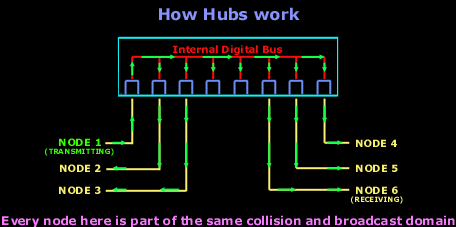 As shown in the example above, frames transmitted by Node 1 are received by the hub and forwarded out all its ports.
Hubs do not analyze or manage network traffic in any way, and as such, they are not able to distinguish between different types of network traffic.
One of the key limitations of hubs is their inability to isolate network traffic. When a device connected to a hub sends data, the data is broadcast to all devices connected to the hub, regardless of whether they are the intended recipient or not. This means that all connected devices receive the data, regardless of whether they need it or not. This can lead to network congestion, as unnecessary traffic is transmitted to devices that have no use for it. In addition, because all devices on a hub share the same domain, any traffic that is transmitted on the hub creates a collision domain, where multiple devices may attempt to transmit data simultaneously, resulting in a collision and lost data.
One advantage of hubs is their simplicity. Hubs are inexpensive and easy to install, making them an attractive option for small networks or temporary network setups. Hubs are also transparent to the network, which means they do not modify network traffic in any way, making them ideal for troubleshooting network connectivity issues.
Hubs are often used to tap into a network by placing them between critical devices e.g between a server and a network switch, then connecting a laptop loaded with a network protocol analyzer to capture and analyze packets.
However, the limitations of hubs, particularly their inability to isolate network traffic, make them unsuitable for larger networks or networks with high traffic volumes. As network traffic increases, the potential for collisions (early or late collisions) and congestion also increases, leading to decreased network performance and increased network downtime.
The diagram below shows how multiple hubs can connect to perform a larger network. Keep in mind that such a setup will create a larger broadcast domain that will affect more devices and further reducing network bandwidth:

Network Repeaters
A network repeater is a network device that is used to regenerate and amplify a network signal that has become weak or distorted due to attenuation or interference. When a signal is transmitted over a long distance, it may weaken or become distorted due to various factors such as cable attenuation, electromagnetic interference, or signal reflections. A repeater receives the weakened signal and regenerates it, amplifying it to its original strength before retransmitting it to the next device in the network. A repeater does not analyze or manage network traffic in any way.
One of the key differences between a hub and a repeater is the way they handle network traffic. A repeater simply regenerates and amplifies a network signal, while a hub broadcasts incoming data to all connected devices on the network. A repeater is used to extend the reach of a network signal, while a hub is used to connect multiple devices together to create a LAN.
Another difference between a hub and a repeater is their ability to isolate network traffic. A repeater does not isolate network traffic and does not create collision domains. A hub, on the other hand, shares the same domain with all connected devices and creates a collision domain. When a device connected to a hub sends data, all devices connected to the hub receive the data, which as we've outlined earlier, can cause collisions and network congestion.
The Three Type of Hubs
There are primarily three types of network hubs: passive, active, and intelligent.
Passive Hub: A passive hub is a basic type of hub that does not require an external power source. It simply amplifies the incoming signal and broadcasts it to all connected devices on the network. Passive hubs do not have any built-in intelligence or management features, and they do not isolate network traffic.
Active Hub: An active hub, also known as a powered hub, requires an external power source. It contains a power supply that amplifies and regenerates the incoming signal, boosting its strength before broadcasting it to all connected devices. Active hubs also include features such as automatic detection of network speeds and error detection, which allows them to manage and optimize network traffic.
Intelligent Hub: An intelligent hub, also known as a managed hub, is a more advanced type of hub that includes management and monitoring features. Intelligent hubs allow network administrators to monitor and manage network traffic, isolate network segments, and configure network settings. They also provide features such as port mirroring, which allows administrators to monitor the traffic on a specific port, and virtual LANs (VLANs), which allow administrators to segment the network and isolate traffic.
Network Hubs with BNC Connectors (Coax Cable)
Coaxial cable, also known as coax, is a type of cable that is commonly used for transmitting data signals in computer networks. Coaxial cables consist of a copper wire that is surrounded by an insulating layer, which is then covered by a braided shield and an outer jacket. The braided shield provides protection against electromagnetic interference, which can distort or weaken the data signal.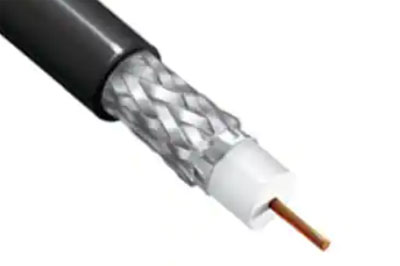 When data is transmitted over coaxial cable, it is done so using electrical impulses. These impulses travel along the copper wire at the center of the cable, which is surrounded by the insulating layer and braided shield. The data is transmitted in the form of analog signals that are converted into digital signals by network devices such as hubs or switches.
Some older network hubs are designed to support coaxial cable connections. These hubs typically include a coax BNC (Bayonet Neill-Concelman) connector, which is a type of connector that is commonly used with coaxial cables. The BNC connector is a twist-lock connector that provides a secure and reliable connection between the coaxial cable and the hub: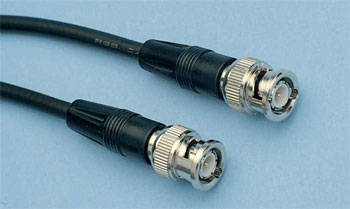 To connect a coaxial cable to a hub, the cable is first connected to the BNC connector on the hub using a coaxial BNC connector. The hub then amplifies and broadcasts the data signal to all connected devices on the network. However, as previously mentioned, hubs have largely been replaced by switches in modern networking, and coaxial cable connections are becoming less common.
Coaxial cable was once a popular choice for networking because it is relatively inexpensive, easy to install, and can transmit data over long distances without significant signal loss. However, coaxial cable has several limitations that make it less desirable for modern networking. For example, coaxial cable has a lower bandwidth than other types of cables, such as twisted pair or fiber optic cables. This means that it can transmit data at slower speeds and may not be suitable for high-bandwidth applications.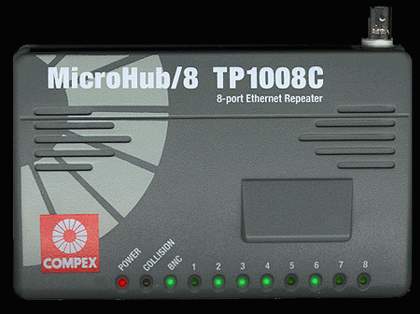 Network Hub with BNC connector
It's also worth noting that coaxial cable networks use 50-ohm terminating resistors to prevent signal reflections that can cause interference and degrade signal quality. When an electrical signal travels along a coaxial cable, it encounters impedance, which is the resistance to the flow of electrical current. If the cable is not properly terminated, the signal can reflect back towards the source and interfere with the original signal. This can cause signal distortion, attenuation, and loss of data.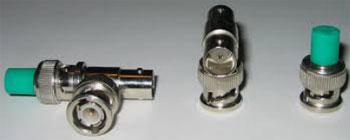 By adding a 50-ohm terminating resistor at the end of the cable, the impedance is matched and the signal can be properly absorbed, preventing reflections. This helps to maintain signal integrity and improve overall network performance. The 50-ohm terminating resistor is designed to match the characteristic impedance of the coaxial cable, which is typically 50 ohms: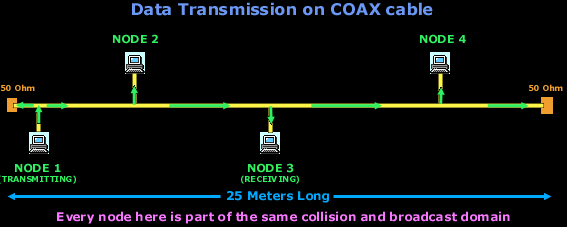 The coax cable can be up to 185 meters long and can contain no more than 30 nodes per segment.
Summary
In this article we explained how hubs and repeaters operate within a network. We listed the main advantages and disadvantages of hubs and covered the three different type of hub devices: passive hubs, active hubs and intelligent hubs. Finally we took a look at older coaxial-based networks and talked about their limitations and components.
Wi-Fi Key Generator
Generate/Crack any
WEP, WPA, WPA2 Key!
Cisco Password Crack
Decrypt Cisco Type-7 Passwords on the fly!