1Gigabit 802.3ab -10GBase (10Gigabit) 802.3an Ethernet - CAT6 - CAT7 UTP
Article Reads:35986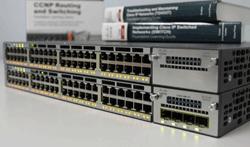 The 1000Base Ethernet standard, also referred to as Gigabit Ethernet (GbE or 1GigE) is defined by the IEEE 802.3-2008 standard and provides 10 times faster transfer speeds of 100Base Ethernet. Gigabit Ethernet has the ability to provide transfer speeds of up to 125MB/sec and is today's industry standard for workstations, access points and access-level switches.
Gigabit Ethernet's most popular standards are 1000Base-T twisted copper cable and 1000Base-X (Fiber Optic). Let's take a closer look at them and also analyze 10GBase - 10Gigabit Ethernet which is the standard for datacenters (server connection, network switches - backbone etc) supporting transfer speeds of up to 1250MB/sec.
1000Base-T
The 1000Base-T is the IEEE 802.3ab standard for Gigabit Ethernet over copper wiring. Similar to 100BaseT, 1000Base-T can run up to a maximum of 100 meters or 330 feet and is supported on CAT5e, CAT6 and CAT7 cabling. Users can also visit our Unshielded Twisted Pair (UTP) - CAT 1 to CAT5, 5e, CAT6 & CAT7 article which contains diagrams and valuable information on each category cable, their maximum length, supported speeds and more.
With 1000Base-T, all 4 pairs of the copper cable are used, however only two pairs are used for the negotiation of the link. If the cable only has 2 pairs available, the negotiation between the two devices might succeed, however the link will not come up.
Crossover cables are not required for 1000Base-T links as the two endpoints will automatically negotiate and bring up the link even when connected via a straight-thru UTP cable.
1000Base-X
The 1000Base-X is the industry standard for Gigabit Ethernet over fiber optic. There are four Gigabit Ethernet over fiber optic standards of which the most popular are the 1000Base-SX and 1000Base-LX standards.
The 1000Base-SX standard is for operation over multi-mode fiber using 770 to 860 nanometer light wavelength. Multi-mode Gigabit Ethernet fiber can run up to 200 meters when using 62.5/125 fiber or 550 meters when using 50/125 fiber. Multi-mode Gigabit Ethernet is usually used for backbone connections between switches located in datacenter, short-distant buildings or different levels within a building.
The 1000Base-LX standard is for operation over single-mode fiber using 1,270 to 1,355 nanometer light wavelength. Single-mode Gigabit Ethernet fiber can run up to 5Km depending on the fiber type and is commonly used for backbone connections between buildings and long-distant endpoint connections.
10GBase
The 10Gigabit Ethernet standard has become popular in the past couple of years, however the IEEE standard (802.3ae) has been developed since 2002. 10Gigabit Ethernet provides speeds 10 times faster than Gigabit Ethernet and is supported over copper and fiber optic. 10Gigabit Ethernet is rarely used for endpoint connectivity (workstations, laptops) and found mainly in datacenters connecting servers, switches and storage devices. In some cases, it is also used for backbone links between buildings and switches.
10GBase-T
10GBase-T is the Ethernet standard covering copper wiring, standardized in 2006 via the IEEE802.3an standard and is supported only by CAT6 and CAT7 twisted pair cables. When using CAT6 cables, 10Gbps is supported only for up to 55 meters, whereas CAT7 cabling can provide 10Gbps support for up to 100 meters.
10 Gigabit Ethernet over fiber is defined by standards 10GBASE-SR, 10GBASE-LR, 10GBASE-ER, 10GBASE-LX4/LRM, plus a few more. Following is a brief overview of these standards:
10GBASE-SR: Know as Short Reach (SR), used for short distant connections via multi-mode fiber optic using the 850 nanometer wave length. Maximum distance is 400 meters, depending on the type of fiber optic cable.
10GBASE-LR: Known as Long Reach (LR), used for long distant connections up to 10Km via single-mode fiber optic cable using the 1310 nanometer wave length.
10GBASE-ER: Known as Extended Reach (ER), used for extra-long distant connections up to an impressive 40Km via single-mode fiber optic cable using the 1550 nanometer wave length.
10GBASE-LX4/LRM: The LX4 standard was replaced by the LRM (Long Reach Multi-mode). LX4 operates at distances up to 300 meters for multi-mode fiber or 10Kms for single-mode fiber and uses the 1310 nanometer wave length. The LRM standard uses multi-mode fiber only and can cover distances of up to 220 meters, again using the 1310 nanometer wavelength.
This completes our article covering 1000Base T/LX/SX Gigabit & 10GBase (10Gigabit) Ethernet standards. We mentioned the IEEE standards that define these technologies and also took a look at the different UTP Category cables supporting 1Gigabit and 10Gigabit Ethernet speeds.
Wi-Fi Key Generator
Generate/Crack any
WEP, WPA, WPA2 Key!
Cisco Password Crack
Decrypt Cisco Type-7 Passwords on the fly!