Colasoft Announces Release of Capsa Network Analyzer v8.2

February 23, 2016 – Colasoft LLC, a leading provider of innovative and affordable network analysis solutions, today announced the availability of Colasoft Capsa Network Analyzer v8.2, a real-time portable network analyzer for wired and wireless network monitoring, bandwidth analysis, and intrusion detection. The data flow display and protocols recognition are optimized in Capsa Network Analyzer 8.2.
Capsa v8.2 is capable of analyzing the traffic of wireless AP with 2 channels. Users can choose up to 2 wireless channels to analyze the total traffic which greatly enhances the accuracy of wireless traffic analysis. Hex display of decoded data is added in Data Flow sub-view in TCP/UDP Conversation view. Users can switch the display format between hex and text in Capsa v8.2.
Besides the optimizations of Data Flow sub-view in TCP/UDP Conversation view, with the continuous improvement of CSTRE (Colasoft Traffic Recognition Engine), Capsa 8.2 is capable of recognizing up to 1546 protocols and sub-protocols, which covers most of the mainstream protocols.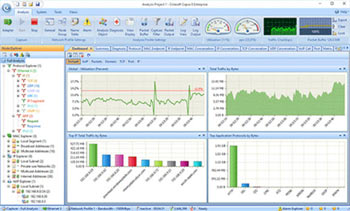 "We have also enhanced the interface of Capsa which improves user experience", said Brian K. Smith, Vice President at Colasoft LLC, "the release of Capsa v8.2 provides a more comprehensive network analyze result to our customers."
About Capsa
Capsa is an easy-to-use packet sniffer (network analyzer or network sniffer) for network monitoring and troubleshooting purposes. It performs real-time packet capturing, 24x7 network monitoring, reliable network forensics, advanced protocol analyzing, in-depth packet decoding, and automatic expert diagnosing. By giving you insights into all of your network's operations, Capsa makes it easy to isolate and solve network problems, identify network bottleneck and bandwidth use, and detect network vulnerabilities.
Tags: Colasoft Capsa network analyzer packet sniffer Packet Analysis