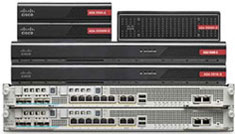 The Cisco ASA Firewall 5500-X series has evolved from the previous ASA 5500 Firewall series, designed to protect mission critical corporate networks and data centers from today's advanced security threats.
Through sophisticated software and hardware options (modules), the ASA's 5500-X series Firewalls support a number of greatly advanced next-generation security features that sets them apart.These include:
Cisco Intrusion Prevention System (IPS) services. A signature based IPS solution offered as a software or hardware module depending on the ASA 5500-X appliance model.
Cisco ASA CX Context-aware services. A software module for ASA 5500-X appliances except the ASA 5585-X where it's offered as a hardware module. Provides IPS services, Application Visibility and Control (AVC), web security and botnet filtering.
Cisco FirePOWER Services. Cisco's latest software & hardware threat protection, superseding previous technologies by combining IPS and CX services plus full contextual awareness of users, infrastructure, applications and content, URL filtering with advanced malware protection (AMP). Offered as a software module for 5500-X series appliances except the 5585-X, which requires a dedicated hardware module. Note that FirePOWER services run in parallel with the classical ASA software.
Cisco Firepower Threat Defense (FTD). This is the next step after the FirePOWER services which was released by Cisco in 2015. While FirePOWER services run alongside with the classical Cisco ASA software, the newer Firepower Threat Defence combines the Cisco ASA Software + FirePOWER services in one software package. This is also the concept of the newer Firepower appliances (e.g 4100 & 9000 series) which run Firepower Threat Defense software. At this point, Firepower Threat Defence is under continious development but does not still support many features offered by the classical ASA software. For example at the time of writing site-to-site IP Sec VPN is still not available.
Our previous article examined Cisco's ASA 5500 series Firewall hardware modules, which include the Content Security CSC-SSM & Intrusion Prevention System (IPS) / Intrusion Detection System (IDS) AIP-SCC / AIP-SSM modules. While these solutions are no longer sold by Cisco, they have been widely deployed in data centers and corporate networks around the world and will be supported by Cisco until 2018.
Note: To download datasheets containing technical specifications and features offered by the Cisco 5500-X Series Firewalls with FirePOWER, IPS and CX Context-aware services, visit our Cisco ASA 5500 & 5500-X Series Adaptive Security Appliances Download Section.
Since Cisco's announcement back in 2013 regarding the discontinuation of its ASA 5500 series firewall appliances in favour of the newer 5500-X Next Generation Firewalls, customers have been contemplating when to upgrade to the newer 5500-X series. Given the fact that Cisco is no longer providing major firmware upgrades to the older ASA 5500 series and the appearance of new advanced security threats and malware (e.g ransomware), it is now considered imperative to upgrade to the newer platform so that security is maintained at the highest possible level.
Customers seeking advanced protection are likely to consider expanding their ASA Firewall capabilities with the purchase of an IPS module, CX Context-aware or FirePOWER services.

Figure 1. The Cisco FirePOWER hardware module for the ASA-5585-X Firewall
Cisco's FirePOWER advanced security threat protection solution was introduced late 2014 and its purpose is to replace the current ASA 5500-X IPS and ASA CX 5500-X Context-aware offerings.
The diagram below shows key security features provided by most Cisco ASA Firewall appliances. Features such as Clustering, High Availability, Network profiling, Identity-Policy Control, VPN and advanced access lists have until today been fairly standard offerings across the ASA Firewall series, however, the newer 5500-X can now offer the additional FirePOWER services marked in red below: