Download The Complete Cisco Catalyst Switching Portfolio. Includes Catalyst 6500, 4500, 4900, 3750-X, 3560-X, 3560-E, 2960, 2960S & 2360 Series Datasheets
Article Reads:34418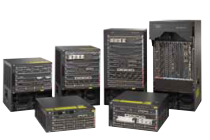 The Cisco Catalyst Switching Portfolio is perhaps one of the most useful Cisco PDF files, containing all Catalyst series products.

The portfolio covers all Cisco modular switches, including the popular 6500 and 4500 series, the chassis, slots, supervisor engine options, compatible line cards for 10 Gigabit Ethernet, Gigabit Ethernet, Fiber, 10/100/1000 and bundles.

The Fixed Configuration Switches section includes the Cisco Catalyst 4900 series, popular 3750-X StackWise Plus switches, 3750V2, 3560-X, 3560-E, 3560, 2960S with FlexStack Stacking and LAN Base, LAN Lite software, 3560-C, 2960-C and 2360 models.

For each category of Catalyst switches you'll find full model numbers, detailed descriptions and the necessary product number.

This great PDF file will allow you to quickly find the right product for your needs without spending hours on Cisco's site trying to figure out what products are available.

To download this time-saver PDF, visit our Cisco Product Datasheets & Guides Download section.
Wi-Fi Key Generator
Generate/Crack any
WEP, WPA, WPA2 Key!
Cisco Password Crack
Decrypt Cisco Type-7 Passwords on the fly!