Discover Features & Capabilities - Cisco Catalyst 3850 With Integrated Wireless LAN Controller (WLC)
Article Reads:64257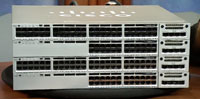 There's a new switch around the block and its name is Catalyst 3850 – Cisco's latest addition to its successful Catalyst series switches. The Cisco Catalyst 3850 is no ordinary switch – it's fully stackable and designed to integrate wired and wireless networks by offering full switch and the industry's first built in wireless LAN controller.
With 480Gbps stacking bandwidth, support for 802.11ac (at least 500Mbit/sec single link throughput) wireless, Power over Ethernet Plus (30Watt/ port), StackPower and Flexible NetFlow support on all ports, this is one of the most comprehensive list of features ever produced in a Catalyst switch.
Cisco 3850 Integrated Wireless Controller
Perhaps one of the features most engineers and managers would have asked for is now available with the new 3850 series. The integrated wireless controller allows organizations to invest in one switch that will cover their wired and wireless needs, and we are not talking about a simple wireless LAN controller.
The wireless capabilities provided by the new Catalyst 3850 are nothing less than impressive. With support for up to 50 access points, 2000 wireless clients per 3850 switch/stack, support of the new upcoming 802.11ac standard that allows throughput of at least 500Mbps per link and, get ready for it, a total of 40Gbps wireless throughput (20Gbps on 24port models) - makes this switch blazingly fast with enough room to cover today's and tomorrow's wireless needs.
Each Cisco Catalyst 3850 switch/stack can operate the Wireless Controller in two modes: Mobility Agent (MA) or Mobility Controller (MC).
Mobility Agent is the default mode where the switch is capable of terminating CAPWAP tunnels from access points and provide wireless connectivity to wireless clients. Mobility Agent mode requires the IP Base license installed.
Mobility Controller mode allows the Catalyst 3850 to perform additional tasks such as radio resource management (RRM), Cisco Clean Air coordination inside a mobility subdomain. Mobility Controller mode is supported in the IP Base license and can be enabled via CLI.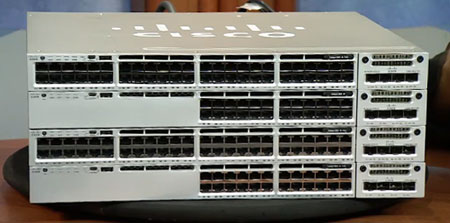 Catalyst 3850 Features
The Catalyst 3850 comes in 3 different configurations: Non-PoE, PoE+ and Full PoE+ support.
Each configuration supports 24 or 48 ports, except for Full PoE+ which is only supported in the 48 port version as shown in the table below:
Models

Total 10/100/1000 Ethernet Ports

Default AC Power Supply

Available PoE Power

StackPower

WS-C3850-24T

24

350WAC

-

Yes

WS-C3850-48T

48

WS-C3850-24P

24 PoE+

715WAC

435W

WS-C3850-48P

48 PoE+

WS-C3850-48F

48 PoE+

1100WAC

800W
Full PoE+ configurations guarantees 30watts of PoE power on all ports.
More features include:
Integrated Wireless Controller. Supports up to 50 access points and 2000 wireless clients on each individual switch or stack.
Dual Power Supply. Combine up to two power supplies in each switch.
Cisco StackPower. Allows power stacking between stack members for power redundancy.
StackWise Technology. Stack your 3850's together and create one single manageable switch with 480Gbps of bandwidth – enough to satisfy the most demanding network environments
Full PoE+ support (IEEE 802.3at)
Cisco IOS software support. Engineers with experience in IOS will have no trouble learning to operate and configure the new features offered.
Enhanced limited lifetime warranty (E-LLW) with next business day (NBD) advanced hardware replacement and 90-days Cisco Technical Assistance Center Support (Cisco TAC).

Network Modules
The Catalyst 3850 supports three optional network modules for optical uplinks to other switches or central servers. As shown in the table below, the network modules allow support for the following configurations:
4 x 1 Gigabit Ethernet via SFP modules
2 x 10 Gigabit Ethernet via SFP+ modules
4 x 40 Gigabit Ethernet via SFP+ modules (Only on 48-port models)
| | |
| --- | --- |
| Product Number | Product Description |
| C3850-NM-4-1G | 4 x Gigabit Ethernet network modules |
| C3850-NM-2-10G | 4 x Gigabit Ethernet/2 x 10 Gigabit Ethernet network modules |
| C3850-NM-4-10G | 4 x Gigabit Ethernet/4 x 10 Gigabit Ethernet network modules |
For a comprehensive list of features, services and configurations, readers can download the Cisco Catalyst 3850 Datasheet, now available in our Cisco Product Datashets and Guides download section.
Wi-Fi Key Generator
Generate/Crack any
WEP, WPA, WPA2 Key!
Cisco Password Crack
Decrypt Cisco Type-7 Passwords on the fly!