Renewing Cisco Certifications without sitting for a Cisco Exam. Covers CCNA, CCNP, CCIE, CCDE and all Specialist Levels
Article Reads:66699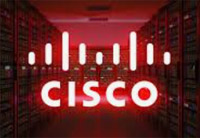 Without a doubt, Cisco certifications and specializations are among the most popular vendor certifications in the IT industry, and earning them doesn't come easy. Anyone who's achieved a Cisco certification would be well aware of the countless hours required to cover the necessary curriculum, practice labs, and prepare for their Cisco exam.
Many would agree that one of the biggest headaches after achieving a Cisco certification is renewing it. Renewing or maintaining a Cisco certification usually requires the candidate to sit for an equal-level exam or pushing forward and aiming for a higher-level exam. While this might not be a problem for many professionals, many find it a big struggle. A significant amount of professionals decide not to renew their certifications because of the time and commitment required or because they've decided to focus on other vendors.
In this article, you'll discover how you can easily renew any Cisco certification or specialization without sitting for a single exam! We'll explain the different recertification paths, show how to select a recertification path, submit a claim, track the recertification process, open a support ticket, and more!
Key Topics:
It is indeed possible to renew any Cisco certification without sitting for the dreaded exams, and it's called the Cisco Continuing Education Program, and we'll explain how it works.
The Cisco Continuing Education Program allows Cisco certified engineers to earn Continuing Education Credits (CE) that are then applied towards recertification. CEs can be earn via the following activities:
Instructor-Led Training
Cisco Digital Learning
Cisco Live! Training Sessions (BRK, LTR, TEC, DEVWks)
Cisco Network Academy Training
Other Activities such as workshops, bootcamps, etc
The amount of CE credits earned will depend on the type of activity and its duration. For example, you can earn 12 CE credits for a sitting through a 14-hour Cisco course delivered via the Cisco Digital Learning platform or earn a generous 40 to 65 credits for attending a 5-day Cisco Instructor-Led training course offered by authorized Cisco Learning Training Partners.
Once the training course or activity is complete, you submit a claim to earn the CE Credits. When you've gathered enough CE credits, you are automatically recertified.
The amount of Cisco Learning Credits required for your certification renewal depends on the level of recertification. For example, Associate level recertification, such as the CCNA, requires a minimum of 30 CE credits. In contrast, the Professional level (CCNP Enterprise, CCNP Data Center, etc.) requires 80 CE credits and CCIE level an impressive 120 Continuing Education credits.
The table below shows all available certification levels, duration, required Continuing Education credits, but also the ability to combine exams with Continuing Education credits to achieve recertification: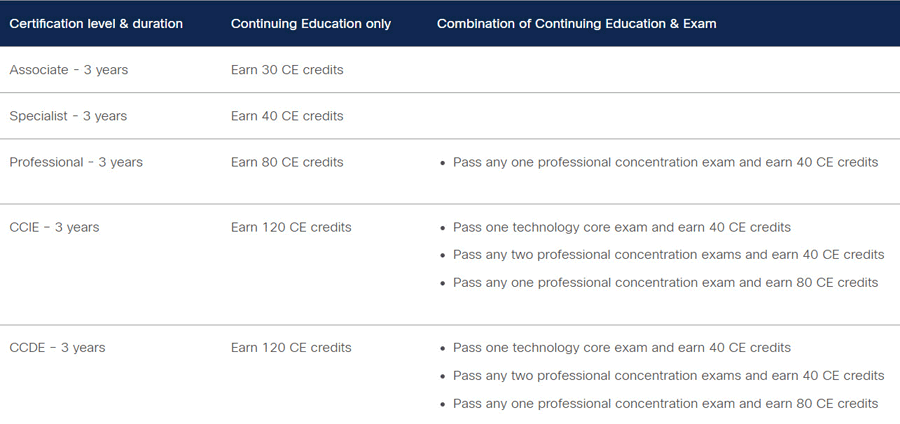 Recertification requirements must be met prior to the certification expiration date.
Combining Continuing Education credits and exams provides significant flexibility as it allows engineers to maximize their options and achieve recertification status easier with less stress.
When planning your recertification path, it's crucial to have a strategy to help you achieve your goal the fastest way, therefore understanding how to search and browse through Cisco's list of activities is very important.
You can browse through Cisco's lists of activities by visiting the Cisco Continuing Education Program website and selecting Item Catalog from the menu as shown below: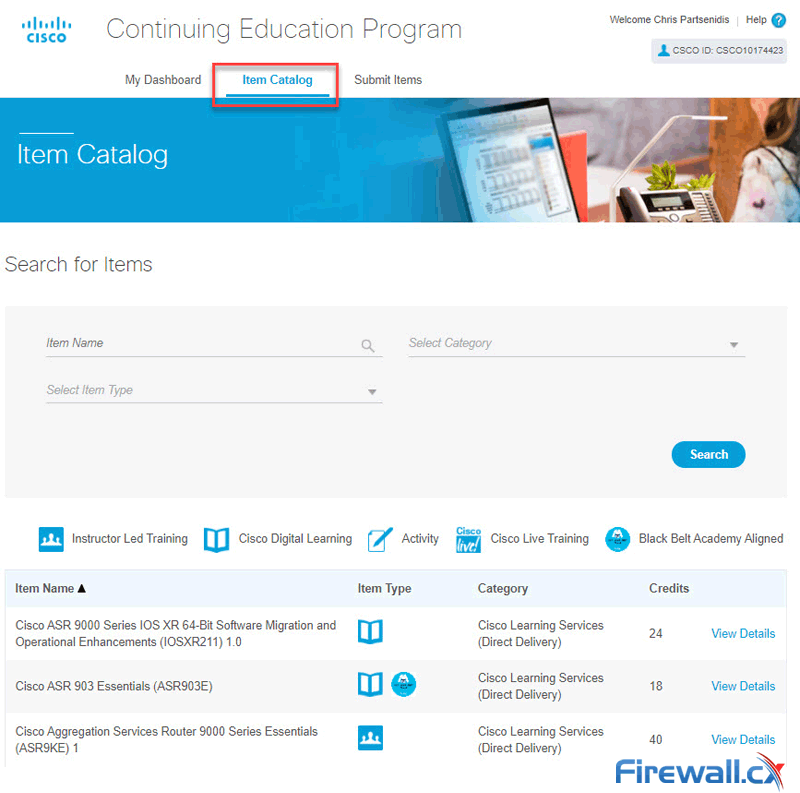 From here, you can search for a course name and use the various filters to find a suitable course. An easy way to look at your available options is to select the Category and Type of training, then click on Search to list all available training for the selected filters.
We've selected CCNP/CCDP Training (1) and Instructor-Led training (2) in the example below. This returned several different courses, delivery methods (Item type), and credits each course earns: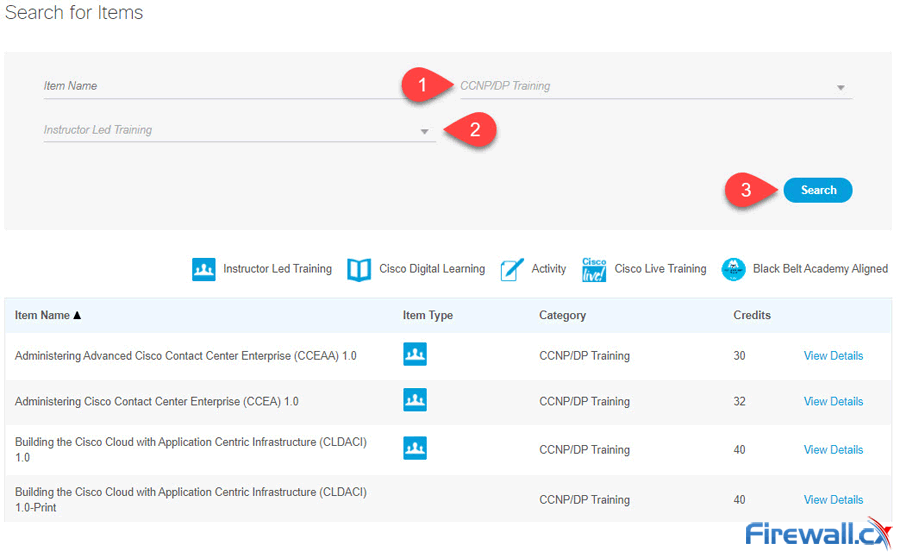 By clicking on the View Details link on the right, we can obtain additional information about the course, where and when it's delivered, and further filter our selection based on time-zone, dates, and more. Spending 15 minutes browsing through the Item Catalog list and using the various filters helps you better understand how to search for the course or activity that best suits you.
After selecting and completing an activity, you must register or claim the activity so that the Educational Credits are awarded to your account.
You must register/claim your activity within 90 days of completing it, or else you miss the opportunity to claim the credits.
To help illustrate how to claim your Educational Credits, we'll use a real example below. In this case, the candidate has attended two Instructor-Led courses delivered by an authorized Cisco Training partner:
Course 1: Implementing and Configuring Cisco Identity Services Engine (SISE) 3.0, 40 Credits - Claimed
Course 2: Implementing and Operating Cisco Security Core Technologies (SCOR) 1.0, 64 Credits – Unclaimed
Note: We'll cover below the complete process of claiming credits using Course 2 as an example.
Upon logging into Cisco's Continuing Education Program website, the dashboard displays the first course (SISE 3.0), which was completed and successfully claimed, providing a total of 40 Credits: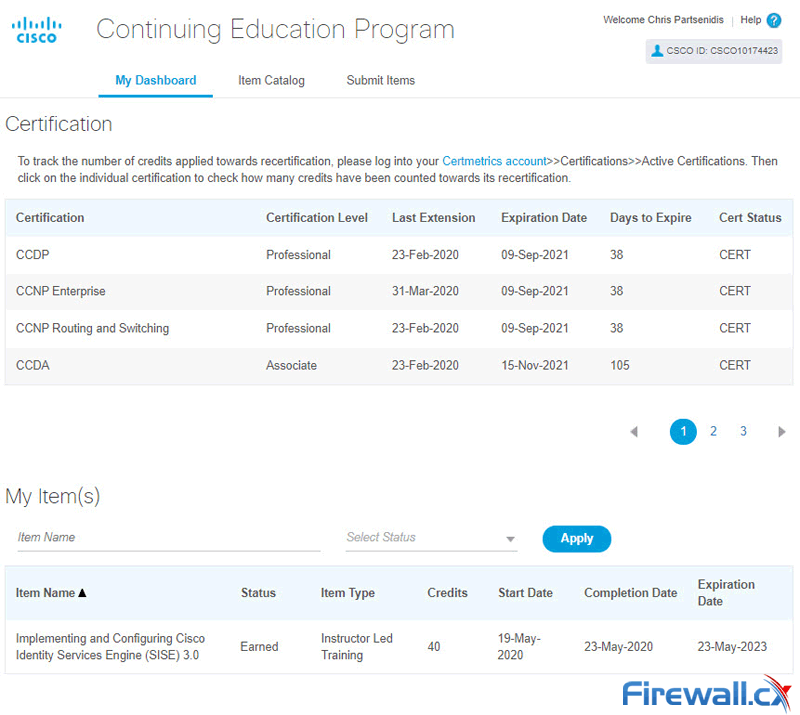 Now it's time to claim the second course, SCOR (1.0).
To begin, click on the Submit Items menu and enter the course details. When ready, click the Submit button: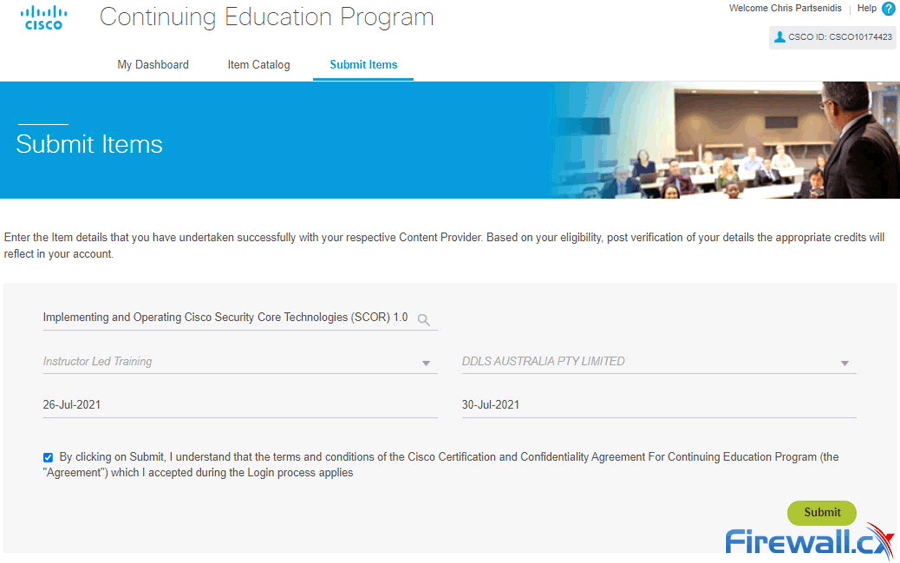 The Cisco course attended was Implementing and Operating Cisco Security Core Technologies (SCOR) 1.0, delivered via Instructor Led Training method by an authorized Cisco Training partner.
As soon as the course details are submitted, a confirmation window appears. Double-check all details and click on Yes to submit the item: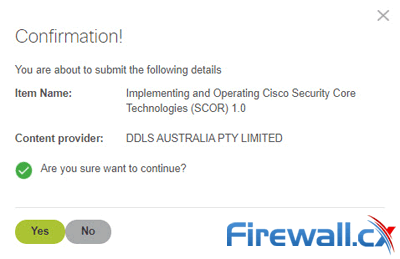 After a few minutes, we received an email confirmation containing the item and details that were submitted: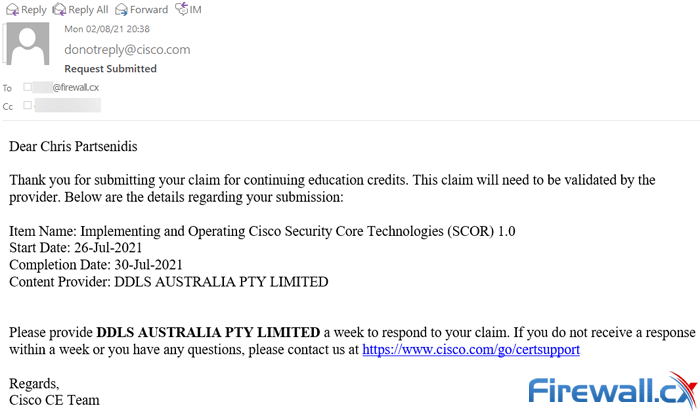 Viewing the main dashboard on the Cisco Continuing Education site, you'll notice the newly submitted item is listed and in a Pending state. The course is eligible for 64 credits:

Cisco next reaches out to the provider to verify the claim. Once this process is complete, Cisco approves the claim, credits are added to the account, and an email confirmation is sent informing us of the outcome: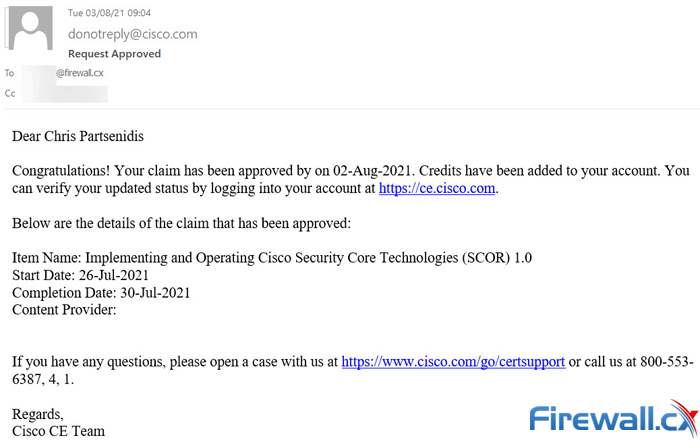 The time required to process a claim is usually fast – one to two business days. However, if no response is received or the outcome is not the desired one, it is highly advisable to open a case using the Help menu item on the top right corner of the page:

Certmetric helps Cisco professionals to keep track of their certification progress, testing history, transcripts, download digital badges, and more. The site is accessible at the following URL: https://www.certmetrics.com/cisco/, and a link is also available from the main dashboard within the Cisco Continuing Education site.
Under the Certifications menu option, you'll find all active and expired certifications. Select the certification for which you are recertifying, this is usually the highest certification as this automatically renews all others below it. In this example, we selected (clicked) the CCNP Enterprise:

The next window shows all paths for the CCNP Enterprise recertification. This maps to the recertification path options shown at the beginning of the article.
Option 1: Satisfy one of the listed items between 1.1.1 – 1.1.2 or two items under 1.1.3.
Option 2: Satisfy one item under 1.2.1 and 1.2.2 (40 CE credits).
Option 3: Satisfy one item under 1.3 (80 CE credits).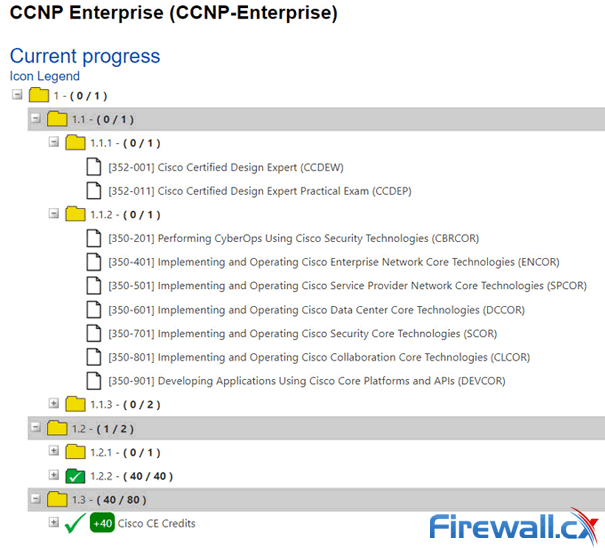 Our preferred recertification path is 1.3. This requires 80 CE credits, of which 40 have already been claimed and awarded from the first course.
The above screenshot was taken after the 40 credit points from the first course were approved.
After the second item (course) has been approved, menu item 1.3 will be fully satisfied and show a total of 80 CE Credits (80/80).
The below screenshot confirms that both Instructor Led Training courses were approved, earning us a total of 104 CE credits. We were able to successfully renew all Cisco certifications: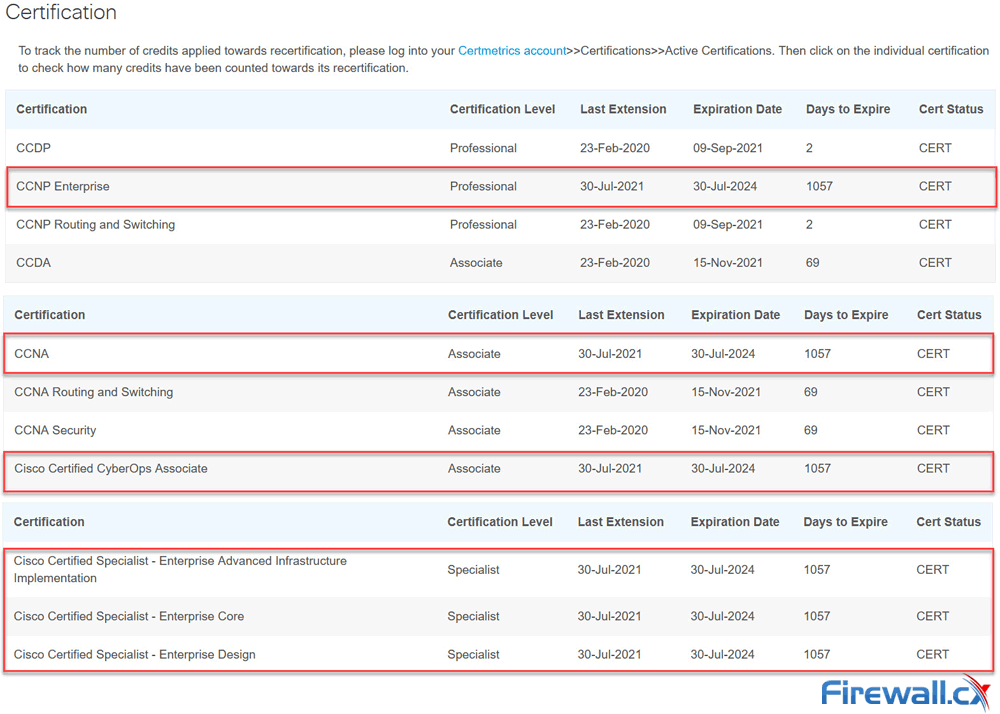 We should note the certifications above set to expire in 2 and 69 days have been retired by Cisco and cannot therefore be renewed.
In this article we showed how it's possible to recertify/renew your Cisco certifications without sitting for any Cisco exams. We explained how the recertification process works via the Continuing Education Program, how to calculate and earn Educational Credits (CE), calculate the required credits to recertify, search and claim your Educational Credits, your track your recertification progress and more.
Wi-Fi Key Generator
Generate/Crack any
WEP, WPA, WPA2 Key!
Cisco Password Crack
Decrypt Cisco Type-7 Passwords on the fly!