Unified Communications Components - Understanding Your True Unified Communications Needs
Article Reads:20730
What Is Unified Communications (UC)?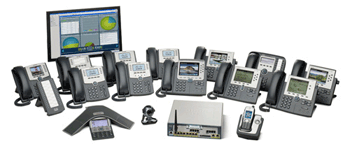 Unified communications is a very popular term these days and we see it appearing on almost every vendor as they rename their platforms and products to include this term. The definition of unified communications changes slightly depending on the vendor you are looking at, but its foundation remains the same. Breaking unified communications into components makes it a lot easier to analyze and put things into the correct perspective.
Unified Communications Foundational Components
These are, in essence, the main-core services a unified communications product should offer:
Network Infrastructure. Almost all unified communications services require a rock-solid network infrastructure. Without this foundation component we are unable to use all the features an advanced unified communications solution can offer.
IP telephony. Also known as Voice over IP (VoIP). This is a critical part of UC.
Presence. Being able to monitor the availability and state of another user. Check if the user's phone line is occupied, is in a conference or away from his desk/office.
Unified Communications Basic Components
These are your everyday applications and services helping to unify your communications needs:
Email. The ability to send messages and attachments between colleagues and customers.
Messaging. Includes faxing, instant messaging services and voicemail.
Conferencing. Includes audio conferencing and Web conferencing services that tightly integratewith the UC infrastructure.
Unified Communications Emerging Components
These unified communications components are pretty much the most popular ones around today:
Mobility. Perhaps unified communications' greatest driving force. This component gives mobile workers corporate communications no matter where they are located.
Social Media. Many companies are using social media to help them reach out to millions of consumers at a fraction of the traditional marketing cost.
Videoconferencing. Mainly used by companies to reduce travel expenses and organize meetings.
Understanding Your True Unified Communications Needs
There is no doubt unified communications is not one product but a combination of complex technologies working together to meet your needs. A very common problem IT Managers and engineers are faced with is to understand the needs of their company when considering a unified communications solution.
This process unfortunately can be harder than it sounds as there are a lot of parameters often not taken in consideration during the planning and decisionmaking process.
To help this process, we've outlined a number of points that require consideration and will help you reveal your true unified communications needs:
Return on investment (ROI). ROI is a key point to help you understand how your investment will help you save money. ROI can be difficult to measure. ROI must be calculated based on the unified communications solution being examined, the features it offers and how necessary they are for your organization. Don't focus entirely on the product's features but your real needs today and tomorrow.
Unified communications is an evolving trend. Are you ready for the cloud? Many organizations are already migrating their unified communications services to the cloud, relieving them from the administration burden and management cost while providing a solid platform that has the ability to deliver true 100% uptime and ease of administration.
Future proof / Adapt to changes. This is where most unified communications solutions fall short. A unified communications solution should be able to adapt to company-wide changes and provide room for future growth. Examine your company's future plans and ensure the unified communications solution selected has the ability to support your growth plan and adapt to rapid changes.
Roll-out plan. Most unified communication solutions consist of core services that affect everyone in the organization during the rollout (installation) phase. In some cases, these installations can disrupt the company's normal workflow and therefore cannot be made during working hours. Rollout of these services must be planned with your integrator so that your workflow is not affected. Any serious integrator will have this in mind and present an accepted rollout plan that will have minimum impact on the company's operation.
Wi-Fi Key Generator
Generate/Crack any
WEP, WPA, WPA2 Key!
Cisco Password Crack
Decrypt Cisco Type-7 Passwords on the fly!