| | | |
| --- | --- | --- |
| Interview: Kevin Wallace CCIEx2 #7945 (Routing/Switching and Voice) & CCSI (Instructor) #20061 | | |
Written by Administrator
Wednesday, 22 May 2013 22:11
Kevin Wallace CCIEx2 #7945 (Routing/Switching and Voice)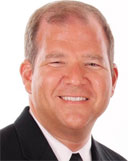 Kevin Wallace is a well-known name in the Cisco industry. Most Cisco engineers and Cisco certification candidates know Kevin from his Cisco Press titles and the popular Video Mentor training series.  Today, Firewall.cx has the pleasure of interviewing Kevin and revealing how he managed to become one of the world's most popular CCIEs, which certification roadmap Cisco candidates should choose, which training method is best for your certification and much more.
Kevin Wallace, CCIEx2 (R/S and Voice) #7945, is a Certified Cisco Systems Instructor (CCSI #20061), and he holds multiple Cisco certifications, including CCNP Voice, CCSP, CCNP, and CCDP, in addition to multiple security and voice specializations. With Cisco experience dating back to 1989 (beginning with a Cisco AGS+ running Cisco IOS 7.x). Kevin has been a network design specialist for the Walt Disney World Resort, a senior technical instructor for SkillSoft/Thomson NETg/KnowledgeNet, and a network manager for Eastern Kentucky University. Kevin holds a Bachelor of Science Degree in Electrical Engineering from the University of Kentucky. Kevin lives in central Kentucky with his wife (Vivian) and two daughters (Stacie and Sabrina).
Firewall.cx Interview Questions
Q1. Hello Kevin and thanks for accepting Firewall.cx's invitation. Can you tell us a bit about yourself, your career and daily routine as a CCIE (Voice) and Certified Cisco Systems Instructor (CCSI)?
Sure. As I was growing up, my father was the central office supervisor at the local GTE (General Telephone) office. So, I grew up in and around a telephone office. In college, I got a degree in Electrical Engineering, focusing on digital communications systems. Right out of college, I went to work for GTE Laboratories where I did testing of all kinds of telephony gear, everything from POTS (Plain Old Telephone Service) phones to payphones, key systems, PBX systems, and central office transmission equipment.
Then I went to work for a local university, thinking that I was going to be their PBX administrator but, to my surprise, they wanted me to build a data network from scratch, designed around a Cisco router. This was about 1989 and the router was a Cisco AGS+ router running Cisco IOS 7.x. And I just fell in love with it. I started doing more and more with Cisco routers and, later, Cisco Catalyst switches.
Also, if you know anything about my family and me you know we're huge Disney fans and we actually moved from Kentucky to Florida where I was one of five Network Design Specialists for Walt Disney World. They had over 500 Cisco routers (if you count RSMs in Cat 5500s) and thousands of Cisco Catalyst switches. Working in the Magic Kingdom was an amazing experience.
However, due to a family health issue we had to move back to KY where I started teaching classes online for KnowledgeNet (a Cisco Learning Partner). This was in late 2000 and, even though we've been through a couple of acquisitions (first Thomson NETg and then Skillsoft), we're still delivering Cisco authorized training live and online.
Being a Cisco trainer has been a dream job for me because it lets me stay immersed in Cisco technologies all the time. Of course I need, and want, to keep learning. I'm always in pursuit of some new certification. Just last year I earned my second CCIE, in Voice. My first CCIE, in Route/Switch, came way back in 2001.
In addition to teaching live online Cisco courses (mainly focused on voice technologies), I also write books and make videos for Cisco Press and have been for about the last ten years.
So, to answer your question about my daily routine: it's a juggling act of course delivery and course development projects for Skillsoft and whatever book or video title I'm working on for Cisco Press.

Q2. We would like to hear your personal opinion on Firewall.cx's technical articles covering Cisco technologies, VPN Security and CallManager Technologies. Would you recommend Firewall.cx to Cisco engineers and certification candidates around the world?
Firewall.cx has an amazing collection of free content. Much of the reference material is among the best I've ever seen. As just one example, the Protocol Map Cheat Sheet in the Downloads area is jaw-dropping.
So, I would unhesitatingly recommend Firewall.cx to other Cisco professionals.
Q3. As a Cisco CCIE (Voice) and Certified Cisco Systems Instructor (CCSI) with more than 14 years experience, what preparation techniques do you usually recommend to students/engineers who are studying for Cisco certifications?
Last Updated on Wednesday, 22 May 2013 23:33
Read more...
| | | |
| --- | --- | --- |
| Need for Speed – The Data Tsunami & Advancements in Networking. From FastEthernet 100Mbps to Wireless 17.6Tbps! | | |
Written by Administrator
Friday, 17 May 2013 01:00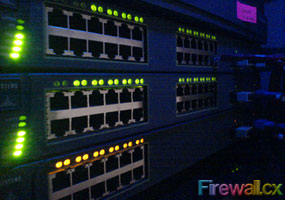 A long-long time ago (not long ago in earth time) 100 Meg was THE technology. 100 Meg uplinks bundled with ether-channel was the ultimate uplink technology. This was the prevailing technology during the tech boom. Gigabit Ethernet was up and coming.

Fast forward to today and we are looking forward to deploying 40Gbps. Every now and then we hear in the news about deployment of 100 Gbps links. The very fact that it is newsworthy tells us that it is not common.

Cisco says that mobile data traffic alone will increase 13X (thirteen times) over the next four years and will outpace the global fixed data traffic by a factor of 3 by 2017.

These trends have prompted IEEE to consider the Ethernet solution beyond the 100G, which is just coming to the market.
Interesting Fact:
Large Hadron Collider at CERN generates 1Petabyte of data/sec (a Peta  has 15 zeros and is also called a quintillion). Of course, they cannot store all of it and so they filter it to keep INTERESTING data only, which is still about 25 Peta Bytes per year (1000 years' worth of DVDs). This data is sent out by CERN to 11 Tier 1 institutions around the globe for analysis
Keeping all this in mind, I was intrigued to read that in Feb 2013 400 Gbps per wavelength had been deployed between the French Cities of Paris and Lyon. The link actually uses 44 such wavelengths to achieve 17.6 Tbps of traffic in total. To give you an idea, at 17.6Tbs you can transfer 44 Blu-ray discs each second.
Interesting Fact:
The work on ratification of 100G was started in 2006 when there were no smartphones as we know them today.
The latest news (March 2013) is about Fujitsu creating newer modulation demodulation technology that can use the standard, widely available hardware used in 10 Gbps networking to transmit 100 Gbps of data on a single channel. Combining four streams of 100 Gig each to an optical transceiver would result in a 400Gbps Ethernet transceiver.
This made me very curious and I looked further to see that researchers at AT&T labs had achieved this feat of sending 400 Gbps over fiber an extremely long distance. Can you guess, how long? It is 12000Km, which is approximately 7500 miles. This broke their old record of 9000Km. This is exciting because it increases the reach by a factor of 2.5.
Last Updated on Friday, 17 May 2013 01:42
Read more...
| | | |
| --- | --- | --- |
| Secure CallManager Express Communications - Encrypted VoIP Sessions with SRTP and TLS | | |
Written by Administrator
Saturday, 11 May 2013 00:00
The Need For VoIP Encryption


Voice over IP (VoIP) is not just need of hour for most enterprises; it's something their business depends on to a degree that without IP communications in place, their business processes and revenue streams will fall apart. In such case, it goes without saying; security of voice networks is one of the chief concerns when it comes to security of intellectual capital and customer data. More often than not, one of the first thoughts is how to secure the VoIP network itself which is leveraged by IP Telephony / Unified Communication (UC) applications.

So what is that may be the most commonly sought after yet elusive security control which plays an indispensable role in securing a VoIP network? Your guess is as good as mine, it is encryption! Now, you are well within your rights to ask why elusive? The simple answer is – where encryption can help you succeed and protect the privacy of communications, it can also be detrimental for various functions / organizations e.g. monitoring secure calls is not a trivial task and encrypting all endpoints has an impact on platform sizing and performance.

In this article we discuss about the security of Cisco Unified Communications Manager Express (CUCME) which is an integral part of Cisco UC; and more so of Cisco Express Call processing regime.

The use of authentication and encryption helps protect confidentiality and makes it harder for malicious insiders or outsiders from tampering with the signaling and media streams, the CUCME router, and IP phones. When the CUCME security features are enabled i.e. the media streams (SRTP) and call signaling (TLS), the communication between Cisco Unified IP phones and CUCME as well as Phones is encrypted as shown in figure 1: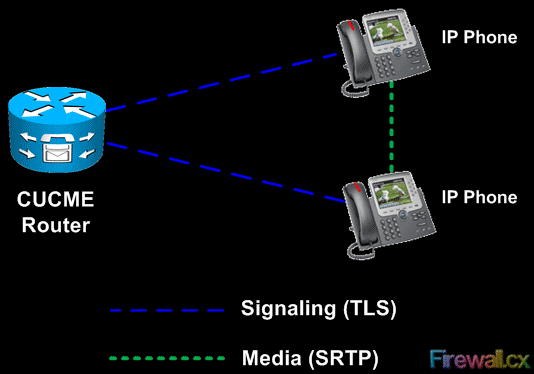 Figure 1 - CUCME to Cisco IP Phone SRTP and TLS
Let's go over some of the assumptions, requirements and caveats before we dwell further into CUCME security configuration.
Assumptions for CUCME Encryption
It is assumed that CUCME is configured and operational (without security in place); this article only serves to elucidate the process of implementing authentication and encryption on the CUCME
It must also be understood that authentication is an integral part of overall security construct when the discussion is around encryption since; authentication provides integrity whereas encryption provides privacy. For more information on Authentication and Encryption and cryptography rudiments, refer to Appendix A of Securing Cisco IP Telephony Networks.
Requirements for CUCME Encryption
Enabling CUCME encryption requires Cisco IOS feature set Advanced Enterprise Services (adventerprisek9) or Advanced IP Services (advipservicesk9)
CUCME version 4.2 or later is require to provide media encryption
Supported platforms include 2800, 2900, 3200, 3800, and 3900 series routers
Network Time Protocol (NTP) must be enabled to ensure the certificate dates are correct and to check validity of certificates
IOS CA to sign various certificates (on same router as that of CUCME or different router)
Caveats for CUCME Encryption
Secure three-way software conference is not supported therefore, while in conference, the call falls back to plain RTP. However, if a party drops from a three-party conference, the call between the remaining two parties returns to a secure state (if the two endpoints are configured for encryption)
Media and signaling encryption requires the Cisco CTL client service
Calls to Cisco Unity Express (CUE) do not support SRTP or TLS for media and signaling respectively
Music on Hold (MOH) does not support encryption
Modem relay and T.3 fax relay calls not support encryption
Secure CUCME does not support Session Initiation Protocol (SIP) trunks and only H.323 trunks are supported (with IPSec for signaling protection)
With above in mind, let's take a deep dive into the enablement of security (Encryption, Authentication) for Cisco Unified IP Phones on CUCME.
Enabling SRTP and TLS on CUCME for Endpoints
Alike any PKI hierarchy, enabling encryption (and authentication) on CUCME requires the use of a Certificate Authority (CA) server/process. CA can be configured on the same router on which CUCME application is running or it can be a different IOS router (dedicated to CA function in an organization). The major function of CA for CUCME security is to provide certificates, duration for which certificates are valid, and trust-relationship between different entities by virtue of certificates.
Last Updated on Saturday, 11 May 2013 22:19
Read more...
| | | |
| --- | --- | --- |
| Cisco & CompTIA Certification Offer - Save 60% on Certification Video Training For CCNA Security, CCNP Voice, CompTIA Network+ and Security+ | | |
Written by Administrator
Thursday, 09 May 2013 11:09
Save 60% on featured video training titles with discount code SUCCEED60. Prepare for your Cisco and CompTIA exams with expert video training from LiveLessons. Explore our growing library of video training titles, and discover which videos you need to achieve your learning and career goals.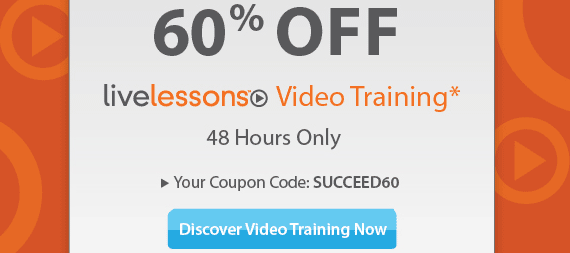 * Discount code SUCCEED60 is valid for a 60% discount off the list price of eligible titles purchased on pearsonITcertification.com. Eligible titles include featured full-course video products only. Coupon not valid on individual video lessons or book/eBook + video bundles. Discount code may not be combined with any other offer and is not redeemable for cash. Discount offer expires 11:59 p.m. EST May 10, 2013. Offer subject to change.
Last Updated on Thursday, 09 May 2013 11:41
Read more...
| | | |
| --- | --- | --- |
| Cisco Catalyst 4500 Series Zero-Downtime IOS Upgrade Process for Supervisor Engine 7-E, 7L-E, 6L-E and V-10GE Redundant Configurations | | |
Written by Administrator
Monday, 08 April 2013 00:00
Why Should I Upgrade my Cisco Supervisor Engine IOS?
The Supervisor Engine is the heart of the Cisco Catalyst 4500 and 6500 series switches. It is the equivalent of an engine in a car. Every packet that enters or exits your switch passes through the Supervisor Engine and, naturally, the Cisco IOS is the software that brings this beast to life.
Cisco makes an enormous effort to bring new features to its products through new versions of its popular IOS software, especially for the enterprise-class series switches such as the 4500 and 6500 Catalyst switches. Unlike other vendor operating systems, it is always advisable to keep your Cisco Catalyst operating system up to date by fitting it with the latest IOS image.
To be eligible to download an IOS image from Cisco's website, one must have a valid contract support with Cisco Systems. This contract not only makes you eligible for all software upgrades for the duration of your contract, but also binds Cisco in delivering Top-Class support for your covered device(s).
Note: Information on installing the Cisco 4507R-E/4507R+E Catalyst Switch, Supervisor Engines, Line cards and power supplies can be found in our following articles which, combined, contain over 30 pictures of all switch components, including the passive backplane, fantray and more:
Are Network Services Affected During or After the Catalyst Supervisor Engine(s) Upgrade?
This is perhaps one of the most frequently asked question that troubles engineers, administrators and IT Managers who have not dealt with the Supervisor Engine upgrade process before.  Who wouldn't be? This is, after all, the network backbone switch and when it comes to large campus, Enterprise networks or networks that operate around the clock, downtime is not an option.
At this point, we should note that when upgrading a Supervisor Engine the engine must be reloaded (rebooted) in order for the system to load the new IOS image. For the Cisco Catalyst 4503 and 4506 series, which can only accept a single Supervisor Engine, this means network service interruption is unavoidable as the single Supervisor Engine must reboot. On the other hand, the Cisco Catalyst 4507R and 4510R series are capable of accepting up to two Supervisor Engines (hence the 'R' – Redundancy), therefore in case of a 4507R/4510R with two Supervisor Engines installed, IOS upgrades can be performed with guaranteed Zero-Service-Interruption. 
Note: The process we are about to describe was performed on a live 4507R+E with two Supervisor Engines 7L-E, on a network of 120+ users and 11 servers connected to our 4507R+E via dual 10Gbps fiber optic links (one 10Gbps link on each Supervisor Engine).
Quick Overview of the Supervisor Engine Upgrade Process
Before we dive into the upgrade process, let's take a quick look at the steps to be followed. This will help understand the process and caveats of each step.
When upgrading a system with redundant Supervisor Engines the upgrade process has to be performed in a specific way as each Supervisor Engine is upgraded in turn.  
Following is a brief overview of the upgrade steps:
Load the new IOS image on to the Active Supervisor Engine (SE1)
Copy IOS image to Standby Supervisor Engine (SE2)
Configure Supervisor Engines to load the new image upon reboot
Set Configuration-Register variable to ensure newest image is loaded upon bootup
Force reload of Standby Supervisor Engine (SE2) & Switchover to Standby Supervisor Engine (SE2). This now becomes the new Active Supervisor Engine
Force reload of previously Active Supervisor Engine (SE1).
Step 1: Loading the New IOS Image on to the Active Supervisor Engine (SE1)
The first step is to copy the new IOS image on to the active Supervisor Engine (SE1). For this, a TFTP server is required for the file transfer. Users can download a selection of Free TFTP Servers from our FTP/TFTP Servers & Clients download section.
Once the TFTP server is ready, we issue the necessary command to initiate the file transfer:
Last Updated on Sunday, 21 April 2013 02:17
Read more...
| | | |
| --- | --- | --- |
| Cisco 4507R+E Layer 3 Installation: Redundant WS-X45-SUP7L-E Supervisor Engines & WS-X4648-RJ45V+E Line Cards | | |
Written by Administrator
Monday, 01 April 2013 00:14
The Cisco Catalyst 4507R+E Switch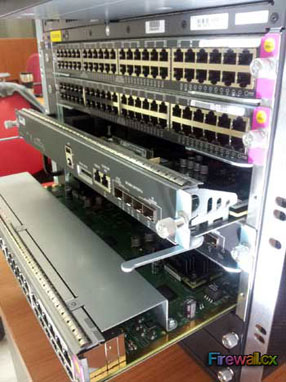 It's no news that we here at Firewall.cx enjoy writing about our installations of Cisco equipment and especially devices that we don't get to see and play with every day. Today we cover the installation of a new Cisco 4507R+E Catalyst switch populated with two 7L-E Supervisor engines, three WS-X4648-RJ45V+E 48 Gigabit PoE line cards and two 4200Watt power supplies with the ability to cover full future PoE requirements of the switch, when fully populated with PoE line cards.
Many might be aware of our first 4507R article that covered the installation of a Cisco Catalyst 4507R-E switch.  Since then, Cisco has replaced the 4507R-E with the newer 4507R+E chassis and introduced new Supervisor Engines. The difference between the two chassis is that the 4507R-E supports up to 24Gbps bandwidth per slot, whereas the newer 4507R+E supports up to 48Gbps per slot, bringing the chassis up to date with the new market trends and high-connectivity speed requirements of enterprise companies.
To make things more interesting, we ensured we captured as many pictures as possible from our 4507R+E switch installation so that our readers can familiarise themselves with it as much as possible.
After unpacking and looking at the back of the switch chassis we noticed that not much has changed except that its label now mentions 4500+E Series, indicating that it is the newer +E series. On the front side, the fan tray manages to give away that this is the newer series as it too is labelled Catalyst 4507R+E.  Apart from these minor cosmetic changes the switch looks exactly the same as its predecessor.
The picture below shows the back of the Cisco 4507R+E chassis. The dual power supplies are positioned at the top part of the switch and the specially designed grid allows adequate air to be pumped through the power supplies and out the back, with the help of the massive power supply fans.  The fans used are extremely high quality with very little friction – when during our test run, we switched off the power supplies, the fans continued to spin for at least another 20 seconds before coming to a complete stop:
Mounting a Catalyst 4500 into a rack can be a daunting experience, mainly due to its weight. When fully populated, the switch can weigh up to 55 Kgs and requires at least two people to safely pick up and place the switch into the rack, then you'd need one more person to tighten the necessary screws to keep it inside the rack!
We also found it necessary for the rack to have adequate spacing above and below the area where the switch is to be placed, because it's very difficult to keep the switch steady during installation because of its weight. In addition, it is imperative the rack's side covers can be removed so the two handles on the switch (one on each side) are accessible.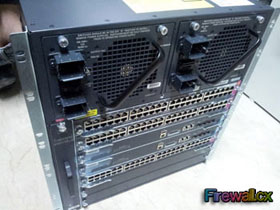 To overcome the problem of installing the heavy switch, we decided to remove both power supplies and all cards from the chassis. The empty chassis made things much easier.
Revealing The Magnificent Cisco 4507R+E Backplane
As we begun to slowly remove the switch's power supplies, line cards and Supervisor Engines, we had a clear view of the spectacular 4507R backplane! The backplane is the switch's 'spine', responsible of interconnecting all components together. Naturally, we had to capture this moment and here it is in all its glory:
Last Updated on Wednesday, 15 May 2013 23:46
Read more...
| | | |
| --- | --- | --- |
| Major Changes & Updates to the Cisco CCNA Exam | | |
Written by Administrator
Wednesday, 27 March 2013 00:09
Today, Cisco announced major changes to their associate-level certifications aligning with the evolving job market and the latest Cisco technology.
News Facts
The certification formerly known as CCNA is now CCNA Routing & Switching, and the only prerequisite certification is CCENT.
CCENT is also the only prerequisite certification for CCNA Voice, CCNA Wireless, CCNA Security, and CCDA certifications.
Updates include IOS v15, IPv6 Support, IOS licensing, and a simplified 802.1x security implementation.
Cisco also announced that the existing ICND1 (640-822), ICND2 (640-816) and CCNA (640-802) exams will have an end-of-life date of September 30, 2013. You can mix and match old and new exams until September 30th—ICND1 (640-822 or 100-101) and ICND2 (640-816 or 200-101).
Cisco Press has the only authorized self-study products and resources to help you prepare for and pass the new exams.
Visit the Cisco Press information page ciscopress.com/ccna to learn even more

Last Updated on Wednesday, 27 March 2013 00:18
Read more...
| | | |
| --- | --- | --- |
| Interview: Vivek Tiwari CCIEx2 #18616 (CCIE Routing and Switching and Service Provider) | | |
Written by Administrator
Saturday, 16 March 2013 20:46
Vivek Tiwari CCIEx2 #18616 (CCIE Routing and Switching and Service Provider)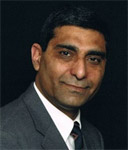 Vivek Tiwari holds a Bachelor's degree in Physics, MBA and many certifications from multiple vendors including Cisco's CCIE.  With a double CCIE on R&S and SP track under his belt he mentors and coaches other engineers. 

Vivek has been working in the Inter-networking industry for more than fifteen years, consulting for many Fortune 100 organizations. These include service providers, as well as multinational conglomerate corporations and the public sector. His five plus years of service with Cisco's Advanced Services has gained him the respect and admiration of colleagues and customers alike.

His experience includes, but is not limited to, network architecture, training, operations, management and customer relations, which made him a sought after coach and mentor, as well as a recognized leader. 

He is also the author of the following titles:

 "Your CCIE Lab Success Strategy the non-Technical guidebook"

"Stratégie pour réussir votre Laboratoire de CCIE"

"Your CCNA Success Strategy Learning by Immersing – Sink or Swim"

"Your CCNA Success Strategy the non-technical guidebook for Routing and Switching"

Website: 2doubleccies.com





Q1.  Hello Vivek and thanks for accepting Firewall.cx's invitation for this interview.   Can you let us know a bit more about your double CCIE area of expertise and how difficult the journey to achieve it was?
I have my CCIE in Routing and Switching and Service Provider technologies. The first CCIE journey was absolutely difficult. I was extremely disappointed when I failed my lab the first time. This is the only exam in my life that I had not passed the first time. However, that failure made me realize that CCIE is difficult but within my reach. I realized the mistakes I was making, persevered and eventually passed Routing and Switching CCIE in about a year's time.
After the first CCIE I promised myself never to go through this again but my co-author Dean Bahizad convinced me to try a second CCIE and surprisingly it was much easier this time and I passed my Service Provider lab in less than a year's time.
We have chronicled our story and documented the huge number of lessons learned in our book "Your CCIE Lab Success Strategy the non-technical guidebook". This book has been reviewed by your website and I am proud to state has been helping engineers all over the globe.

Q2. As a globally recognised and respected Cisco professional, what do you believe is the true value of Firewall.cx toward its readers?
Firewall.cx is a gem for its readers globally. Any article that I have read to date on Firewall.cx is well thought of and has great detailed information. The accompanying diagrams are fantastic. The articles get your attention and are well written because I have always read the full article and have never left it halfway.
The reviews for books are also very objective and give you a feel for it.
Overall this is a great service to the network engineer community.
Thanks for making this happen.
Q3. Could you describe your daily routine as a Cisco double CCIE?
My daily routine as a CCIE depends on the consulting role that I am playing at that time. I will describe a few of them:
Operations: being in operations you will always be on the lookout for what outages happened in the last 24 hours or in the last week. Find the detailed root cause for it and suggest improvements. These could range from a change in design of the network to putting in new processes or more training at the appropriate levels.
Architecture: As an architect you are always looking into the future and trying to interpret the current and future requirements of your customer. Then you have to extrapolate these to make the network future proof for at least 5 to 7 years. Once that is done then you have to start working with network performance expected within the budget and see what part of the network needs enhancement and what needs to be cut.
This involves lots of meetings and whiteboard sessions.
Mix of the Above: After the network is designed you have to be involved at a pilot site where you make your design work with selected operations engineers to implement the new network. This ensures knowledge transfer and also proves that the design that looked good on the board is also working as promised.
All of the above does need documentation so working with Visio, writing white papers, implementation procedures and training documents are also a part of the job. Many engineers don't like this but it is essential.

Q4. There are thousands of engineers out there working on their CCNA, CCNP and CCVP certifications.  Which certification do you believe presents the biggest challenge to its candidates?
Last Updated on Wednesday, 22 May 2013 23:17
Read more...
| | | |
| --- | --- | --- |
| Comparing Cisco VPN Technologies – Policy Based vs Route Based VPNs | | |
Written by Administrator
Tuesday, 26 February 2013 00:00
Virtual Private Networks constitute a hot topic in networking because they provide low cost and secure communications between sites (site-to-site VPNs) while improving productivity by extending corporate networks to remote users (remote access VPNs).
Cisco must be proud of its VPN solutions. It's one of the few vendors that support such a wide range of VPN technologies with so many features and flexibility. Cisco Routers and Cisco ASA Firewalls are the two types of devices that are used most often to build Cisco Virtual Private Networks.  
In this article we will discuss and compare two general Cisco VPN categories that are utilized by network engineers to build the majority of VPN networks in today's enterprise environments. These categories are "Policy Based VPNs" (or IPSEC VPNs) and "Route Based VPNs". Of course Cisco supports additional VPN technologies such as SSL VPNs (Anyconnect SSL VPN, Clientless SSL VPN), Dynamic Multipoint VPN (DMVPN), Easy VPN, Group Encrypted Transport (GET) VPN etc. Many of these VPN technologies are already covered on Firewall.cx and are beyond the scope of this article.  
Below is a selection of Cisco VPN articles to which interested users can refer:
Overview of Policy-Based and Route-Based Cisco VPNs
The diagram below shows a quick overview of the two VPN Categories we are going to discuss and their Practical Applications in actual networks:

For a Network Engineer or Designer it's important to know the main differences between these two VPN categories and their practical applications. Knowing these will help professionals choose the right VPN type for their company and customers.
As shown in the diagram above, Policy-Based VPNs are used to build Site-to-Site and Hub-and-Spoke VPN and also remote access VPNs using an IPSEC Client. On the other hand, Route-Based VPNs are used to build only Site-to-Site or Hub-and-Spoke VPN topologies.
Now let's see a brief description of each VPN Type.
Policy-Based IPSEC VPN
This is the traditional IPSEC VPN type which is still widely used today. This VPN category is supported on both Cisco ASA Firewalls and Cisco IOS Routers. With this VPN type the device encrypts and encapsulates a subset of traffic flowing through an interface according to a defined policy (using an Access Control List). The IPSEC protocol is used for tunneling and for securing the communication flow. Since the traditional IPSEC VPN is standardized by IETF, it is supported by all networking vendors so you can use it to build VPNs between different vendor devices as well. 
Sample Configuration on Cisco ASA Firewalls
To illustrate the reason why this VPN type is called Policy-Based VPN, we will see a sample configuration code on a Cisco ASA firewall based on the diagram below.

Full step-by-step configuration instructions for Policy-Based VPN on IOS Routers can be found at our Configuring Site to Site IPSec VPN Tunnel Between Cisco Routers article.
ASA-1:
ASA-1(config)#
access-list VPN-ACL extended permit ip 192.168.1.0 255.255.255.0 192.168.2.0 255.255.255.0

ASA-1(config)# crypto ipsec ikev1 transform-set TS esp-aes esp-md5-hmac
ASA-1(config)# crypto map VPNMAP 10 match address VPN-ACL
ASA-1(config)# crypto map VPNMAP 10 set peer 200.200.200.1
ASA-1(config)# crypto map VPNMAP 10 set ikev1 transform-set TS
ASA-1(config)# crypto map VPNMAP interface outside
ASA-2:
ASA-2(config)# access-list VPN-ACL extended permit ip 192.168.2.0 255.255.255.0 192.168.1.0 255.255.255.0
ASA-2(config)# crypto ipsec ikev1 transform-set TS esp-aes esp-md5-hmac

ASA-2(config)# crypto map VPNMAP 10 match address VPN-ACL
ASA-2(config)# crypto map VPNMAP 10 set peer 100.100.100.1
ASA-2(config)# crypto map VPNMAP 10 set ikev1 transform-set TS
ASA-2(config)# crypto map VPNMAP interface outside
From the configuration sample above, the access control list VPN-ACL defines the traffic flow that will pass through the VPN tunnel. Although there is other traffic flowing through the outside ASA interface, only traffic between LAN1 and LAN2 will pass through the VPN tunnel according to the traffic policy dictated by VPN-ACL. That's exactly the reason why this VPN type is called Policy-Based VPN.
Understanding Route-Based VPNs
A route-based VPN configuration uses Layer3 routed tunnel interfaces as the endpoints of the VPN. Instead of selecting a subset of traffic to pass through the VPN tunnel using an Access List, all traffic passing through the special Layer3 tunnel interface is placed into the VPN. Therefore you need to configure routing accordingly. Either a dynamic routing protocol (such as EIGRP or OSPF) or static routing must be configured to divert VPN traffic through the special Layer3 tunnel interface.
This VPN Type is supported only on Cisco Routers and is based on GRE or VTI Tunnel Interfaces. For secure communication, Route-Based VPNs use also the IPSEC protocol on top of the GRE or VTI tunnel to encrypt everything.
Sample Configuration on Cisco Routers
Last Updated on Tuesday, 26 February 2013 08:47
Read more...
<<

Start

<

Prev

1

2 3 4 5 6 7 8 9 10 Next > End >>


Page 1 of 39