Unshielded Twisted Pair (UTP) - CAT 1 to CAT5, 5e & 6
Unshielded Twisted Pair (UTP) - CAT 1 to CAT5, 5e & 6
-
4.2

out of

5

based on

48

votes
Unshielded Twisted Pair cable is most certainly by far the most popular cable around the world. UTP cable is used not only for networking but also for the traditional telephone (UTP-Cat 1). There are 6+ different types of UTP categories and, depending on what you want to achieve, you would need the appropriate type of cable. UTP-CAT5e is the most popular UTP cable, it came to replace the well known coaxial cable which was not able to keep up with the continuous growth for faster and more reliable networks.
Characteristics
The characteristics of UTP are very good and make it easy to work with, install, expand and troubleshoot and we are going to look at the different wiring schemes available for UTP, how to create a straight through UTP cable, rules for safe operation and a lot of other cool stuff !
So let's have a quick look at each of the UTP categories available today: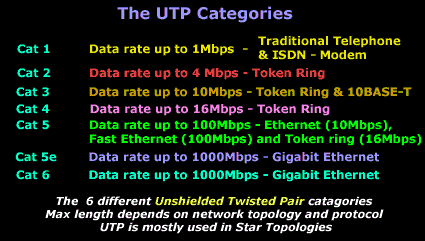 Category 1/2/3/4/5/6 – a specification for the type of copper wire (most telephone and network wire is copper) and jacks. The number (1, 3, 5, etc) refers to the revision of the specification and in practical terms refers to the number of twists inside the wire (or the quality of connection in a jack).
CAT1 is typically telephone wire. This type of wire is not capable of supporting computer network traffic and is not twisted. It is also used by phone companies who provide ISDN, where the wiring between the customer's site and the phone company's network uses CAT 1 cable.
CAT2, CAT3, CAT4, CAT5 and CAT6 are network wire specifications. This type of wire can support computer network and telephone traffic. CAT2 is used mostly for token ring networks, supporting speeds up to 4 Mbps. For higher network speeds (100Mbps plus) you must use CAT5 wire, but for 10Mbps CAT3 will suffice. CAT3, CAT4 and CAT5 cable are actually 4 pairs of twisted copper wires and CAT5 has more twists per inch than CAT3 therefore can run at higher speeds and greater lengths. The "twist" effect of each pair in the cables will cause any interference presented/picked up on one cable to be cancelled out by the cable's partner which twists around the initial cable. CAT3 and CAT4 are both used for Token Ring and have a maximum length of 100 meters.
CAT6 wire was originally designed to support gigabit Ethernet (although there are standards that will allow gigabit transmission over CAT5 wire, that's CAT 5e). It is similar to CAT5 wire, but contains a physical separator between the 4 pairs to further reduce electromagnetic interference.
The next pages show you how UTP cable is wired and the different wiring schemes. It's well worth visiting and reading about.
Reader interested can also visit our Network Cabling section to select amongst a number of articles covering UTP, X-Over cables, Fiber Optic cables and much more.