Safety in Numbers - Cisco & Microsoft - 2. ISA Server & Cisco Technologies
Page 2 of 4
ISA Server & Cisco Technologies
ISA 2004 sits in front of the server OS that hosts the application firewall and filters traffic as it enters the server from the NIC. Therefore intercepting it before it is passed up OSI levels.
This means that ISA can still offer a secure external facing application firewall even when the underlying OS may be unpatched and vulnerable. Lynx advised that ISA 2000 with a throughput of 282 Mbps beat the next closest rival that was Checkpoint. ISA 2004 offers an even higher throughput of 1.59 Gbps (Network Computing Magazine March 2003)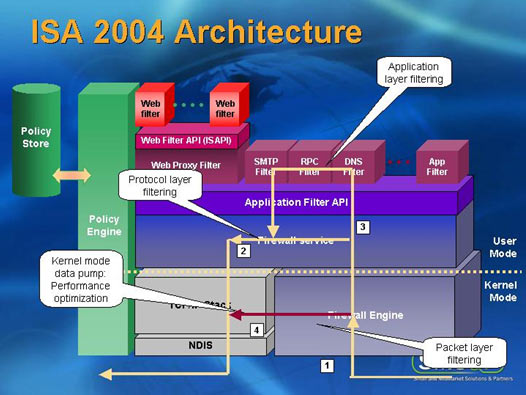 Cisco's NAC can be used to manage user nodes (desktops and laptops) connecting to your LAN. More detail from Cisco about NAC is available at http://www.cisco.com/en/US/products/ps5923/ . A part of Cisco's NAC is the Cisco Trust Agent which is a component that runs on the user node and talks to the AV server and RADIUS server. NAC targets the "branch office connecting to head office" scenario and supports AV vendor products from McAfee, Symantec and Trend. Phase 2 of Cisco's NAC will provide compliance checking and enforcement with Microsoft patching.
ISA can be utilized in these scenarios with any new connections being moved to a stub network. Checks are then run to make sure the user node meets the corporate requirements for AV, patching, authorisation etc. Compliance is enforced by NAC and NAQC/NAP. Once a connecting user node passes this security audit and any remedial actions are completed the user node is moved from the stub network into the LAN proper.
Moving inside the private network, the "Defence in depth" mantra was reiterated. A key point was to break up a flat network. For example clients should have little need to talk directly to each other, instead it should be more of a star topology with the servers in the centre and clients talking to the servers. This is where Virtual Local Area Networks (VLANs) would be suitable and this type of configuration makes it more difficult for network worms to spread.