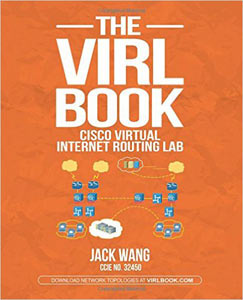 Cisco's Virtual Internet Routing Lab (VIRL) is a network simulation tool developed by Cisco that allows engineers, certification candidates and network architects to create their own Cisco Lab using the latest Cisco IOS devices such as Routers, Catalyst or Nexus switches, ASA Firewall appliances and more.
Read Jack Wang's Introduction to Cisco VIRL article to find out more information about the product
Being a fairly new but extremely promising product it's quickly becoming the standard tool for Cisco Lab simulations. Managing and operating Cisco VIRL might have its challenges, especially for those new to the virtualization world, but one of the biggest problems has been the lack of dedicated online resources for VIRL management leaving a lot of unanswered questions on how to use VIRL for different types of simulations, how to build topologies, how to fine tune them etc.
The recent publication of "The VIRL Book' by Jack Wang has changed the game for VIRL users. Tasks outlined above plus a lot more are now becoming easier to handle, helping users manage their VIRL server in an effective and easy to understand way.
The introduction to VIRL has been well crafted by Jack as he addressed each and every aspect of VIRL, why one should opt for VIRL, what VIRL can offer and how it different from other simulation tools.
This unique title addresses all possible aspects of VIRL and has been written to satisfy even the most demanding users seeking to create complex network simulations. Key topics covered include:
Planning the VIRL Installation
Installing VIRL
Creating your first simulation
Basic operation & best practices,
Understanding the anatomy of VIRL
External Connectivity to the world
Advanced features
Use VIRL for certifications
Running 3rd party virtual machines
Sample Network Topologies