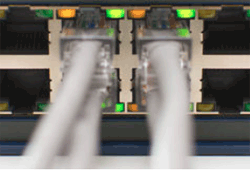 The 100Base-TX (sometimes referred to 100Base-T) cable was until 2010 perhaps the most popular cable around since it has actually replaced the older 10Base-T and 10Base-2 (Coaxial). The 100Base-TX cable provides fast speeds up to 100Mbits and is more reliable since it uses CAT5e cable (see the CAT 1/2/3/4/5 page).There is also 100Base-T4 and 100Base-FX available, which we discuss at the end of this article.
So what does 100Base-TX/T4/FX mean?
We are going to break the "100Base-T" into three parts so we can make it easier to understand:
100
The number 100 represents the frequency in MHz (Mega HertZ) for which this cable is made. In this case it is 100 MHz. The greater the MHz, the greater speeds the cable can handle. If you try to use this type of cable for greater frequencies (and, therefore, speeds) it will either not work or become extremely unreliable. The 100 MHz speed translates to 100Mbit per second, which in theory means 12 Mbps. In practice though, you wouldn't get more than 4 Mbps.