Running Spanning Tree Protocol (STP) in a large network environment can be a challenging task especially when features/enhancements such as BPDU Filter and BPDU Guard need to be configured to help STP adapt to the network infrastructure requirements.
The key to a successful STP deployment is understanding how each STP feature should be used and implemented.
Understanding and Configuring BPDU Guard
BPDU Guard is an STP enhancement which, when enabled, will place a port in the errdisable mode when it receives any BPDU packet from that port.
BPDU Guard is usually configured on access layer ports where we are not expecting to see any BPDU packets arriving from devices connected to these ports e.g computers, printers, IP phones or other user-end devices.
Ports used as uplinks or downlinks to other switches should not have BPDU Guard enabled as these are more likely to have BPDU packets transmitted and received as switches actively monitor for network loops.
BPDU Guard can be configured either in Global mode or Interface mode.
When configured in Global mode the feature is enabled globally for all switch ports configured with port-fast configuration. Port-Fast is an STP feature configured at each individual port that forces the port to go directly into a forwarding state rather than through the normal STP states (Listening, Learning, Forwarding).
While port-fast is a very handy feature that forces a network port to transition immediately to the forwarding state (similar to an unmanaged switch), it must be used with caution as STP won't be able to immediately detect a network loop through a Port-Fast enabled port.
To configure BPDU Guard in Global mode use the spanning-tree portfast bpduguard default command in Global Configuration Mode:
SW2(config)# spanning-tree portfast bpduguard default
To configure BPDU Guard in Interface mode use the spanning-tree bpduguard enable command under the interface:
SW2(config-if)# spanning-tree bpduguard enable
Note: It is important to keep in mind that if the interface is configured as an access port, with port-fast enabled, and receives a BPDU packet it will automatically be disabled and placed in an errdisabled state.
To help illustrate how BPDU Guard works, we've configured port G1/0/1 on our 3750-X as an access link with port-fast and BPDU Guard enabled: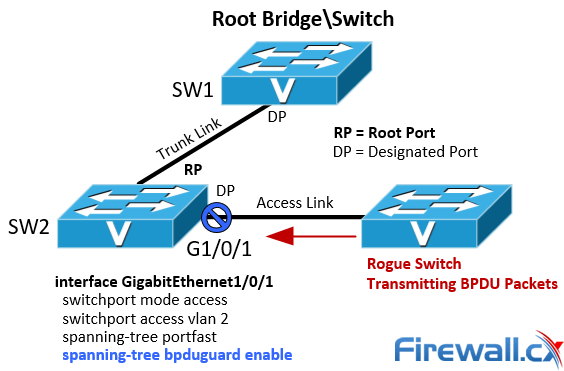 Figure 1. Spanning Tree BPDU Guard configuration and example
interface GigabitEthernet1/0/1
switchport mode access
switchport access vlan 2
spanning-tree portfast
spanning-tree bpduguard enable
Next, we connect another switch (rogue switch) running spanning tree protocol to port G1/0/1 on SW2. As soon as a BPDU packet is received on G1/0/1, here's how SW2 reacted: