GFI WebMonitor is an awarded gateway monitoring and internet access control solution designed to help organizations deal with user internet traffic, monitor and control bandwidth consumption, protect computers from internet malware/viruses and other internet-based threats plus much more. GFI WebMonitor supports two different installation modes: Gateway mode and Simple Proxy mode. We'll be looking into each mode and help administrators and engineers understand which is best, along with the prerequisites and caveats of each mode.
Proxy vs Gateway Mode
Proxy mode, also named Simple Proxy mode is the simplest way to install GFI WebMonitor. You can deploy this on any computer that has access to the internet. In Simple Proxy mode, all client web-browser traffic (HTTP/HTTPS) is directed through GFI WebMonitor. To enable this type of setup, you will need an internet facing router that can forward traffic and block ports.
With GFI WebMonitor functioning in Simple Proxy mode, each client machine must also be configured to use the server as a web proxy for HTTP and HTTPS protocols. GFI WebMonitor comes with built-in Web Proxy Auto-Discovery (WPAD) server functionality that makes the process easy - simply enable automatic discovery of proxy server for each of your client machines and they should automatically find and use WebMonitor as a proxy. In case of a domain environment, it is best to regulate this setting using a Group Policy Object (GPO).
When WebMonitor is configured to function in Internet Gateway mode, all inbound and outbound client traffic will pass through GFI WebMonitor, irrespective of whether the traffic is HTTP or non-HTTP. With Internet Gateway mode, the client browser does not need to point to any specific proxy – all that's required is to enable the Transparent Proxy function in GFI WebMonitor.
WebMonitor Download: Control internet resources available to your organization's users. Get complete control on how users and applications access the internet. Application level blocking and malware protection.
Supported OS & Architectures
Whether functioning as a gateway or a web proxy, GFI WebMonitor processes all web traffic. For a smooth operation that amounts to using a server architecture capable of handling all the requests every day. When the environment is small (10-20 nodes), for instance, a 2 GHz processor and 4 GB RAM minimum with a 32-bit Windows operating system architecture will suffice.
Larger environments, such as those running the Windows Server operating system on a minimum of 8 GB RAM and multi-core CPU will require the 64-bit architecture. GFI WebMonitor works with both 32- as well as 64-bit Windows operating system architectures starting from Windows 2003 and Windows Vista.
Installation and Upgrading
When installing for the first time, GFI WebMonitor starts by detecting its prerequisites. If the business is already using GFI WebMonitor, the process determines the prerequisites according to the older product instance. If the installation kit encounters an older instance, it imports the previous settings and redeploys them after completing the installation.
Whether installing for the first time or upgrading an older installation, the installation kit looks for any setup prerequisites necessary and installs them automatically. However, some prerequisites may require user interaction and these will come up as separate installation processes with their own user interfaces.
Installing GFI WebMonitor
As with all GFI products, installation is a very easy follow-the-bouncing-ball process. Once the download of GFI WebMonitor is complete, execute the installer using an account with administrative privileges.
If WebMonitor has been recently downloaded, you can safely skip the newer build check. When ready, click Next to proceed: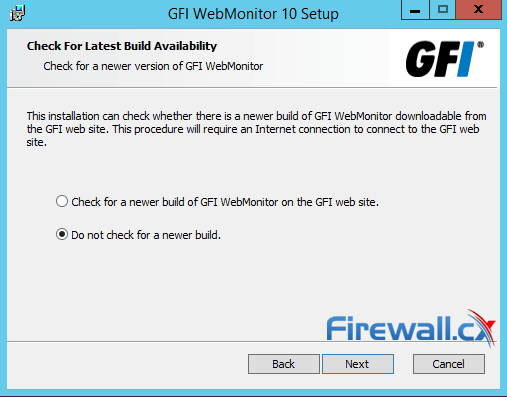 Figure 1. Optional check for a new WebMonitor edition during installation