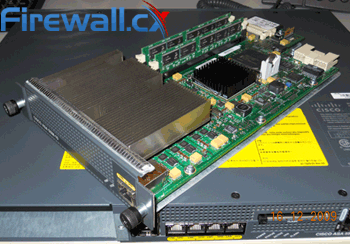 Cisco's Adaptive Security Appliance (ASA) Firewalls are one of the most popular and proven security solutions in the industry. Since the introduction of the PIX and ASA Firewall into the market, Cisco has been continuously expanding its firewall security features and intrusion detection/prevention capabilities to adapt to the evolving security threats while integrating with other mission-critical technologies to protect corporate networks and data centers.
In recent years, we've seen Cisco tightly integrate separate security technologies such as Intrusion Prevention Systems (IPS) and Intrusion Detection Systems (IDS) within the ASA Firewall appliances in the form of hardware module add-ons (older 5500 series & newer 5500-X series) and, recently, software modules supported only by the newer ASA 5500-X series security appliances.
With the addition of the software or hardware module, customers are able to increase the firewall's security and protection capabilities while at the same time simplifing security management and administration by dealing with a single firewall device instead of multiple firewall, IPS or IDS devices.
While this article covers the hardware modules available for the Cisco ASA 5500 Firewall series, upcoming articles will cover both software and hardware modules along with Cisco FirePOWER & FireSIGHT management services for the newer ASA 5500-X series.
Note: The Cisco ASA 5500 series hardware modules for ASA-5505, ASA 5510, ASA 5520 & ASA 5540 have been announced as End-of-Sale & End-of-Life. Modules below are no longer sold by Cisco, however, they will be fully supported until 30th of September 2018.
Users interested in the newer ASA 5500-X IPS, Context-Aware and FirePOWER services can read our article Cisco ASA 5500-X Series Firewall with IPS, ASA CX & FirePower Services. Application Visibility and Control (AVC), Web Security, Botnet Filtering & IPS / IDS.
Hardware Modules for ASA 5500 Series Firewalls
The ASA 5500 series Firewalls (ASA-5505, ASA 5510, ASA 5520, ASA 5540 etc) were the first security appliances with the capability to integrate hardware modules for enhanced security and threat protection.
To help target different markets and security requirements, Cisco split its hardware module offerings into two distinct categories:
Content Security and Control Security Services (CSC-SSM)
Advanced Inspection and Prevention Security Services (AIP-SCC & AIP-SSM)
Each hardware module card is equipped with its own CPU, RAM and Flash storage space, running a separate operating system that integrates with the ASA Firewall via its internal network ports.
Let's take a brief look at each category.
The Content Security and Control Security Services Modules
The Content Security and Control Security Services module aims to cover corporate environments where comprehensive malware, advanced content filtering (including Web Caching, URL filtering, anti-phishing), and anti-spam filtering is required. This all-in-one hardware module solution is capable of providing a wealth of security and control capabilities essential for all size networks.
Following are the hardware modules supporting Content Security and Control Security Services: