In late 2014, Cisco announced the new licensing model for the latest AnyConnect Secure Mobility client v4.x. With this new version, Cisco introduced a number of new features, but also simplified the licensing model which was somewhat confusing. In this article, we will take a look at the new AnyConnect 4.x licenses which consist of: AnyConnect Plus license, AnyConnect Plus Perpetual license and AnyConnect Apex license.

We will also show how the new licenses map to the older AnyConnect Essentials and AnyConnect Premium license, plus the available migration paths. Finally, we also take a look at Cisco's Software Application Support (SAS) and Software Application Support plus Upgrade (SASU), which are required when purchasing AnyConnect.
All AnyConnect licenses prior to version 4 had the AnyConnect Essentials and Premium licensing scheme. The newer v4.x AnyConnect licenses now have one of the three licensing options:
Cisco AnyConnect Plus License (Subscription Based)
Cisco AnyConnect Plus Perpetual License (Permanent – no subscription)
Cisco AnyConnect Apex License (Subscription Based)
With the new AnyConnect licenses, Cisco has moved to a subscription-based licensing model which means customers will unfortunately need to fork out more money in the long run. The Plus Perpetual License on the other hand allows Cisco customers to purchase a one-time license, however the license costs significantly higher than the subscription-based license.
We should also note that AnyConnect 4.0 is not licensed based on simultaneous connections (like the previous AnyConnect 3.x), but is now user-based. This means a user connecting via his smartphone and laptop simultaneously will only occupy a single license.
Since the newer AnyConnect licenses are subscription-based, according to Cisco, if their subscription expires and is not renewed, they will stop working.

Cisco AnyConnect Secure Mobility Client 4.0 supports the following operating systems:
Windows 8.1 (32bit & 64Bit)
Windows 8 (32bit & 64Bit)
Windows 7 (32bit & 64Bit)
Linux Ubuntu 12.X 64Bit
Linux RedHat 6 64Bit
Mac OS X 10.10 – 10.8
As expected, Windows XP is no longer supported.
Let's take a look at each license feature and how the older AnyConnect Essentials and Premium licenses map to the newer AnyConnect Plus and Apex licenses: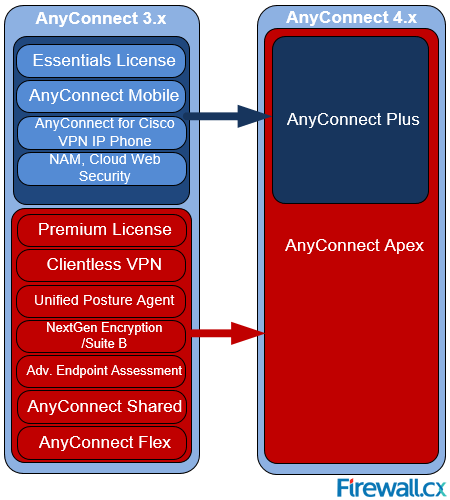 Figure 1. Mapping AnyConnect 3.x Essentials & Premium to AnyConnect 4.x Plus & Apex
Related AnyConnect Articles on Firewall.cx:
Cisco AnyConnect Plus License (Equivalent to the old Essentials License) 5, 3 or 1-Year Term
The AnyConnect Plus License is a subscription-based license with the option of a 5, 3 or 1-year renewable subscription and supports the following features:
VPN Support for Devices. Includes Workstations and Laptops.

Secure Mobility Client support (AnyConnect Mobile). Includes mobile phones, tablets etc.

SSL VPN (Client-based)

Per-app VPN. Authorize specific applications access the VPN. Supports specific devices and software.

Basic endpoint context collection

IEEE 802.1X Windows supplicant

Cisco Cloud Web Security agent for Windows & Mac OS X platforms

Cloud Web Security and Web Security Appliance support

Cisco Advanced Malware Protection for Endpoints Enabler. AMP for Endpoints is licensed separately

Network Access Manager

Federal Information Processing Standards (FIPS) Compliance
It is worth noting that AnyConnect 3.x required the purchase of Essentials or Premium license + AnyConnect Mobile (L-ASA-AC-M-55xx) in order to support mobile devices (Smartphones, Tablets etc.). AnyConnect Mobile is now integrated into the new AnyConnect Plus license.
Cisco AnyConnect Plus Perpetual (permanent) License