The cross-over (or crossover) CAT5 UTP cable has to be one of the most used cables after the classic straight-thru cable. The cross-over cable allows us to connect two computers without needing a hub or switch. If you recall, the hub does the cross-over for you internally, so you only need to use a straight thru cable from the PC to the hub. Since now we don't have a hub, we need to manually do the cross-over.
Why do we need an cross-over cable?
When sending or receiving data between two devices (I.E. computers) one will be sending while the other receives. All this is done via the network cable and if you look at a network cable you will notice that it contains multiple cables. Some of these cables are used to send data, while others are used to receive data and this is exactly what we take into account when creating a crossover cable. We basically connect the TX (transmit) of one end to the RX (receive) of the other!
The diagram below shows this in the simplest way possible: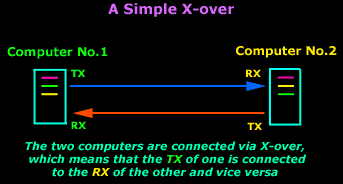 CAT5 Cross-over
There is only one way to make a CAT5e crossover cable and it's pretty simple. Those who read the "Wiring UTP" article know a crossover cable is a 568A on one end and a 568B on the other. If you haven't read the wiring section, don't worry because we'll provide enough information to help understand about the concept.
As mentioned previously, the purpose of a crossover cable to connect the transmitting side (TX) from one end, to the Receiving side (RX) at the other end, and vice versa.
Let's now have a look at the pinouts of a typical crossover CAT5e cable: